Indianapolis Colts quarterback Anthony Richardson has been ruled out for the remainder of Sunday's game against the Houston Texans with a concussion, the team announced.
The No. 4 overall pick in this year's NFL Draft had completed six of his 10 passes for 56 yards, while also rushing for two touchdowns, before leaving the game and heading to the locker room early in the second quarter. The Colts led 14-7 at the time of Richardson's exit. The quarterback was initially questionable to return while going through concussion protocol before being downgraded to out.
Veteran QB Gardner Minshew has replaced Richardson and is in for the Colts.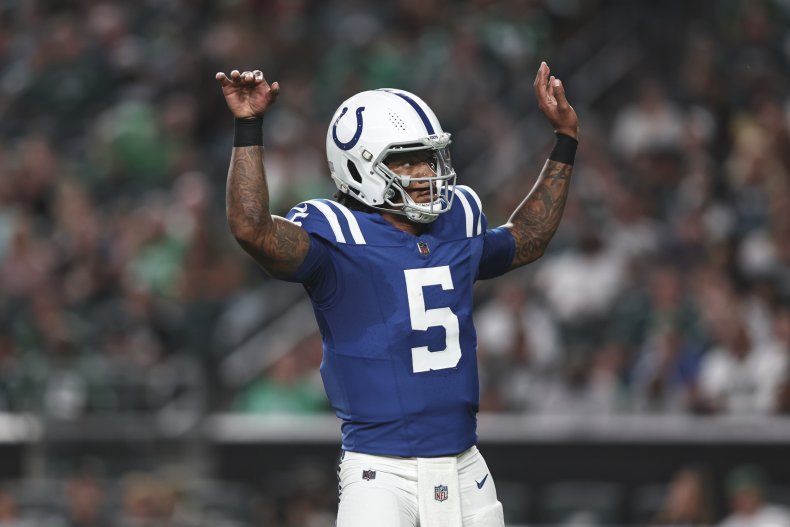 What Happened to Richardson?
It is unclear which play Richardson sustained his concussion.
The rookie appeared to hit his head on a 15-yard touchdown run midway through the first quarter, but remained in the game for two more possessions. Richardson was then taken to the locker room for further evaluation. He called for the medical team to evaluate his head injury, according to the NFL Network's Dan Hanzus.
Richardson threw for 223 yards and accounted for a passing and rushing touchdown in Week 1, his NFL debut. The rookie had two more rushing scores in the first six minutes of the Colts' Week 2 matchup.
Richardson has now left both of his first two NFL games early with injuries.
The 21-year-old missed the final three plays of Week 1, with what the team called knee soreness. Richardson did not appear on the Colts' injury report this week.
Richardson taking hits on running plays had been a point of discussion this week. He excelled in college at Florida using his legs to make explosive plays when needed. Colts head coach Shane Steichen said this week that the team was trying to be "smart" with Richardson.
"I think there is a fine line, but I think if you go look at it statistically, most quarterbacks if they do get hurt—if you look at all the numbers—it's within the pocket more than anything," he said at a press conference earlier this week. "Again, we have those conversations weekly about when to be smart."
Richardson became the second quarterback in NFL history, with three or more rushing touchdowns within their first two career games, according to Pro Football Reference. The Colts QB joined former Minnesota Vikings QB Daunte Culpepper, who did so in 1999. Both of Richardson's touchdown runs on Sunday were for 15 or more yards, making him the first QB to accomplish that since Michael Vick in Week 13 of the 2002 season for the Atlanta Falcons.