A rescue dog with special needs who spent more than 900 days in an animal shelter has finally found a new forever home.
Social media influencer Olivia Boblet first began volunteering at the SPCA of Southwest Michigan last year. "I wanted to volunteer because I love dogs so much and that is the true answer, I have a lot of free time with my job and wanted to put it to good use," Boblet told Newsweek. "As I do social media for a living, incorporating the dog shelter and bringing awareness to dog shelters all around has made me so incredibly happy."
It was at the shelter where she first met one of its senior canine residents, Swayzee.
Older dogs like Swayzee face an uphill battle to get adopted. Pet Pardon, a campaign group calling for an end to the use of kill shelters, estimates senior dogs spend up to four times longer in shelters than younger canines. The adoption rate among senior dogs stands at 25 percent compared with 60 percent among younger dogs and puppies.
Swayzee's situation was a little more complicated than that though. "Swayzee came to us two and a half years ago and is deaf," Boblet explained. "Due to this he had trouble finding a forever home."
Yet from the moment she first met him at the shelter, Boblet knew Swayzee was special. "I fell in love with him," she said. "He loves to play ball, he loves people, and is very intelligent, he knows sign language. Swayzee could put a smile on anyone's face. He was overlooked due to his special needs, but deserves the best home."
Boblet said not much is known about Swayzee's life before he came to the shelter. "As far as we know, he was born deaf," she said. While he was unable to secure a new home in that time, his friendly, outgoing nature earned him a special place in the hearts of all the staff and volunteers.
Then, after more than 900 days, that changed—Swayzee was adopted. "Swayzee went to the home of a man who is also hard of hearing," Boblet said. "I've heard that his wife and him promised to always adopt deaf dogs, and she has since passed away. It just seemed so perfect, and that Swayzee finally found his perfect puzzle piece forever home."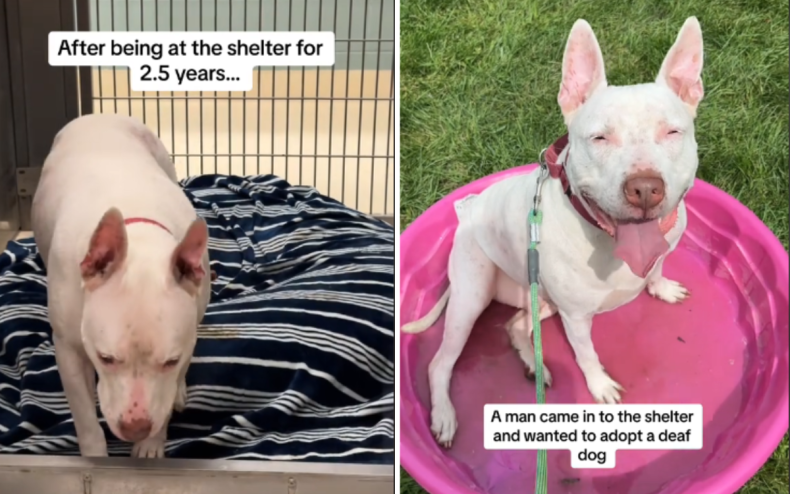 Eager to praise her favorite pooch, Boblet put together a video paying tribute to Swayzee as he prepared to head off for a new and happy life. "Who doesn't love the happiest ending ever," she wrote alongside the clip. "Sweet boy went to the best home."
The clip had her followers "sobbing," with one viewer writing that they were "so happy for him." Another wrote: "This is what I needed today," with a third adding: "I'm so happy for him. I'm tearing up. I hope he has the best life and so much fun."
Boblet hopes that the video and stories like Swayzee's convince other animal lovers to take a chance on a shelter pet.
"Sometimes people forget to even take a browse at their local shelter. There are so many wonderful dogs, with so much love to give," she said. "Shelter dogs can be some of the most incredible, loving and unforgettable dogs. Regardless of the situation, every dog born into this world deserves a loving home."
Do you have funny and adorable videos or pictures of your pet you want to share? Send them to life@newsweek.com with some details about your best friend, and they could appear in our Pet of the Week lineup.