While discussing his role in President Joe Biden's impeachment inquiry, Representative Michael McCaul, a Texas Republican, said on Sunday that the GOP does not have evidence that the president was bribed.
House Speaker Kevin McCarthy announced on Tuesday that House Republicans were launching an official impeachment inquiry against Biden relating to his son Hunter Biden's foreign business dealings.
"Today, I am directing our House committee to open a formal impeachment inquiry into President Joe Biden. This logical next step will give our committees the full power to gather all of the facts and answers for the American public," he said during a press conference. "These are allegations of abuse of power, obstruction and corruption, and they warrant further investigation by the House of Representatives."
During an interview on Fox News' Sunday Morning Futures With Maria Bartiromo, McCaul spoke about his role in Biden's impeachment inquiry in which he stated that he was "tasked by the speaker to assist on the oversight and government reform, with the respect to foreign policy and decisions the president or vice president may have made at that time, with respect to money coming in [from China] to try to tie the two."
The congressman added: "We don't have the evidence now, but we may find it later."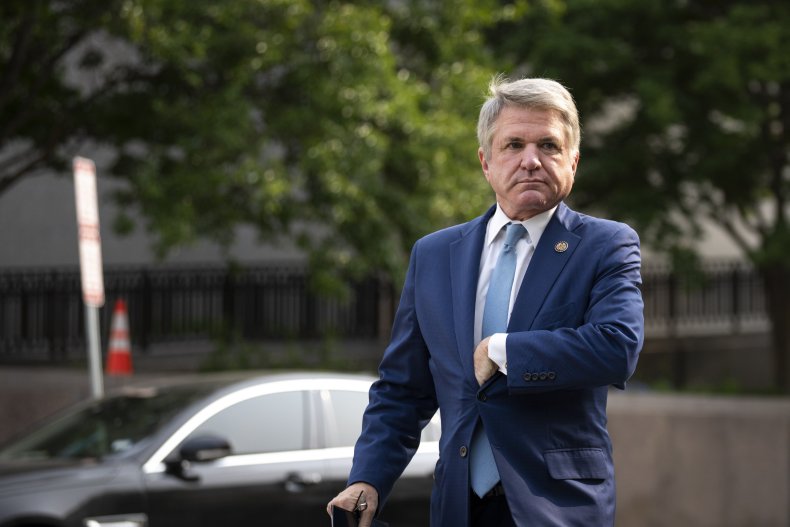 This comes after House Republican leaders have focused on two claims, in which Biden had denied in a 2020 campaign debate that his son Hunter had received money from China and that he hadn't met one of his son's Ukrainian business associates while he was vice president under former President Barack Obama.
Newsweek reached out to McCaul for further comment via email.
However, it was reported by Axios on Wednesday that both of those claims made by Biden were false, according to recent sworn testimony by Hunter and his business partner, Devon Archer. The White House has strongly denied those allegations. These two claims are considered a fundamental basis upon which the Republican Party is justifying its impeachment inquiry into Biden.
"Through our investigations, we have found that President Biden did lie to the American people about his own knowledge of his family's foreign business dealings," McCarthy said Tuesday as he announced the impeachment inquiry.
Meanwhile, Representative Nancy Mace, a South Carolina Republican, insisted that there is evidence regarding Biden's impeachment inquiry and said on Sunday that "facts are everywhere" during an interview with ABC News' This Week.
"There are text messages, emails, witnesses, whistleblowers, meetings, phone calls, dinners and you can't say, 'Hey, there's a little smoke we are not going to follow the fire.' The inquiry from my understanding gives us expanded subpoenaed powers. I want the bank records of Joe Biden, all of that should be on the table to prove out the allegations. We are talking about a significant sum of money, we are talking about bribery," the congresswoman said.
Despite various claims about Biden receiving bribes, Democrats have continued to criticize the inquiry, saying there's no proof the president did anything wrong and that he shouldn't be impeached for his son's actions.
Biden responded to the impeachment inquiry during a speech on Wednesday where he said, "I'm focused on the things the American people want me focused on…The best I can tell is they want to impeach me because they want to shut down the government."
Meanwhile, some took to social media platform X, formerly Twitter, on Sunday to express their concerns about McCaul's statement.
"If you know you don't have the evidence, then this inquiry has no justification in existing, you don't open an inquiry to find evidence, you open an inquiry to solidify the evidence you have," one X user said.
While journalist Aaron Rupar criticized the GOP congressman and wrote, "McCaul is what passes for a 'serious Republican' these days."