Following Hunter Biden's lawsuit against the Internal Revenue Service on Monday over tax disclosures, he is facing considerable backlash from Republicans.
The lawsuit comes after an investigation into Biden's business affairs continues amid increasing legal and political struggles, including Biden's recent indictment on federal firearms charges and an impeachment inquiry into his father, President Joe Biden.
The president's son filed the lawsuit alleging that two agents "targeted and sought to embarrass" him as they wrongly shared his personal tax information. The civil lawsuit filed in Washington alleges the improper disclosures included the specific tax years under investigation, deductions and allegations about liability as Hunter Biden says federal whistleblower protections don't include the sharing of confidential information in press interviews and testimony before Congress.
According to The Associated Press, while the lawsuit doesn't question the investigation itself, it seeks to "force compliance with federal tax and privacy laws" and stop the spread of "unsubstantiated allegations" and "unlawful disclosure" of his tax information.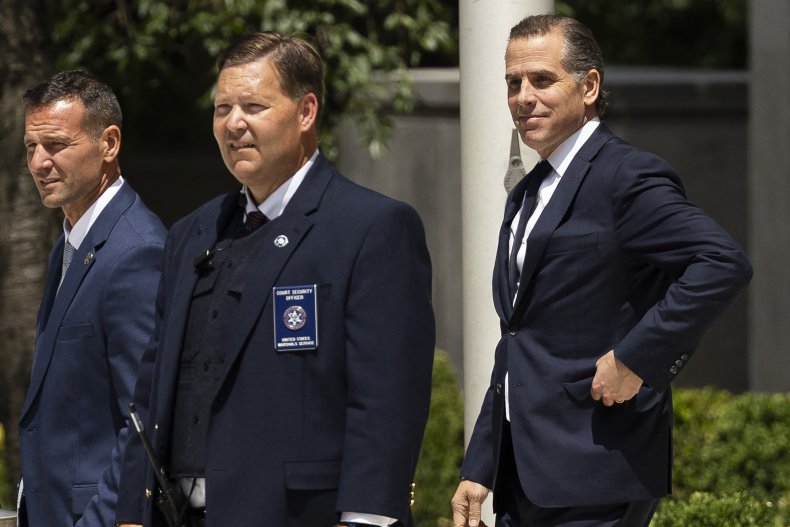 However, many Republicans are already criticizing the younger Biden's actions regarding the lawsuit.
Georgia Representative Marjorie Taylor Greene took to social media platform X, formerly Twitter, simply saying "hilarious" in response to the lawsuit.
"President Joe Biden's son is now attacking whistleblowers," Steve Guest, who calls himself a "conservative communicator" on X, posted.
In addition, IRS supervisory special agent Greg Shapley and a second agent, Joe Ziegler, both have denied political motivation and have alleged that the prosecutor overseeing the investigation, Delaware U.S. Attorney David Weiss, didn't have full authority to bring charges in other jurisdictions, according to AP.
In response to Biden's lawsuit, the Committee on Oversight and Accountability posted a statement to X alleging Biden is using the lawsuit as witness intimidation.
"They have brought forward serious allegations of politicization and misconduct by DOJ officials. Witness intimidation is just another dirty tactic by the Hunter Biden legal team. Despite their games, our investigation will continue," the Committee on Oversight and Accountability wrote.
Empower Oversight Whistleblowers & Research, an organization aimed at helping insiders document and report corruption, posted a statement from Shapley's legal team on X.
"This suit against the IRS is just another frivolous smear by Biden family attorneys trying to turn people's attention away from Hunter Biden's own legal problems and intimidate any current and future whistleblowers."
However, some believe the agents did violate and share personal tax information.
"You don't mention the fact that they broke the law by publicly disclosing an individual taxpayers private matters. Laws still count," an X user wrote.
ConWebWatch asked, "So it's OK for the IRS to illegally release private financial information about people now?"
Newsweek has reached out to Empower Oversight Whistleblowers and Research along with Hunter Biden's attorney for additional comment.