Russell Brand previously revealed that he provided "editorial notes" to remove accusations of predatory behavior against him from a comedy roast broadcast.
The comedian and actor is facing accusations by four women including rape, sexual assault and emotional abuse during a seven-year period, according to a joint investigation by The Sunday Times, The Times and Channel 4 Dispatches. Brand denies the allegations.
The women have claimed the sexual assaults occurred between 2006 and 2013, while Brand was a presenter for BBC Radio 2 and Channel 4, as well as when he was an actor in Hollywood. Meanwhile in a video posted on Friday to X, formerly Twitter, Brand denied the allegations leveled against him.
According to an article published by The Sunday Times at the weekend, one woman alleged that Brand raped her against a wall in his Los Angeles home and that she was treated at a rape crisis center on the same day. The Times said it had also seen medical records to support the allegation.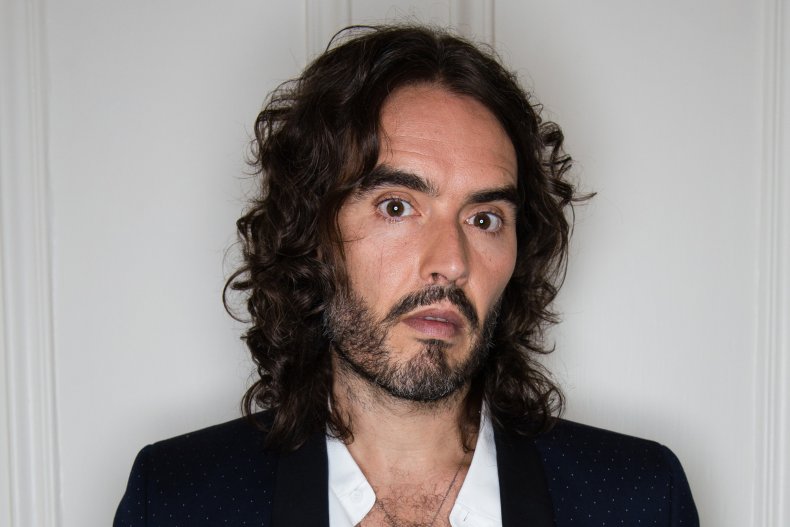 A second woman alleged that the comedian assaulted her when he was in his early 30s and she was 16 and still in school. She alleged he referred to her as "the child" during an emotionally abusive and controlling relationship that lasted for about three months.
A third woman claimed that Brand sexually assaulted her while she worked with him in Los Angeles, and that he threatened to take legal action if she told anyone else about her allegation. Meanwhile, the fourth woman alleged being sexually assaulted by Brand and him being physically and emotionally abusive towards her.
While Brand has denied any wrongdoing, a TikTok user has pieced together previous interviews given by Brand and fellow comedian Katherine Ryan, in an attempt to illustrate the idea that the Get Him to the Greek star had long been the subject of such rumors.
The clip started with Canadian-born TV personality Ryan speaking with broadcaster Louis Theroux in 2022. She told her interviewer about having confronted an unnamed comedian about being a "predator" during the taping of a show.
Ryan said in the interview that "lots of people have tried to nail this person down for their alleged crimes. And I, in front of loads of people, in the format of the show, said to this person's face that they were a predator."
"You said on the show, not backstage?" British journalist Theroux asked. Ryan responded that she repeated the allegation to the person "again and again."
When asked if her allegations remained in the episode, she said: "No."
The TikTok clip then cut to audio of Brand in a 2017 interview, in which he spoke about his upcoming appearance Comedy Central show Roast Battle, which featured comedians trading insults. Brand's six-episode appearance on the show aired in the U.K. in January 2018.
In the clip, Brand specified the name of the show and explained that it featured Ryan, as well as host Jimmy Carr.
Speaking of his experience, Brand said: "I was hauled into this cyclone of condemnation. People were like, [mentioning ex-wife] Katy Perry here. I'm like, whoa I'm not doing this!"
Brand said that he did not pay much attention to the details of the show, as his agent put it together and he thought the premise sounded "like a laugh."
"It was absolute nonsense," Brand said of his eventual experience on the show.
When the Forgetting Sarah Marshall star was asked if the first episode was going to be "more sort of harsh against you," Brand interjected, with a laugh: "Not after the editorial notes… You can't use any of that. What are you doing?"
Newsweek has contacted representatives of Brand, Ryan and Comedy Central via email for comment.
According to The Sunday Times, the investigations developed over the past few years, with reporters interviewing hundreds of sources who knew or worked with Brand, such as ex-girlfriends and their friends and family, comedians, celebrities, people who worked with him in radio and TV, and senior staff at the BBC, Channel 4 and other media organizations.
To corroborate these allegations, The Sunday Times wrote that reporters viewed private emails and text messages, submitted freedom of information requests, viewed medical and therapists' notes, and Brand's books and interviews.
In his video posted to X, Brand said his relationships have been "always consensual" and that he seriously refutes "these very serious criminal allegations."
Brand maintained that he has been transparent about his previous relationships being consensual and wants to continue being transparent. He continued his response by also suggesting the two "mainstream media outlets are making a coordinated attack" against him.
"These allegations pertain to the time when I was working in the mainstream, when I was in the newspapers all the time, when I was in the movies, and as I've written about extensively in my books I was very, very promiscuous," he said.