The organization that was successful in overturning race-based college admissions in the Supreme Court is now going after the U.S. Military Academy for its policies.
Students for Fair Admissions, a conservative group that has worked for years to eliminate consideration of race and ethnicity in higher education admissions, sued West Point on Tuesday over its race-conscious admissions process. SFFA's suit says that process "has no justification" and is "unconstitutional for all other public institutions of higher education." West Point should not be exempt from the Constitution, the lawsuit adds.
In June, the Supreme Court voted 6-3 to strike down affirmative action in college admissions policies as a result of two separate cases brought by SFFA against Harvard and the University of North Carolina at Chapel Hill (UNC). The Court's decision was met with both praise and a backlash.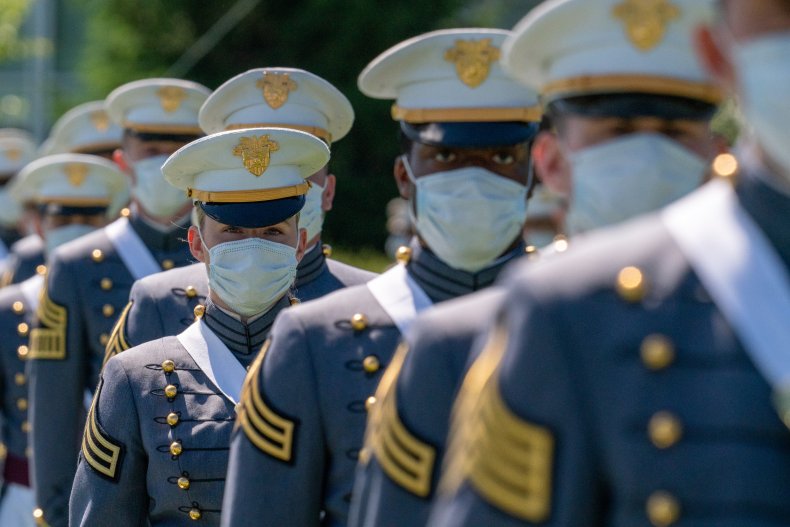 "Over the years, courts have been mindful of the military's unique role in our nation's life and the distinctive considerations that come with it," SFFA President Edward Blum said in a statement Tuesday. "However, no level of deference justifies these polarizing and disliked racial classifications and preferences in admissions to West Point or any of our service academies.
He went on: "Because the U.S. Supreme Court's recent opinion in the SFFA case expressly forbids all institutions of higher education from using race in admissions decisions, it must follow that the U.S. military's higher education institutions must end their race-based policies as well."
Blum later told Newsweek, "SFFA has members who will be applying to West Point soon, so this was the necessary action to take."
Newsweek reached out to West Point via email for comment.
The suit, filed in the Southern District of New York, says that West Point is violating the Fifth Amendment. It alleges that for most of the academy's history cadets were "evaluated based on merit and achievement" but now, "instead of admitting future cadets based on objective metrics and leadership potential, West Point focuses on race."
Chief Justice John Roberts, in his majority opinion in the Harvard-UNC cases, did not include U.S. military academies among the educational institutions that the Court ruled could not continue using affirmative action in admissions, given the Constitution's equal protection guarantees.
A footnote in Roberts' opinion reads: "The United States as amicus curiae contends that race-based admissions programs further compelling interests at our Nation's military academies. No military academy is a party to these cases, however, and none of the courts below addressed the propriety of race-based admissions systems in that context. This opinion also does not address the issue, in light of the potentially distinct interests that military academies may present."
The lawsuit seeks to have West Point's race-conscious admissions ruled unconstitutional, with an applicant's race not known or considered when decisions are made.