An Amazon driver is in "very serious" condition after a snake bite during a routine delivery in Florida.
The Martin County Sheriff's Office said Tuesday morning that the female driver was delivering a package in Palm City, in the southeastern portion of the state, when she was bitten by an Eastern diamondback rattlesnake. The snake was coiled up near the homeowner's front door in the Highland Reserves community.
"The driver walked to the door, put the package down and was struck by the snake," the sheriff's office wrote in a Facebook post. "She immediately became ill and called out for help. The snake bite victim was transported to the hospital where she is in very serious condition."
A sheriff's office spokesperson told Newsweek via phone that a police report was not yet filed and that the driver's present condition is unknown. It's unclear where the driver was bitten or how large the snake was.
Newsweek reached out to Amazon via email for comment.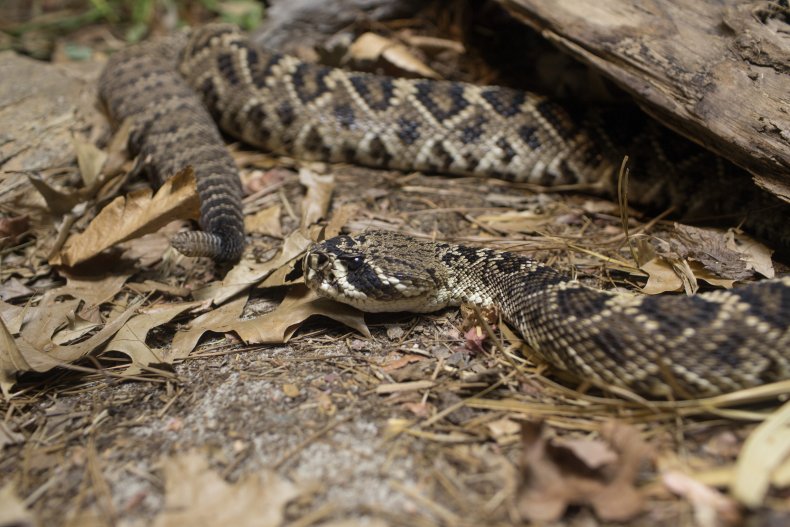 This species of rattlesnake is the largest venomous snake in North America, according to National Geographic. It can reach up to 8 feet in length and weigh up to 10 pounds, though they average about 5.5 feet and 5 pounds.
Adults are usually between 33 and 72 inches. The largest ever recorded was 96 inches, according to the Savannah River Ecology Laboratory at the University of Georgia.
Their venom contains a potent hemotoxin that kills red blood cells and causes tissue damage. Although bites are described as extremely painful and can be fatal to humans, they typically don't result in death.
The snakes live on average in the wild for 10 to 20 years and tend to live in dry, pine flatwoods, sandy woodlands and coastal scrub habitats ranging from southern North Carolina to Florida and west to Louisiana.
These carnivores, whose population is dwindling, are widely recognized by their yellow-bordered and light-centered black diamonds. They eat an array of animals, including rats, mice, squirrels and birds.
Their aggression toward humans is described as more of a rare occasion.
"Feared as deadly and aggressive, diamondbacks are actually highly averse to human contact and only attack in defense," according to National Geographic. "Most bites occur when humans taunt or try to capture or kill a rattlesnake. They can accurately strike at up to one-third their body length."
Florida is home to 44 species of native snakes in coastal mangroves, salt marshes, freshwater wetlands, dry uplands and many residential areas, according to the Florida Fish and Wildlife Conservation Commission.
Aside from the Eastern diamondback, only five of the state's 44 species are venomous: Eastern coral, Southern copperhead, cottonmouth, timber rattlesnake and dusky pygmy rattlesnake.