President Biden's claim to have built an economy "from the middle out and the top up" isn't resonating with American voters, with more than twice as many saying they feel worse off than better off before the coronavirus pandemic, according to a new survey.
The CBS News/YouGov poll found just 20 percent of voters think they are "better off today" than they were when the pandemic struck, whereas 45 percent said they are "worse off today" and 35 percent said they are "about the same."
Biden's economic record, summarized by the president himself as 'Bidenomics,' is likely to be a key point of contention in the 2024 presidential election. Polling indicates Donald Trump has a firm lead with Republican voters against other prospective GOP candidates, potentially setting up a rematch of the 2020 election battle.
Since assuming the presidency, Biden has pursued an interventionalist economic strategy, starting with his decision to authorize the American Rescue Plan, a $1.9 trillion stimulus package intended to kickstart growth after the pandemic. He has also poured money into an attempt to revive U.S. manufacturing via legislation such as the 2022 Inflation Reduction Act which allowed $300 billion into funding for green energy.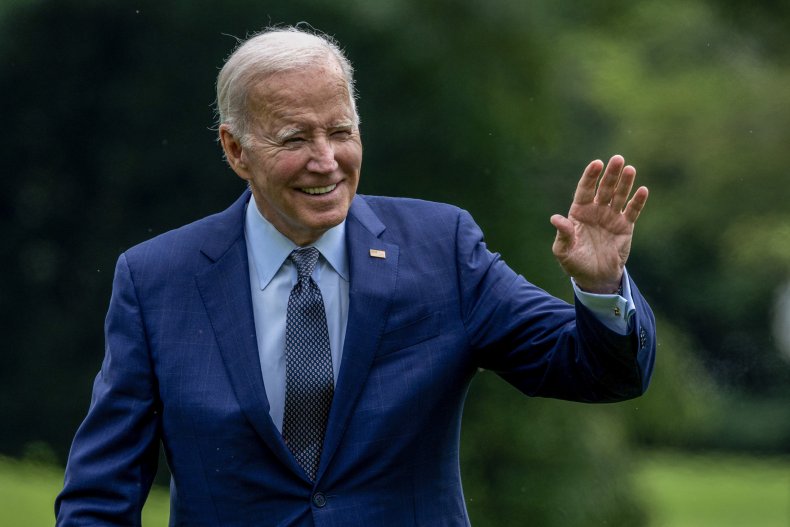 Critics argue this spending contributed to a surge in inflation, which rose to over 8 percent in 2022 before falling back to 3.7 percent in August.
Defending his economic record on X, formerly Twitter, earlier this week Biden commented: "We're continuing to build an economy from the middle out and bottom up, with better jobs and lower costs—even as Republicans in Congress push for tax cuts for the wealthy and large corporations and devastating cuts to Social Security and Medicare."
He also compared "Bidenomics" which "ensures the wealthy and large corporations pay their fair share in taxes" with Trump's "Maganomics" which means "more tax giveaways for the wealthy and large corporations."
The CBS/YouGov poll of 4,002 U.S. adult residents conducted between September 12 and 15 found Trump is the preferred presidential candidate for 50 percent of Americans, versus 49 percent for Biden.
If also found significant concern about Biden's fitness to serve, with 43 percent of respondents saying of the two men only Trump is "physically healthy enough to serve as president." Another 29 percent said neither man is fit enough to serve, with 12 percent claiming they both are and 16 percent saying only Biden is.
Only 34 percent of voters think Biden will serve a full second term if re-elected in November 2024, versus 55 percent for Trump. By contrast, 44 percent believe Biden would leave office early, with 16 percent saying the same about the Republican frontrunner.
Meanwhile, aside from Trump is facing four criminal cases which could complicate any return to the White House. He is facing charges related to claims he orchestrated the payment of hush money to a pornographic actress, mishandled classified documents and broke the law attempting to overturn the 2020 presidential election both nationwide and in the state of Georgia specifically. The former president has pled not guilty to all counts in all four cases and insists the charges against him are politically motivated.
The CBS News/YouGov poll has a margin of error is ±2.1 points.
Newsweek has contacted the White House for comment by email.