A royal mark of disapproval, so notorious it was referenced by Prince Harry in his bombshell memoir earlier this year, has become the subject of a new viral video, being viewed over a quarter of a million times so far on TikTok.
Uploaded to the site by user margorvse on September 6, an edited clip highlights a notable glance given by Queen Elizabeth II's only sister, Princess Margaret, on the steps of St. Paul's Cathedral following the wedding of Prince Charles (now King Charles III) and Princess Diana in July 1981.
Margaret is shown in the clip speaking to her sister before looking in the direction of Frances Shand Kydd, Princess Diana's mother, with the caption: "Nothing, absolutely nothing…Margaret 👀."
Public interest in Princess Margaret and her life story has seen a resurgence in recent years, owing to the popularity of hit royal Netflix drama series, The Crown.
In the show, the princess is depicted as a glamorous yet wayward character, who was thwarted in love by the monarchy and British establishment, which prevented her marriage to an older divorced member of the royal household, Group Captain Peter Townsend, in the 1950s.
Her role as the rebellious "spare" to Queen Elizabeth saw Margaret form a friendly relationship with another princess seen as an outsider to the family, Diana.
In 1992, Diana revealed to her biographer, Andrew Morton, that Margaret had always been a supportive figure within the royal family. "I've always adored Margo, as I call her," she said in a transcript of interviews about her life, given to the author.
"I love her to bits and she's always been wonderful to me."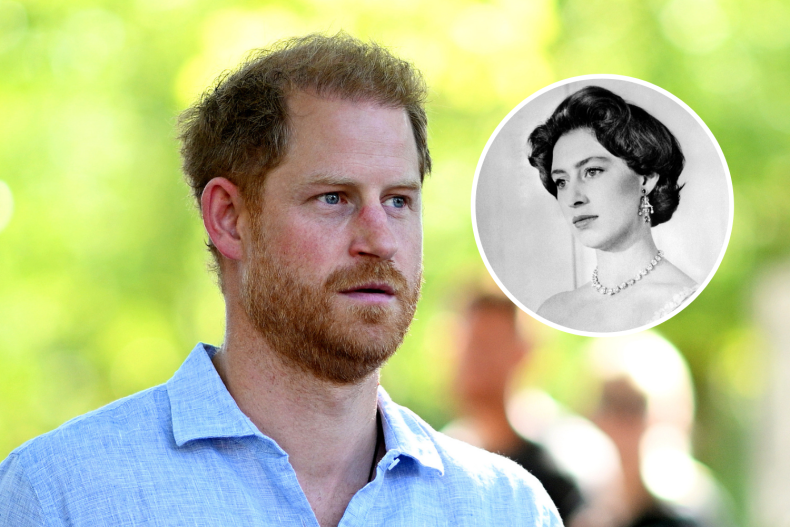 The relationship between the two princesses reportedly changed between 1992 and Diana's death in 1997, with Margaret taking the side of her nephew, Charles, in the couple's 1996 divorce.
Margaret gained a reputation for being imperious and intimidating, something Diana's son, Prince Harry, would reference in his Spare memoir, published in January 2023.
"I didn't know Princess Margaret, whom I called Aunt Margo. She was my great-aunt," he told readers, before going on to add that he was "conversant with the general contours of her sad life. Great loves thwarted by the Palace. Exuberant streaks of self-destruction splashed across the tabloids."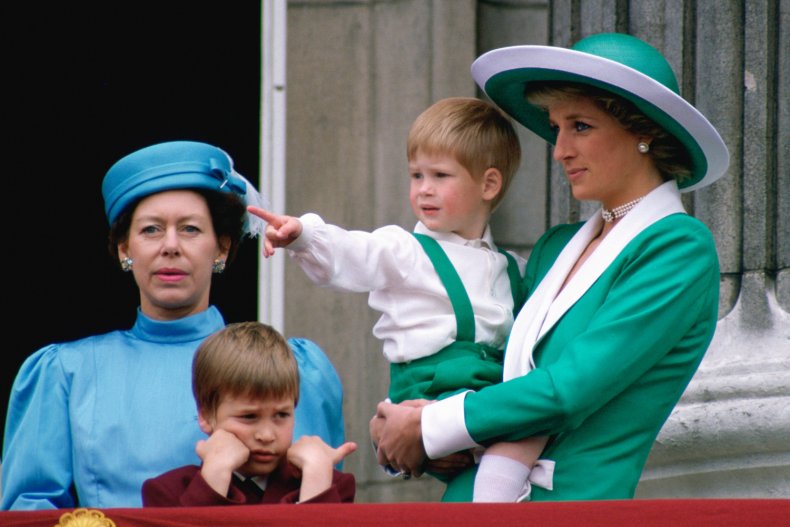 "Growing up, I felt nothing for her, except a bit of pity and a lot of jumpiness," he said.
"She could kill a houseplant with one scowl. Mostly, whenever she was around, I kept my distance. On those rarer-than-rare occasions when our paths crossed, when she deigned to take notice of me, to speak to me, I'd wonder if she had any opinion of me. It seemed that she didn't. Or else, given her tone, her coldness, the opinion wasn't much."
Margaret married society photographer Antony Armstrong-Jones in 1960 and the couple had two children, David, Viscount Linley (now Lord Snowdon) and Lady Sarah Armstrong-Jones (now Lady Sarah Chatto—Prince Harry's godmother).
Neither made any comment or response to Harry's claims about their mother in his memoir, in line with a general "no comment" position taken by Buckingham Palace.
Princess Margaret died in 2002. Her final years are expected to be one of the key storylines explored in the final season of Netflix's The Crown, due to air this winter.
James Crawford-Smith is Newsweek's royal reporter, based in London. You can find him on Twitter at @jrcrawfordsmith and read his stories on Newsweek's The Royals Facebook page.
Do you have a question about King Charles III, William and Kate, Meghan and Harry, or their family that you would like our experienced royal correspondents to answer? Email royals@newsweek.com. We'd love to hear from you.