Russell Brand stands to lose millions of dollars after YouTube banned him from earning revenue from advertising on his channel.
The video platform website announced on Tuesday it had demonetized the comedian's channel after multiple allegations of rape, sexual assault, emotional abuse and coercive control were leveled against him.
A joint investigation by the U.K.'s Channel 4 Dispatches TV program and The Sunday Times and The Times newspapers spoke to five women who claimed Brand sexually assaulted them between 2006 and 2013.
He has strongly denied the allegations and said all his relationships were "always consensual" and happened at a time in his life when he was infamously "promiscuous."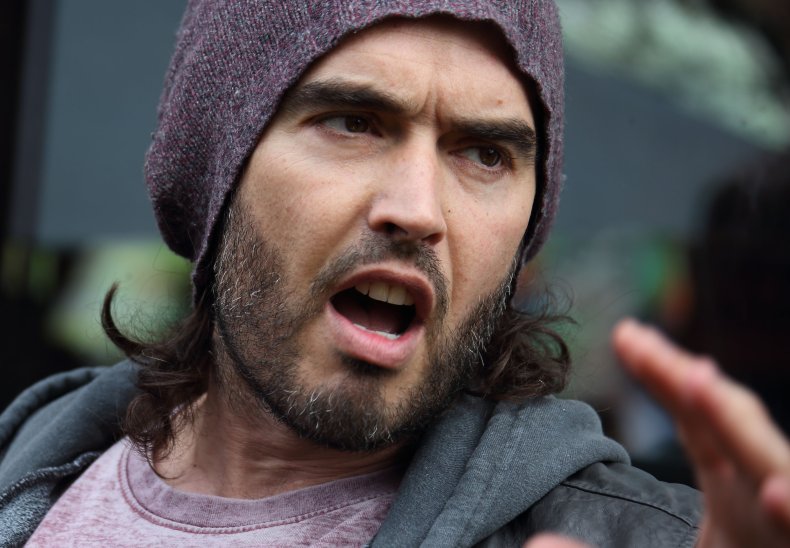 But the repercussions for his career have come swiftly for the British star, who on Tuesday lost the ability to earn money on YouTube, which said Brand had violated its "creator responsibility policy."
Brand currently has 6.6 million subscribers on YouTube, where he has racked up more than 1.1 billion cumulative views. YouTube sells advertising on its videos and for every 1,000 advertisement views, companies pay a certain rate to the video platform.
YouTube then splits that revenue with individual content creators who are given 45 percent of advertisement profits, so those with more views have the potential to earn a higher income.
Social media analytics site, Social Blade, estimated Brand was on track to earn up to $887,617 this year before YouTube's moves to demonetize him.
Other experts estimated Brand earns more than $1.2 million a year on YouTube because the comedian is thought to make between $2,480 and $4,960 per video and publishes about five videos per week, according to U.K. paper The Guardian.
Creators can earn money if they are part of YouTube's Partner Program or YouTube AdSense, after meeting certain criteria including a minimum subscriber amount, video uploads and video views.
YouTubers who spoke to Business Insider about their earnings made between $1.61 and $29.30 per 1,000 views.
The company has also banned Brand from starting another YouTube channel to get around its decision.
"We have suspended monetization on Russell Brand's channel for violating our creator responsibility policy," YouTube wrote in a statement. "If a creator's off-platform behavior harms our users, employees or ecosystem, we take action to protect the community."
YouTube confirmed it suspended Brand's channel from the YouTube Partner Program "following serious allegations against the creator. This action means the channel is no longer able to monetize on YouTube."
Brand is thought to be worth about $20 million, according to Celebrity Net Worth, and the personal company he owns with wife, Laura Gallacher, had $5.21 million assets in 2021, according to filings in Companies House.
The couple are still selling tickets on Brand's website for a wellness retreat the couple are running together next year. Tickets for the event range from $198 to $241.
Newsweek contacted Brand by email for comment.
It is not the only blow Brand has received since the Dispatches program went to air on Saturday.
The promoters of his Bipolarisation standup tour revealed the remaining three shows had been postponed and his working relationship with a U.K. book publisher was suspended.
Furthermore, a literary and talent agency has dropped him, while a charity supporting women who have been affected by abuse also ended its collaboration with Brand.
The actor denied the allegations in a video on his X, formerly Twitter, account before the program went to air.
Brand argued he had always been transparent about his previous relationships being consensual and added the "mainstream media outlets are making a coordinated attack" against him.
"These allegations pertain to the time when I was working in the mainstream, when I was in the newspapers all the time, when I was in the movies, and as I've written about extensively in my books, I was very, very promiscuous," he said.
The investigation spoke to the women who described the alleged assaults, including one who described that Brand raped her in his Los Angeles home and that she was treated at a rape crisis center that day.
Another was 16 years old at the time when Brand began a relationship with her while he was in his early 30s. He allegedly referred to her as "the child" during their time together and she claimed he was emotionally abusive and controlling. The woman also described an alleged incident of a forced sexual act and asking her to sit in a bath for hours until he came home and the water had turned cold.
A third woman said that Brand sexually assaulted her while she was working with him in Los Angeles and he threatened to sue her if she told anyone, while the fourth woman claimed she was sexually assaulted by Brand. She also said he was physically and emotionally abusive toward her.
The British newspapers said they used the testimony of the women, medical records, corroborated the women's stories with people they spoke to at the time, and saw private emails and text messages in order to go public.