A Virginia house cat was caught on camera narrowly avoiding a potentially grisly confrontation with a black bear.
In footage captured on a Ring security camera device positioned outside a residential property in the community of Hardy, about 9 miles southeast of Roanoke, an unnamed feline can be seen hiding behind a short hedgerow as a black bear walks in the opposite direction around the other side. The video was shared with Newsweek by Ring.
The cat can be seen crouching low next to the hedge to glance at the bear, before beating a hasty retreat. Though there are few recorded incidents of cats being attacked by bears, they have been known to attack dogs.
According to black bear information website BearWise, from 2010 to 2015, dogs were involved in more than half of all reported incidents involving people and black bears. In 46 percent of those instances, the dogs were either injured or killed.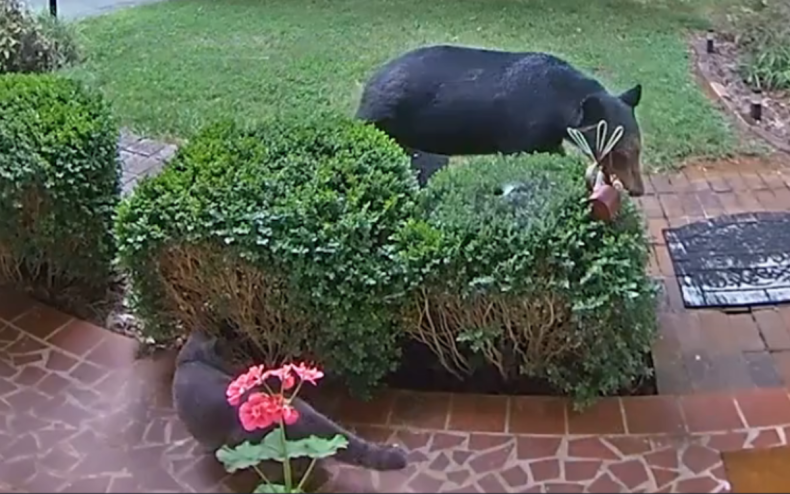 Fortunately, in this instance, the cat escaped unscathed. Speaking to Ring, the homeowner who captured the incident on camera, Melanie, said: "Cat is fine, just scared. Did not go outside for a few days, though."
According to the homeowner, bear sightings are on the rise in Virginia.
"Bears are becoming more common," she said. "This one is a 2- to 3-year-old. We have a mom that shows up with her twin cubs. We were home eating dinner when I got the notification about a person at our door. Shared the video to alert neighbors in the area."
The footage is from August, when bear sightings are more frequent due to the warm weather.
Virginia Department of Wildlife Resources (DWR) wildlife biologist Katie Martin believes bears also see that as an opportune time to raid homes in the hope of finding food.
"When human-related foods are easily accessible, bears may venture closer to homes or recreation sites to access garbage, bird food, pet food and grills," Martin, who is a deer, bear and turkey biologist, said in a blog post.
As a result, Martin believes it is essential that homeowners take precautions. Though Melanie's cat was smart enough to find a way out, other pets might not be so fortunate.
"It is important to always remove or secure attractants that may lure a bear into your yard," Martin said.
Melanie confirmed that the bear was drawn to the property because of an accessible food source.
"This particular bear had gotten into our garage and took a bag of bird seed out of a metal container," she said. "He has also torn apart several bird feeders and suet feeders."