The NBA seems to want in on all the Taylor Swift attention the NFL is getting.
A relationship between the 12-time Grammy Award-winning pop star and Kansas City Chiefs tight end Travis Kelce has attracted many "Swifties" to football. But one of the NBA's most prominent figures would love to see that change. Dallas Mavericks owner Mark Cuban said on ESPN's "First Take" Thursday that Swift should ditch Kelce in favor of one of his players.
"Taylor, if you're listening, sorry Travis, break up with him," Cuban said with a smirk. "I've got a bunch of good-looking single guys that play for the Dallas Mavericks. I got you."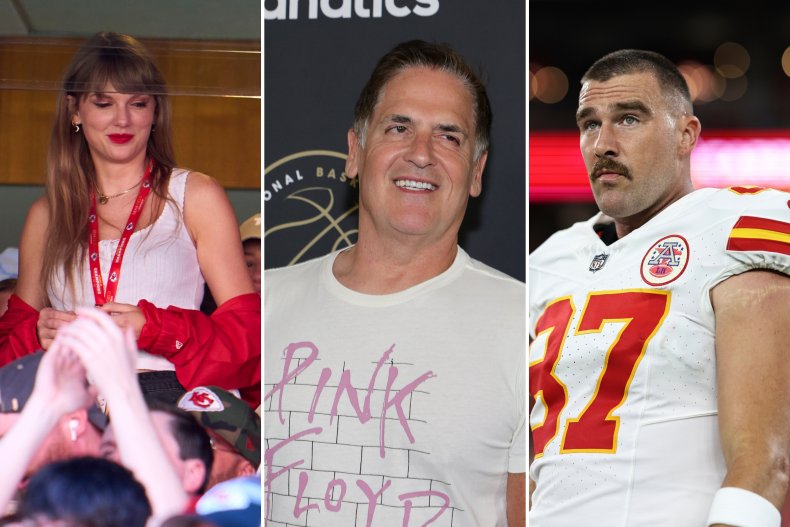 Cuban's message left ESPN's Stephen A. Smith rolling his eyes and muttering, "Oh my Lord."
It didn't take long for Kelce to see Cuban's comments on X (formerly Twitter). But the eight-time Pro Bowler played along rather than take anything too personally. The 6-foot-5 tight end replied to the "First Take" account saying that Cuban should sign him to a 10-day NBA contract. Cuban was all smiles in his reply back to Kelce.
Cuban's plea to Swift comes as the NFL's popularity soars.
Swift attended Kansas City's Week 3 win over the Chicago Bears, sitting in a luxury box next to Travis' mother, Donna. Her presence at the game was highlighted several times on the FOX broadcast and attracted millions of viewers to an otherwise-dull 41-10 Chiefs win. The Chiefs-Bears game was the highest-rated NFL contest of the week across any network with 24.3 million viewers.
It was also the top-rated game for women in three different age demographics, according to Fox Sports. And this comes as Kelce's jersey sales have soared nearly 400 percent.
Kelce caught seven passes for 69 yards and a touchdown with Swift looking on. The 11th-year pro said on the "New Heights" podcast he hosts with his brother, Jason, this week that he "sure as hell" enjoyed last weekend but moving forward wants to keep his relationship private.
"What's real is that it is my personal life," Kelce said on the podcast. "I want to respect both of our lives. She's not in the media as much as I am doing this show every single week and having fun during the NFL season doing other guys' shows like the [Pat] McAfee Show and any other show I go on from here on out.
"Everything moving forward, I think talking about sports and saying 'alright now' will have to be kind of where I keep it."
Kelce and Swift were seen leaving last week's game, and multiple reports indicate that the "Anti-Hero" singer will be at the Chiefs' Week 4 contest against the New York Jets. The Chiefs and Jets will play at 8:20 p.m. ET on Sunday in a primetime Sunday Night Football matchup.
Uncommon Knowledge
Newsweek is committed to challenging conventional wisdom and finding connections in the search for common ground.
Newsweek is committed to challenging conventional wisdom and finding connections in the search for common ground.