Former Trump administration official Sebastian Gorka claimed Democrats "owned the Republicans" at Thursday's first hearing in the GOP's impeachment inquiry into President Joe Biden, claiming they turned it into "impeachment 48 of President Trump."
Gorka, who served as deputy assistant to the president for seven months in 2017, made the claim during an appearance on Steve Bannon's War Room podcast.
House Speaker Kevin McCarthy announced he was launching an impeachment inquiry into Biden, potentially a prelude to an impeachment trial, earlier this month in response to "serious and credible allegations" about his conduct. Republicans have suggested Biden traded political favors in exchange for financial transfers to his son, Hunter Biden, though conclusive evidence to this effect has not been produced. Biden has repeatedly denied any wrongdoing, and insists he was not involved with his son's business activities.
Referring to the Democrats on Bannon's show, Gorka said: "They still owned the Republicans. Utterly owned them."
"I mean think about it, what did we witness today Steve? It was impeachment 48 of President Trump. They turned the whole thing, their photographs with Ivanka, photographs with Jared," he continued.
Gorka was referring to Democrat Robert Garcia asking why the committee was not investigating "real family corruption" whilst photos of Ivanka Trump and her husband Jared Kushner, both former advisors to Trump, were held up.
Referencing GOP speakers, Gorka continued: "I'm a political junkie like you and I see somebody who's like third in line 12 minutes in and I've never heard of this piker before. I've never heard of this congressman or woman and they're just like 'here's another meat puppet, here's your script darling, read it.' And then the cretin, the stupid Democrat just owns them Steve.
"And then the last thing Comer stands in the corridor afterwards and says 'that was a great day bumble bumble bumble bumble' then he says 'we just had one question—what did Biden's get for the tens of millions and he doesn't answer the question.' If you think you answered that question today perhaps you should tell the American people what the answer to that question was."
James Comer is a Republican representative who chairs the powerful House Oversight Committee. Newsweek contacted House Speaker McCarthy for comment by telephone.
A one minute, 26-second clip of Gorka's comments was shared on X, formerly Twitter, by Ron Filipkowski, editor of the self-styled pro-free speech media outlet Meidas Touch.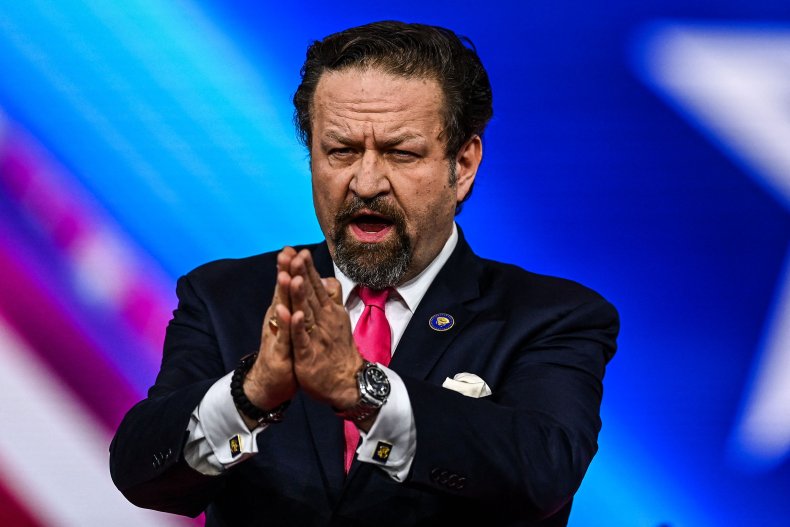 During the impeachment hearing one of the Republican's own witnesses, George Washington University law Professor Jonathan Turley, said he didn't believe enough evidence had been produced to justify Biden's impeachment.
He said: "I have previously stated that, while I believe that an impeachment inquiry is warranted, I do not believe that the evidence currently meets the standard of a high crime and misdemeanor needed for an article of impeachment.
"However, I believe that the record has developed to the point that the House needs to answer troubling questions surrounding the president. Polls indicate that most of the country shares those concerns while expressing doubts over the Biden administration investigating potential criminal conduct."