Fox News host Sean Hannity has spoken out in Taylor Swift's defense, amid conservatives' criticism of the pop star after she led a voter registration drive.
While presenting his show, Hannity, on the right-leaning news network on Thursday, the TV personality, 61, voiced his objections to people "hating on" Swift, 33, as he called her a "great businesswoman," who "seems like a lovely girl."
Swift came under fire after she shared a message with her more than 273 million Instagram followers on September 19, urging them to register on the nonpartisan, nonprofit Vote.org. Per the organization, Swift's post on National Voter Registration Day was followed by a surge of more than 35,000 registrations—an almost 25 percent increase over the same day last year.
However, the news was followed by criticism of Swift by a number of Republicans—likely stemming from the musician's own outspoken stance against politicians in their party, most notably former president and 2024 candidate Donald Trump.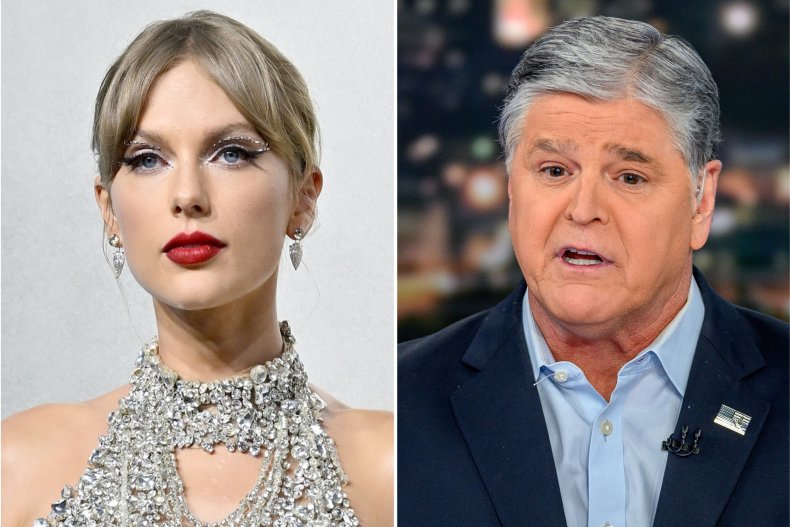 "Taylor Swift is dumb and her music sucks," wrote Sean Davis, CEO and co-founder of conservative web magazine The Federalist, on X, formerly Twitter, on Monday. The post was accompanied by a link to an article on The Federalist's website that described Swift's popularity as "a sign of societal decline."
Political commentator Tomi Lahren also recently weighed in with less-than-flattering thoughts on Swift, saying on her podcast: "Her lefty, liberal braindead political opinions aside, I am a fan of Taylor Swift and I have been since way before she went full liberal."
Reacting to news of Swift cheering on Kansas City Chiefs tight end (and rumored boyfriend) Travis Kelce at a game on Sunday, Hannity opted to forgo leveling criticism at the "Shake It Off" singer.
"I look at Taylor Swift—if I picked my music based on their politics, I'd have five choices. Let's be honest," Hannity said. "You know, country, Christian contemporary, which are my favorite, but I admire her talent. She writes all her songs, she does these shows that have like nearly 50 songs, you know, sets in them."
"She's a great businesswoman, seems like a lovely girl, extraordinarily nice to her fans," the host continued. "And I kind of hate people, you know, hating on her."
Concluding his thoughts on the matter, Hannity referenced Kelce's recent ad for Pfizer, in which he promoted getting the flu alongside COVID booster shots. He also touched upon Kelce's appearance in a Bud Light commercial.
COVID vaccines have long been viewed with skepticism by certain political commentators, while Bud Light was subjected to a conservative-led boycott earlier this year over its small partnership with transgender influencer Dylan Mulvaney.
"I know that Travis is woke, and he's Bud Light, and he's for the COVID shot," Hannity said. "You know what, if you want to listen and get advice from a football player, I don't care. Or a pop star. I don't care where you get your advice. We live in a free country, they are entitled to their views, as much as I might disagree. But I can also recognize talent and they're both enormously talented… I wish them the best, I hope it works for them."
For years, Swift was known—and often criticized—for being tight-lipped about political issues.
"Part of the fabric of being a country artist is don't force your politics on people," Swift explained in her 2020 Netflix documentary Miss Americana. "Let people live their lives. That is grilled into us."
In 2018, however, she used her platform to promote Democratic nominees in Tennessee ahead of the midterm elections. Upon hearing the news of Swift's support for Democrats, Trump told reporters at the time: "Let's say that I like Taylor's music about 25 percent less now, OK?"
Despite Swift's efforts, Senator Marsha Blackburn (R-TN) emerged the victor in the 2018 midterm elections, becoming the first female senator to represent the state of Tennessee.
Undeterred, Swift has continued to weigh in on politics. Several months before the 2020 election, Swift accused then-President Trump of "stoking the fires of white supremacy and racism" throughout his term in office.
"We will vote you out in November," she added in her post.
Over the years, Swift has become more politically outspoken, despite any potential backlash she may face. Addressing the consequences in Miss Americana, the singer said: "If I get bad press for saying, 'Don't put a homophobic racist in office,' then I get bad press for that."