Former federal prosecutor Glenn Kirschner encouraged observers on Friday to "watch the dominos fall" after a co-defendant in former President Donald Trump's Georgia election interference case accepted a plea deal.
Last month, a grand jury in Fulton County, Georgia, voted to indict Trump and 18 others in connection with the former president's effort to contest and overturn the results of the 2020 presidential election in the state. The result of a long-term investigation by District Attorney Fani Willis, it is the fourth criminal indictment leveled against Trump this year. Trump now faces 13 charges in the state, including a violation of the Racketeer Influenced and Corrupt Organizations (RICO) Act, and has pleaded not guilty to all of them.
Among the many co-defendants in the Fulton County case is Scott Hall, a bail bondsman and one-time GOP poll watcher in the county. On Friday, he became the first person to take a plea deal in the case, pleading guilty to five misdemeanor counts of "conspiracy to commit intentional interference with performance of election duties." In exchange for the deal, he has agreed to testify under oath in future proceedings related to the case.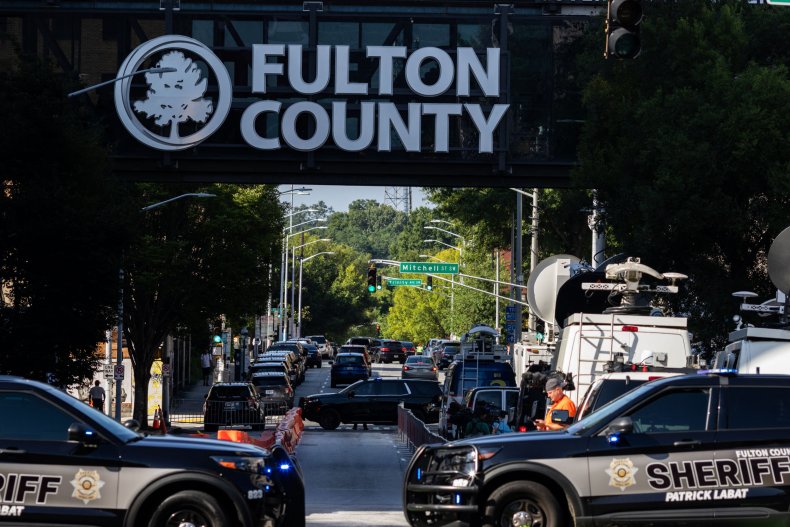 In a Friday edition of his ongoing YouTube series, Kirschner, a veteran former prosecutor turned legal analyst for outlets like MSNBC and a staunch Trump critic, suggested that Hall's deal would only be the start of co-defendants "flipping" on the former president.
"So, let the flipping begin," Kirschner said. "Or I guess I should say, let the flipping continue."
Later, he added: "The chips have begun to fall in Georgia, with the first co-conspirator, the first co-defendant agreeing to plead guilty, and flipping, agreeing to testify against the other co-defendants. He may be the first one to flip, but friends, I can tell you based on experience handling RICO conspiracy cases, he will not be the last. Things down in Georgia are trending in a good direction, trending toward accountability, trending toward justice."
Newsweek reached out to Trump's office via email for comment.
As part of his plea deal, which saw his felony charges downgraded to misdemeanors, Hall has agreed to five years of probation, as well as paying a $5,000 fine, issuing a letter of apology to Georgia voters, serving 200 hours of community service, and agreeing not to take part in activities related to polling or elections.
Among the other co-defendants in the case are a number of high-profile allies of Trump, including his one-time lawyer and former New York City Mayor Rudy Giuliani, as well as his former White House chief of staff Mark Meadows. Several of these co-defendants, like Meadows, attempted to have their cases moved to a federal court where they might find a more sympathetic judge or jury, but requests have so far been denied.