Russian gas production so far this year has slumped to levels not seen since the 1970s.
The country's state energy giant Gazprom said in its latest report that gas production in the first half of 2023 was 179.45 billion cubic meters (bcm). Gazprom added that this represents a year-on-year decrease of nearly a quarter (24.7 percent), and a 26.5 percent drop in gas supplies to the domestic and foreign markets.
Since Vladimir Putin's full-scale invasion of Ukraine started on February 24, 2022, sanctions have sought to isolate Russia from the global economy, cutting it off from the SWIFT international banking system and freezing some of its foreign exchange reserves.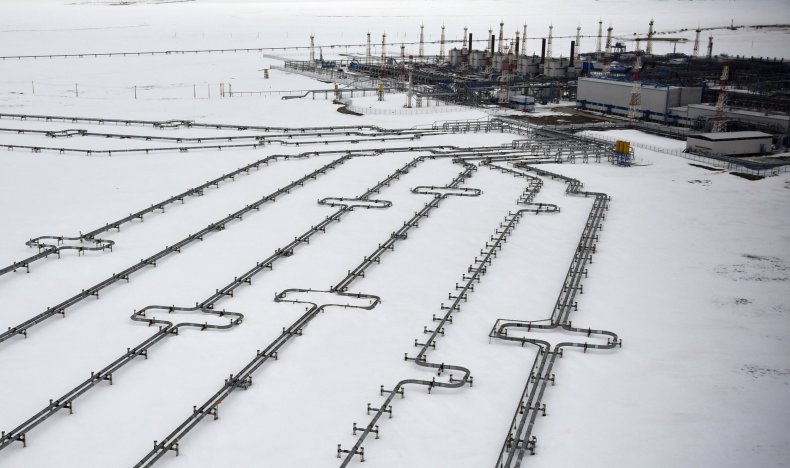 The invasion also pushed Europe to cut purchases of Russian oil and gas drastically. The continent overcame an energy crunch last winter, in part by reducing energy consumption and finding other suppliers, such as sellers of seaborne liquefied natural gas (LNG).
The Gazprom report said that the West had contributed to the decrease of the fuel and added that "the adoption in a number of countries of politically motivated decisions aimed at abandoning the import of Russian gas."
Independent Russian-language news outlet Agentstvo reported that Gazprom "has never had such a low production rate in its entire history" and that "the last time there was similar figure was in the Soviet Union in 1978," a year when 372.1 bcm were produced.
"Since then, the production of gas "has only grown," reported Agentstvo. The outlet added how Soviet gas output also included fields in Ukraine and Uzbekistan. Newsweek has emailed Gazprom for further comment.
In February 2023, Putin accused the West of direct attempts to try to hinder and restrain Russia's gas industry but added that Gazprom "is moving forward and launching new projects."
Meanwhile, Gazprom's report reinforces predictions by Russian state bank VEB, reported by Reuters in September, that Russia's pipeline natural gas exports to the European Union may fall to 21 bcm, almost two-thirds lower than last year and a six-fold drop from 2021.
VEB said that Russian gas exports to Europe are expected to fall to 15 bcm in 2026. Russia is offering discounted energy exports to so-called "friendly" countries. However, VEB added that infrastructure constraints mean it would not be able to supply enough gas to Asia to make up for the shortfall.
Gazprom head Alexei Miller will join Putin during the Russian president's visit next month to China to boost trade ties and offset losses of gas sales from the lucrative European market, Reuters reported.
Putin is scheduled to meet his Chinese counterpart Xi Jinping for talks in Beijing where he will attend the third Belt and Road Forum which comes months after Xi's high-profile visit to Moscow in March.