A young dog could barely contain his excitement upon arriving outside the home of his owner's parents.
Heartwarming footage of Onyx the 1-year-old mini poodle bouncing along the hallway, headed towards their apartment, was posted to TikTok by his owner, under the handle notshei.
"He loves going to my parents," an accompanying caption reads with Onyx appearing to have quite the spring in his step as they reach the front door. "Dogs are so pure and innocent," his owner wrote alongside the clip. "We really don't deserve them."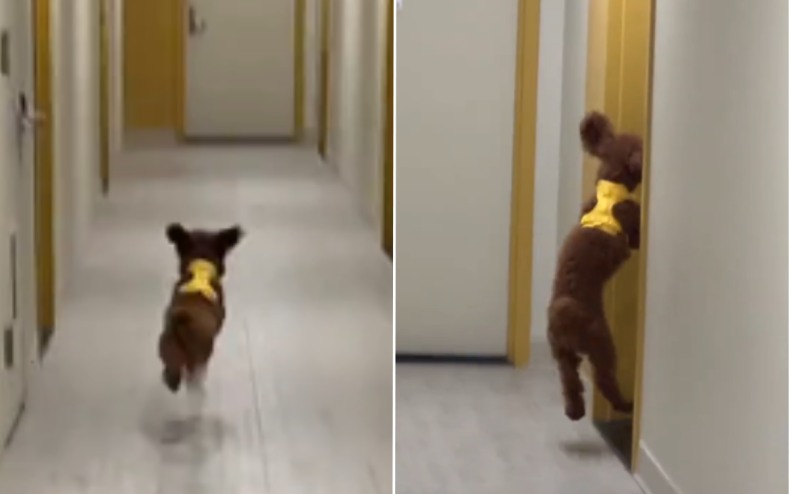 Explaining her dog's visible excitement in the video, Onyx's owner told Newsweek: "His favorite thing to do is visit my parents and their dog."
Dogs are more than capable of developing a strong bond with their human companions. A 2015 study published in the academic journal Science found dog owners and their pets experience a surge in oxytocin when looking into each other's eyes.
It's the same surge mothers experience when gazing at their children and has been identified as a key driver in what's referred to as maternal instinct. That was the conclusion drawn from an experiment in which researchers watched 30 dog owners play with their pets for a period of half an hour.
Based on urine tests taken before and after the sessions, researchers were able to identify elevated levels of oxytocin in both the humans and dogs taking part in the experiment. By contrast, a similar experiment involving hand-raised wolves recorded no increases.
Onyx may not be heading to his owner's house, but it's clear from the video that he has a very special bond with the wider family. "He is turning 2 in December and is very energetic and kind to everyone," his owner said. "He loves his toys and treats and also long car rides."
In the clip, he can be seen bounding over to the door before getting up on his two hind legs and scratching at the door to be let in. He crouches down, sniffing at the bottom of the entrance, as though he can sense friends on the other side.
Eventually the door opens and Onyx is greeted by his canine companion before heading in for a few hours of fun. While there's no way of knowing for sure if the interaction generated that oxytocin boost for Onyx, judging from the response to the viral video, it certainly did for a few viewers.
At the time of writing, the clip has been watched over 3 million times, generating a glut of positive comments in the process. "He knows exactly what door to go to," one viewer wrote, with another commenting: "He's galloping."
"This is the cutest thing I've ever seen in my life," a third declared, while a fourth loved the way he was "flying through the hallway."
Some were in awe of Onyx's "little hops" while others likened the cute canine to a "bunny" bouncing down the corridor. One thing everyone was able to agree on, however, was that the whole thing was very cute.
Do you have funny and adorable videos or pictures of your pet you want to share? Send them to life@newsweek.com with some details about your best friend, and they could appear in our Pet of the Week lineup.