Former President Jimmy Carter is celebrating his 99th birthday on Sunday, surrounded by his family in their hometown of Plains, Georgia, as he received well wishes from many Americans on his special day.
The celebration comes after it was announced in February that Carter would be placed in hospice care after deciding to decline additional medical intervention after a series of "short hospital stays." Carter, who overcame cancer and learned to walk after having his hip replaced at 94 years old, is the longest living former president in United States history. Carter surpassed former President George H.W. Bush as the oldest former president in March 2019.
Carter, a Democrat who served as president from 1977 to 1981, has been receiving many well wishes over the weekend as many Americans and notable political figures have taken to social media to celebrate and praise him for the efforts he made when he was the commander-in-chief.
The White House shared on Sunday a post on X, formerly Twitter, showcasing a special display on the White House lawn of a three-tiered wooden cake decorated in red, white and blue, the colors of the American flag, and featuring 39 candles in recognition of Carter being the country's 39th president, along with a "Happy Birthday President Carter" message.
President Joe Biden also shared a personal video message on X, saying "I've known a lot of presidents, as you have. But I admire you because you have such incredible integrity, character, and determination. One of the smartest things I ever did, you may remember, I was the first senator that ever endorsed you because I knew who you were and you haven't changed a bit. You've never stopped."
He continued: "President Jimmy Carter, you remain the spirit and the heart of the American people. It's a great honor to know you and to have worked with you. Jill and I wish you a happy birthday."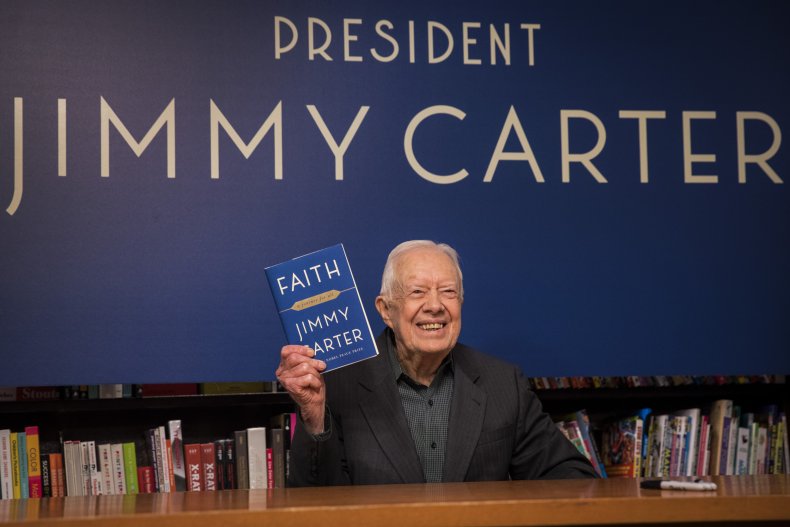 Additionally, Bernice King, CEO of the Martin Luther King Jr. Center for Nonviolent Social Change, joined in to celebrate the former president.
"99 Years…A Long Life, A Great Life. Happy Birthday, President Jimmy Carter!" King wrote on X.
While Andrew Young, the former mayor of Atlanta, said in a video message on X, "Thank you for 99 wonderful years that you have contributed to this planet. You've been one of our best citizens and we love you and are grateful for you and Rosalyn."
Along with political figures, The Carter Center, a nongovernmental organization that helps to improve lives by resolving conflicts, advancing democracy and preventing diseases, shared a video message from American singer, guitarist and activist, Willie Nelson on X.
"Happy birthday President Carter, thinking about you, love you, we miss you. I hope you have a real good one," he said.
The Carter Center has also put together many more heartfelt messages from Americans across the country on their website, as they are seen giving warm wishes to the former president.
Newsweek has reached out to The Carter Center for additional comment.