Failed Arizona Republican gubernatorial candidate Kari Lake teased she wants Roseanne Barr to be Donald Trump's Vice President pick.
Lake praised comedian Barr during a wide-ranging interview for the second episode of her eponymous show uploaded to X, formerly Twitter, this weekend.
In the sit-down discussion, Lake and Barr spoke about a number of subjects ranging from plastic surgery to their views on the current state of American politics.
During the interview, Lake said: "I know that if President Trump needs a female Vice President, I'm starting to think right now as I'm sitting here: Trump—Barr."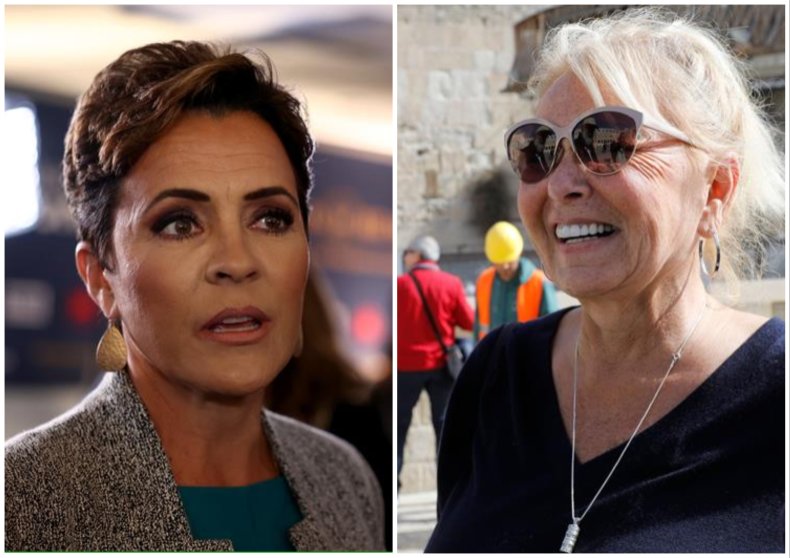 The statement was met with enthusiastic laughter from Barr who added: "Well, you know, wherever I could be useful fellow and sister citizens. I have the time and I think I'm smart and I'm definitely committed to the survival of this representational government of, by and for the people and I think that we can't let it disappear from the Earth because it won't ever come back."
Since being shared on September 30, the 40-minute discussion with Barr has attracted 59,800 views.
Barr has continued to feature alongside conservatives and Republicans despite her banishment from Hollywood in 2018 after she tweeted the "muslim brotherhood and planet of the apes had a baby," referring to Valerie Jarrett, who is Black, a senior adviser to former President Barack Obama.
The tweet was widely considered to be racist and led to her being fired from her television show Roseanne.
Lake is arguably best known for her failed attempt to secure the Arizona governorship in 2022, despite gaining national attention when she obtained Trump's endorsement.
She went on to lose to Democrat Katie Hobbs and mounted legal challenges over the result, which have failed.
Lake has consistently refused to concede defeat and has claimed instances of voter disenfranchisement, including faulty machines, led to her defeat.
She repeated unfounded claims of corruption in Arizona's Maricopa County during her discussion with Barr, adding: "The corruption is so deep—all of those corrupt people. They are at the bottom of the ballot. A lot of people never pay attention to the bottom of the ballot and those people have wreaked havoc on our voting and elections."
Barr has made something of a comeback through her podcast which has more than 374,000 subscribers on YouTube.
She previously ran for president on a "Green Tea Party" ticket but has supported Trump since 2016.
Newsweek has contacted Lake's representatives for comment via email.