Huskies and malamutes might relish the opportunity to play in the snow or go for a walk on a cold crisp day. Dachshunds, however, often prefer the comfort and warmth of the indoors.
One such dachshund has recently gone viral on TikTok in a video with over 255,000 views. In the video posted by Kim Collinson five days ago under the username @mrsc99, her small sausage dog can be seen refusing to go outside for a wee, choosing instead to lie on the welcome mat. "When winter is coming and [you're] a sausage!" reads the caption.
Despite his protests, this dachshund might have every reason not to go outside in the cold, as their stature makes them more prone to foot issues in such weather.
"Cold weather can really wreak havoc on your dachshund's paws if they aren't properly protected," reports Dachshund Station on its website. "Dachshunds prefer to be warm inside, but they still need to take a few trips outside for exercise or to do their duty."
The website reports that dogs can get frostbite or hypothermia when temperatures drop below 40 degrees Fahrenheit. "If you take your doxie for daily walks, make sure to always dress your dachshund in a warm winter coat, use some paw protection, and keep your walks brief (15 – 20 minutes max)," adds Dachshund Station.
"Dachshunds are low to the ground and more exposed to the cold elements of winter," the website adds. "Be conscious of your doxie's comfort levels when outside."
Another thing to look out for this winter is toxic salt. "During the cold months, many folks add rock salt or ice melt to their driveways and sidewalks. This is toxic to dogs!" reports Dachshund Station. "These substances can cause cracking, dryness, and even chemical burn to your pup's paws if not cleaned off or properly protected."
The website recommends that you thoroughly clean your dog's paws after walks, buying dog shoes to protect their feet, or using paw wax.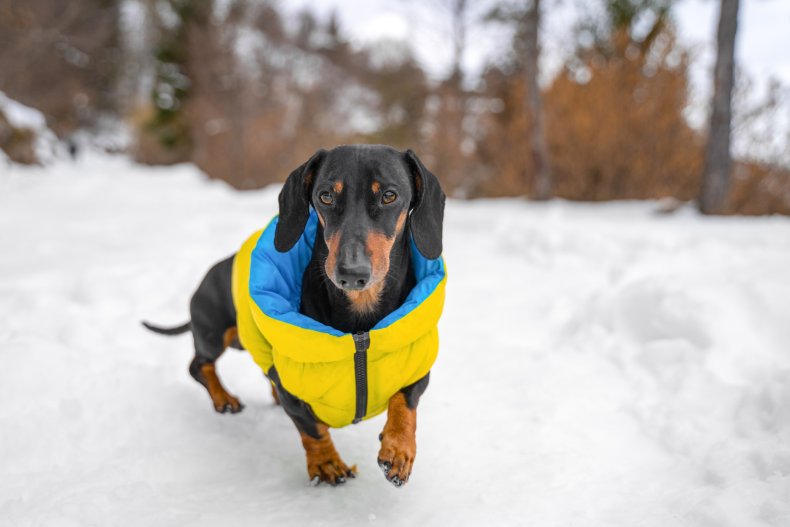 Users on TikTok loved the sweet video. "Me plonking my sausage outside while shouting Wee Wee and not letting him back in until he's been," posted one.
"If there is the slightest bit of moisture outside, mine will not step a paw out the door," commented another user, while a third wrote, "My little sausage will not go out either it must be a dachshund thing."
Newsweek has reached out to Kim Collinson via TikTok for comment.
Do you have funny and adorable videos or pictures of your pet you want to share? Send them to life@newsweek.com with some details about your best friend, and they could appear in our Pet of the Week lineup.