One particular game from college football's Week 6 slate will feature a pair of quarterbacks whose last names may sound familiar.
E.J. Warner and Owen McCown will share the field Saturday when Temple hosts The University of Texas at San Antonio (UTSA). Eighteen years have passed since their fathers, former NFL QBs Kurt Warner and Josh McCown, were teammates on the 2005 Arizona Cardinals. If Owen McCown were to start for UTSA, it would mark the first time in the FBS era that two sons of NFL quarterbacks started against each other in a game, according to Temple's game notes.
The younger Warner is in his second season as Temple's starting quarterback. He threw for 3,028 yards and 18 touchdowns last season as a freshman and has seven touchdowns and five interceptions through five games of his sophomore season.
Owen McCown is seeing significant playing time while UTSA starter Frank Harris works his way back from a turf toe injury. The redshirt freshman, in his first year with the Roadrunners after transferring in from Colorado, threw for 170 yards, two touchdowns, and an interception while splitting time under center in UTSA's loss to Tennessee last week.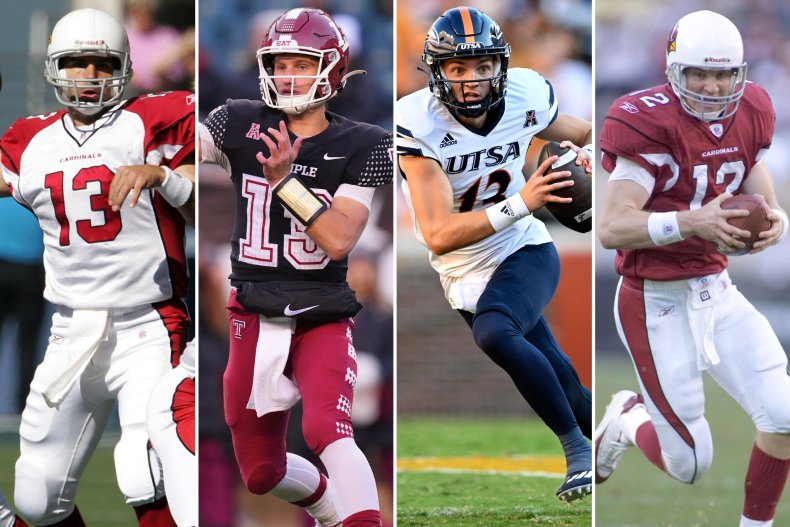 This weekend's game will be a blast from the past for a certain generation of football fans.
Kurt Warner won a Super Bowl and two MVPs during his 12-year professional career. In the four-time Pro Bowler's first of five seasons in Arizona, Josh McCown was his backup. It was the only season where the two quarterbacks overlapped in with the Cardinals. The elder McCown played for nine different NFL teams over 16 seasons. The journeyman started six games in 2005 while Kurt Warner was out with an injury.
The Cardinals finished 5-11 that season.
Despite starting his professional career at 27 and playing 16 games in a season only three times, Kurt Warner finished his career with 32,344 passing yards and 208 touchdowns. Josh McCown started 76 games as a pro and threw 98 touchdowns.
Both QBs have since moved on from playing football but are still around the game.
Kurt Warner has become a fixture on NFL Network since his retirement after the 2009 NFL season. Josh McCown last played in 2019 for the Philadelphia Eagles and is now the quarterbacks coach for the Carolina Panthers.
Warner-McCown Matchup Has Fans Feeling Old
Mark Dalton, the Cardinals' Senior Vice President of Media Relations, shared on X (formerly Twitter) that Saturday's Warner-McCown matchup has him feeling a "little old." And he's not alone there.
One NFL fan quoted the post and said, "Ugh. I'm ancient." Another joked that his "bones suddenly ache" after seeing the news. An editor at RotoWire resourcefully responded with a clip from Saving Private Ryan where Matt Damon's titular character ages suddenly.
Temple (2-3) hosts UTSA (1-3) at 2 p.m. ET on Saturday. The game will air on ESPN+.
Uncommon Knowledge
Newsweek is committed to challenging conventional wisdom and finding connections in the search for common ground.
Newsweek is committed to challenging conventional wisdom and finding connections in the search for common ground.