Since Taylor Swift showed up at the Kansas City Chiefs v. Chicago Bears game on September 24, internet users have been obsessing over the singer's rumored romance with Chiefs tight end Travis Kelce.
However, there was another woman cheering on the 33-year-old—his mom, Donna Kelce. She was spotted embracing Swift during the game, lending more weight to the relationship rumors between her son and the 33-year-old pop icon.
Now, the adorable mom-of-two appears to have become a social-media star in her own right, with even Hollywood actor Ryan Reynolds praising her.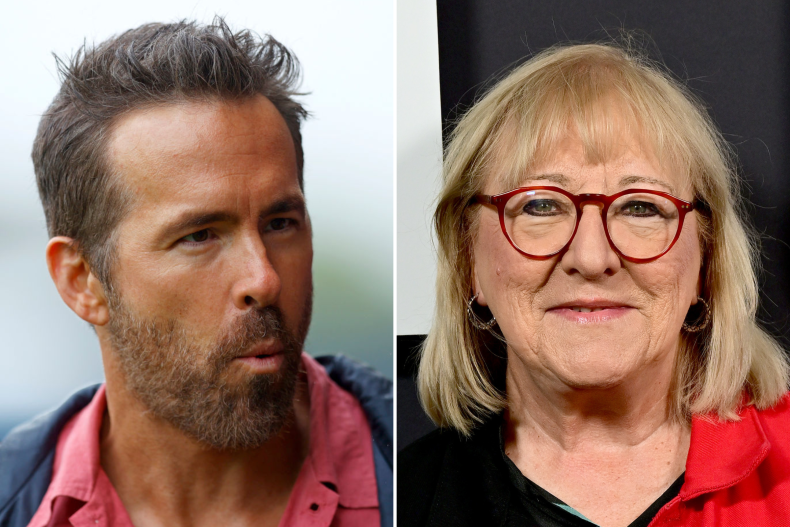 On October 1, Donna Kelce's oldest son, Jason Kelce, 35—center for the Philadelphia Eagles—posted a photo of his mom with actor Kevin Miles (also known as Jake from the State Farm Insurance commercials) to X, the social network formerly known as Twitter.
The sweet snap was taken during the Kansas Chiefs v. New York Jets game at the MetLife Stadium in East Rutherford, New Jersey. It shows his mom mid-conversation with TV star Miles.
"I also have a superstar in my corner. @JakeStateFarm," Jason Kelce wrote alongside the post. Although the 35-year-old podcaster appeared to be talking about Miles, fans in the comments praised Donna as the real superstar.
"Momma Kelce is a legend," posted usman azeez.
"The real celebrity in the Kelce family," agreed JohnD.
"Donna will forever be iconic," wrote priscilla, while BlueInTexas asked: "Can Mrs. Kelce be my mom too?"
Reynolds appeared to agree with her legendary status, reposting the photo with the caption: "Donna Kelce FTW [for the win]." Since being shared, the 46-year-old actor's praise of Mama Kelce has been shared over 12 million times.
Reynolds and his wife, Blake Lively, were among the famous faces to attend the game alongside Swift, with Wolverine actor Hugh Jackman, X-Men star Sophie Turner, and film director Shawn Levy also joining.
The group sighting has reignited rumors that Swift will be appearing in Deadpool 3, in which Reynolds and Jackman are starring and Levy is directing. The "Look What You Made Me Do" hitmaker is believed to be playing Dazzler, a pop star trying to balance her superhero identity with her music career.
Donna Kelce is also no stranger to life in front of the camera. She appeared in the documentary Kelce, released on Prime Video on September 12. The film focuses on football star Jason Kelce's life during the last season. It includes launching his New Heights podcast with Travis Kelce and his Super Bowl journey (the Kelce brothers faced off against each other in the final in February 2023).