Uncertainty clouds the future of House Speaker Kevin McCarthy after Florida Representative Matt Gaetz moved to oust the Republican leader, but representatives on both sides of the aisle have further questions before voting on the speakership.
Gaetz, a far-right conservative who for weeks has threatened the push against McCarthy, on Monday filed a motion to vacate the speakership. The move comes just two days after the speaker managed to strum up a last-second bipartisan spending bill to avert a government shutdown. Republicans like Gaetz, however, have questioned the speaker's leadership over his efforts to cooperate with Democrats.
McCarthy responded to the motion on social media Monday night, posting to his account on X, formerly Twitter, "Bring it on."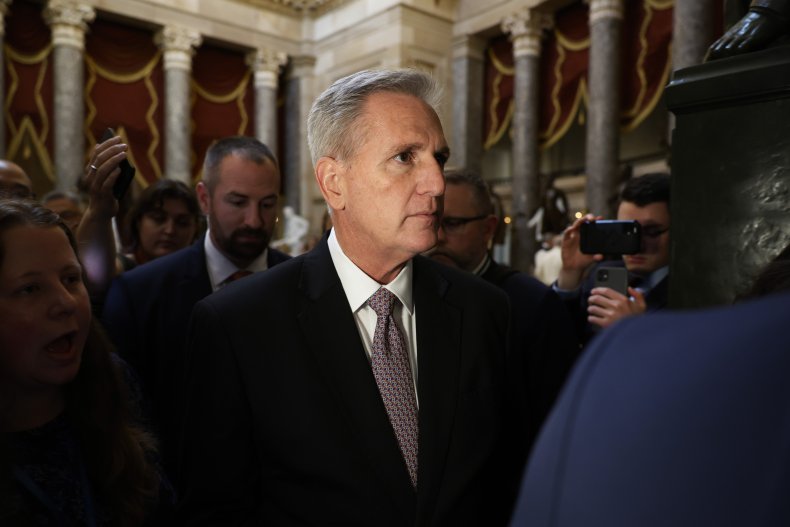 Split Voices Among the GOP
Several lawmakers spoke up on Gaetz's motion later on Monday, including Tennessee Republican Tim Burchett, who told CNN's Kaitlan Collins that as it stands now, he supports removing McCarthy from his position.
"Really, I see it as two things," Burchett said. "One, do I vote against my friend Kevin McCarthy, or do I go with my conscience? That's kind of where I'm at."
"I'm currently praying about it, but if it was right now, I would vote to oust him," he added.
Colorado Representative Ken Buck, a fellow hardliner in the GOP, said that he would need more information before casting a vote on the speakership, but added that at the moment, he does not think that McCarthy can be "trusted" to lead Republicans.
"I want to hear what Kevin has to say," Buck told MSNBC's Jen Psaki. "Kevin promised a number to conservatives when he was running for speaker, $1.47 trillion. Then, when he negotiated with President [Joe] Biden the debt ceiling deal, he promised President Biden a $1.6 trillion deal."
"He cannot be trusted," Buck added. "And I want to understand why he acts the way he does before I make a final decision."
A flood of Republicans, however, came to McCarthy's aid, including Representative James Comer, who told Newsmax on Monday that he plans to vote against ousting the speaker. Congressman Mike Lawler also used his interview on CNN to attack Gaetz's decision, calling the Florida lawmaker a "petulant child."
"I think he's a petulant child, and I think he proved that this evening by filing his motion to vacate against the rules of the Republican majority conference," Lawler told CNN's Anderson Cooper.
"I think it just speaks volumes to who Matt is, his character, and the fact that he doesn't care about the American people, he doesn't care about governing," Lawler continued. "He cares about getting attention and notoriety."
Several other GOP House members, including Congressmen Nick Langworthy of New York, Adrian Smith of Nebraska and Laurel Lee of Florida, took to social media to show their support for the speaker.
"I am a HELL NO on the motion to vacate," Iowa Representative Ashley Hinson wrote on her X account. "Matt Gaetz's grandstanding sideshow is a disgrace—and why so many Iowans are so frustrated with politics in Washington. We need to be working for the American people, not playing political games for Gaetz's personal benefit."
How Democrats Could Play a Role
McCarthy agreed to allow for a single House member to file the motion to remove him at any time as part of the negotiations to secure his speakership back in January. At the time, Gaetz was one of the leading voices of Republicans voting against McCarthy.
If the motion makes it to a vote, only a simple majority is needed to oust McCarthy, meaning just five Republicans would have to join all their Democratic colleagues to agree to remove the speaker. However, there is a chance that some Democrats could choose to strike down Gaetz's measure.
Representative Dan Goldman, a Democrat from New York, told MSNBC that he has seen "no reason" to save McCarthy at the moment, adding later that he assumes the speaker will need to win over at least a few Democrats to hold onto his position.
"The real open question right now is what does he do?" Goldman said. "Because if you play this out, it gets a little more complicated. If he relies on Democrats because he makes a deal with Democrats in some way, well that may resolve his speakership right now."
"But he is going to have to legislate for another year," Goldman continued. "Every single time a rule comes up, he's going to need Democrats to pass a rule. So he will then have to enter into some form of coalition government."
Newsweek reached out to McCarthy's office via email Monday night for comment.