A cat owner has melted hearts after revealing what her furbaby does when she's out of town in a video that quickly went viral on social media.
In the viral post, shared on TikTok on Monday, under the username Brookefromonline, the cat, whose name is Willow, can be seen sitting belly up on the couch with his arms crossed, watching the TV, which his owner left on for her.
The hilarious post comes with a caption that says: "Whenever I go out of town, I leave the TV on for my cat because I like to think that she likes TV. Today I checked my ring camera and saw this." Followed by: "Yes, her favorite movie IS Rango."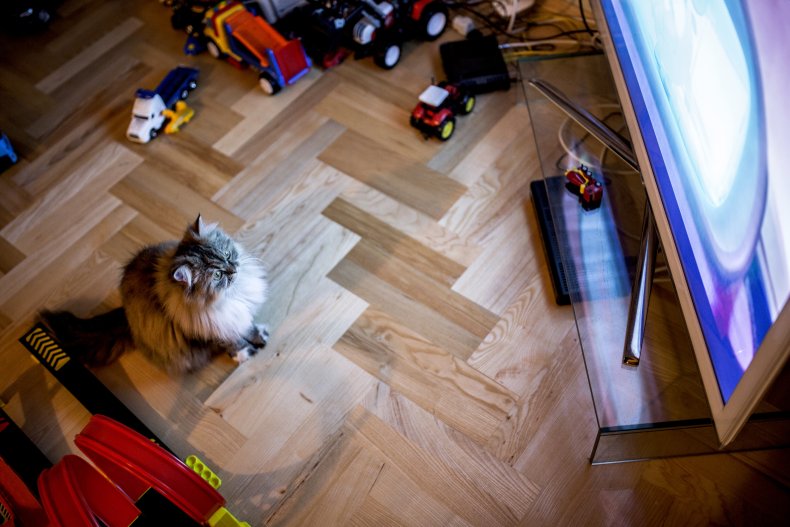 But can cats actually see what's on TV? The answer is "sort of." It turns out that cats can see what's on TV and they do engage, although they can't really understand what is going on.
According to pet wellbeing experts at Hill's Pets, cats are attracted to colors and movements that are on your TV, and although they are very smart creatures, they do not have the cognitive and reasoning capabilities to process images and sounds into more complicated thoughts.
Because of the structure of their eyes, cats are more likely to engage in TV programs that contain a combination of colors including red, green, and blue paired with swiftly moving objects. Lots of children's shows contain these colors and quick movements, so it's very likely that your cat enjoys watching kids' programming.
The video quickly went viral on social media, attracting viewers from across TikTok. It has so far received over 2.3 million views and 485,300 likes on the platform.
One user, SpaceGoatToasttheToast, commented: "This makes me feel so much less crazy…I do the same thing but have no evidence to validate my insanity so ty."
Heidi (MeowZa) said: "Before we leave, [my] husband turns on [the] TV and says 'fight crime today boys' as he puts on some law and order show for our two dogs." And SalemJade added: "My cat's favorite TV show is Trailer Park Boys, the title screen is his favorite part."
EllekonI wrote: "Swear mine does the same thing but also like keeps meowing when Negan appears on the Walking Dead!!!"
Newsweek reached out to Brookefromonline for comment via TikTok comments.
Do you have funny and adorable videos or pictures of your pet you want to share? Send them to life@newsweek.com with some details about your best friend and they could appear in our Pet of the Week lineup.