Representative Kevin McCarthy of California is lashing out at the eight Republicans who voted to oust him as speaker of the House.
McCarthy's control of the lower chamber was stripped on Tuesday after a motion to vacate the speakership was passed by a vote of 216-210. GOP Representative Matt Gaetz, who filed the motion, joined seven other Republicans and all Democrats in voting for McCarthy's removal.
The California Republican, who served as speaker for less than nine months, became the first lawmaker to ever be removed from the job by a vote in the House. He was immediately replaced by his own choice for speaker pro tempore, Representative Patrick McHenry of North Carolina.
While the House now faces an uncertain road in choosing a more permanent successor, McCarthy made it clear in a press conference on Tuesday night that he would not be attempting to win back the gavel, arguing that the rule allowing the motion to vacate was not "good for the institution."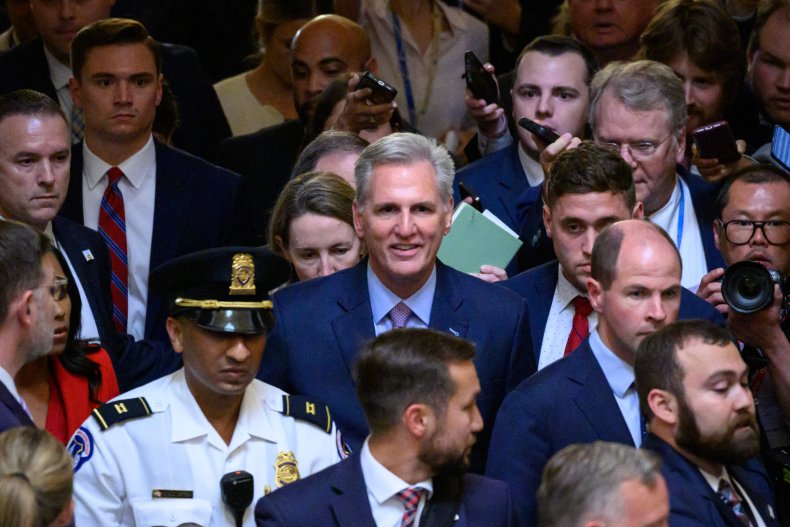 "Unfortunately, 4 percent of our conference can join all the Democrats and dictate who can be the Republican speaker in this House," McCarthy said. "I don't think that rule is good for the institution, but apparently I'm the only one."
"I believe I can continue to fight, maybe in a different manner," he continued. "I will not run for speaker again, I'll have the conference pick somebody else."
McCarthy then attacked the "trustworthiness" of the Republicans who voted to oust him, saying that they are "not conservatives and they do not have the right to have the title." He reserved particularly harsh words for Gaetz.
"The trustworthiness of a lot of individuals, it makes it difficult," said McCarthy. "I do not think, regardless of who the speaker is, that you should have that rule … I don't think this is about the Republican Party, I think it's something about some people who are not a conservative."
"You all know Matt Gaetz," he added. "You know it was personal … everything he accused somebody of, he was doing. That all was about getting attention from [the press]. I mean, we're getting email fundraisers from him as he's doing it. 'Join in quickly.' That's not governing, that's not becoming of a member of Congress."
Newsweek reached out for comment to the office of Gaetz via email on Tuesday night.
Gaetz celebrated the success of the motion to vacate shortly after the vote took place. He told reporters that McCarthy was "a feature of the swamp" who had "risen to power by collecting special-interest money and redistributing that money in exchange for favors," adding that Republicans had broken "the fever" of his leadership.