Representative Matt Gaetz was targeted by The Daily Show in a social media post that alluded to sex trafficking allegations against him.
Gaetz has long denied the allegations and was not charged following a years-long investigation.
The Republican from Florida grabbed headlines this week when his efforts to oust House Speaker Kevin McCarthy from his position proved successful. On Tuesday night, the House of Representatives voted 216-210 to support the motion to vacate that had been put forward by Gaetz, with eight Republicans joining 208 Democrats in voting to remove McCarthy.
McCarthy had infuriated Gaetz by striking a deal with Democrats that narrowly avoided a partial government shutdown, which was voted through both the House and Senate with a bipartisan majority on Saturday. In response, the Gaetz filed a motion to vacate the speakership on Monday.
The decision, the first time in United States history that the House has voted to remove its own speaker, now means the members of Congress must vote for the California representative's replacement, with no clear Republican candidate in line for the role.
In January, McCarthy needed 15 rounds of voting to get elected as a number of hardline and MAGA Republicans, including Gaetz, refused to support him.
As news of McCarthy's ousting dominated the news cycle on Tuesday, a post was shared by the verified account of Comedy Central's The Daily Show on X, formerly Twitter.
"Refreshing to see Matt Gaetz f*** someone over 18," read the nine-word post, which received more than 1.7 million views within 12 hours.
The post was also shared on the timelines of a number of high-profile social media users, including actor Edward Norton, who responded with a laughing emoji, and comedian Patton Oswalt, who wrote, "ooooooooof."
Newsweek reached out to a representative of Gaetz via email for comment.
The Ethics Committee has been investigating allegations of sex trafficking, bribery and drug use against Gaetz since 2021, which the Republican has vehemently denied. The allegations are believed to overlap a Department of Justice probe into claims Gaetz had sex with a 17-year-old girl and paid for her to travel with him, including over state lines for prostitution.
The DOJ confirmed in February that it would not bring forward charges against the Florida representative as part of the sex trafficking investigation.
News of Gaetz not facing charges came weeks after Gaetz's former friend, Joel Greenberg, was sentenced to 11 years in prison. The erstwhile tax collector pleaded guilty to crimes that included sex trafficking of a minor and introducing her to other adult men who also had sex with her at a time when she was underage.
Extortion Allegations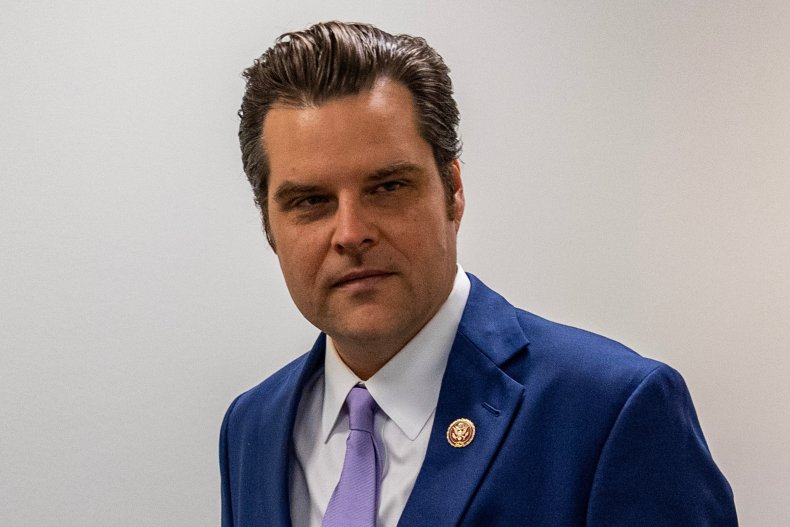 In March 2021, Gaetz alleged that a former DOJ official was using the sexual misconduct allegations to extort him and his family for $25 million.
"Over the past several weeks my family and I have been victims of an organized criminal extortion involving a former DOJ official seeking $25 million while threatening to smear my name," Gaetz said in a statement obtained by Newsweek.
"No part of the allegations against me are true, and the people pushing these lies are targets of the ongoing extortion investigation," he wrote at the time.
Gaetz said he and his family were cooperating with federal authorities in the investigation. He added that his father, Don Gaetz, had worn a wire at the FBI's direction to catch the alleged criminals.
"I demand the DOJ immediately release the tapes, made at their direction, which implicate their former colleague in crimes against me based on false allegations," his statement concluded.
Claims of GOP Tension
While Gaetz has not been charged with any crimes stemming from the allegations, it was recently reported that House GOP members are looking into expelling him if the Ethics Committee report reveals findings of guilt.
While the precise details or findings in the House Ethics Committee report are unknown, Fox News and CNN quoted unnamed House Republicans who said they hope it will give the party justification to try and remove the MAGA congressman in a motion.
Any attempt to expel Gaetz from the House would require a two-thirds majority vote. Only five members of the House of Representatives have been expelled in U.S. history. The last House member to be removed from office was Ohio Congressman James Traficant in 2002 after he was convicted on corruption charges.
Congresswoman Alexandria Ocasio-Cortez, a Democrat from New York, who said ahead of the vote that she would "absolutely" support a motion to remove McCarthy as House Speaker, questioned why the GOP would try to expel Gaetz and not George Santos.
The Republican congressman from New York has been being charged with numerous offenses, including embezzling money from his campaign, falsely receiving unemployment funds, and lying to Congress about his finances.
"The idea that Republicans would expel Gaetz over creating political headaches for themselves but not Santos over indictment on 13 Federal charges, including 7 counts of wire fraud and 2 counts of lying to Congress, seems wild," Ocasio-Cortez posted on X. "They'd be setting themselves up for the entire cycle."