More judges need to follow the protective lead of a New York City bench presiding over ex-President Donald Trump's civil trial by imposing gag orders in his criminal cases as well, according to former federal prosecutor Glenn Kirschner.
Judge Arthur Engoron issued a gag order on Trump and his legal team in the former president's civil fraud trial on Tuesday, barring them from making public statements about the court's staff after Trump made a dig at one of Engoron's clerks, attorney Allison Greenfield, in a now-deleted Truth Social post. Trump is facing a civil lawsuit filed by New York Attorney General Letitia James, who has accused Trump of misleading investors by overvaluing his assets tied to The Trump Organization.
In the post attached to Engoron's order, Trump shared a picture of Greenfield with Democratic Senate Majority Leader Chuck Schumer, and suggested, without evidence, that the two had a romantic relationship. Engoron said Tuesday, "Personal attacks on members of my court staff are unacceptable and inappropriate, and I won't tolerate it."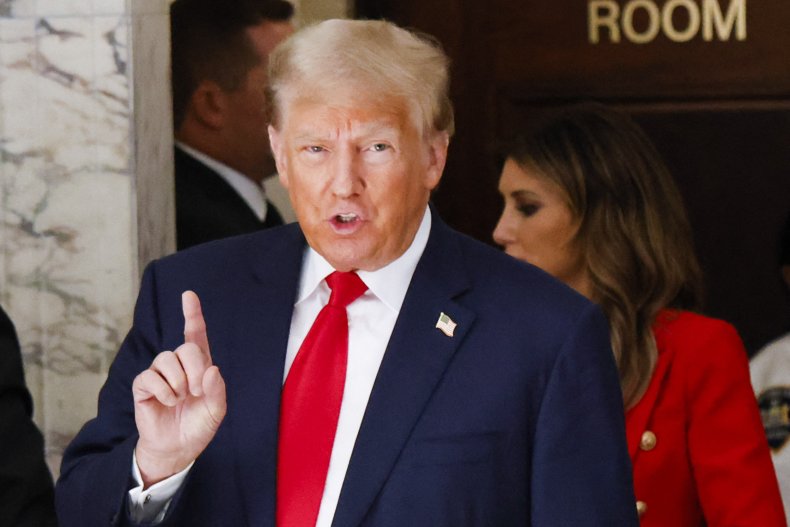 Kirschner, a staunch critic of Trump, said during his latest episode of his Justice Matters podcast that judges are "ordinarily very protective of their law clerks," adding that he was glad Engoron took steps to protect his staff.
"But Donald Trump has been endangering witnesses, jurors, prosecutors, judges and their respective family members for so very long," Kirschner said.
"It took this kind of a threat to a law clerk and a very appropriately protective judge to snap into action to protect that clerk and to protect all of the judge's staff," the legal expert added. "How about judges step up and protect all of the witnesses and prosecutors and jurors and others … who Donald Trump continues to endanger with his reckless speech, with his dangerous posts, because he's been able to do it with complete impunity thus far."
Trump could also face a limited gag order in his federal election interference case. Special Counsel Jack Smith requested last month that such an order be placed on the former president's speech in relation to the investigation of Trump's efforts to stay in office after losing the 2020 election, pointing to a plethora of recent social media posts in which Trump has attacked Smith, his office and others tied to the case.
U.S. District Judge Tanya Chutkan, who has faced her own threats from Trump supporters, has scheduled a hearing on Smith's request for October 16.
"It's time to shut Trump up with a narrowly tailored set of restrictions designed to put a stop to the danger he presents to others," Kirschner added.
Trump is also facing federal charges over his handling of classified documents upon leaving the White House, in a Georgia racketeering case involving attempts to overturn the state's 2020 election results and in a New York City business fraud investigation.
The former president has maintained his innocence in all cases, claiming that the investigations are aimed at upsetting his 2024 reelection run.
Newsweek reached out to Trump's campaign team for comment via email on Tuesday night.