A convicted school shooter has recently gone viral on TikTok for advocating for school shooting prevention, sparking outrage from many as they call out his crimes and his distressing use of the platform, but he told Newsweek he believes in what he's doing.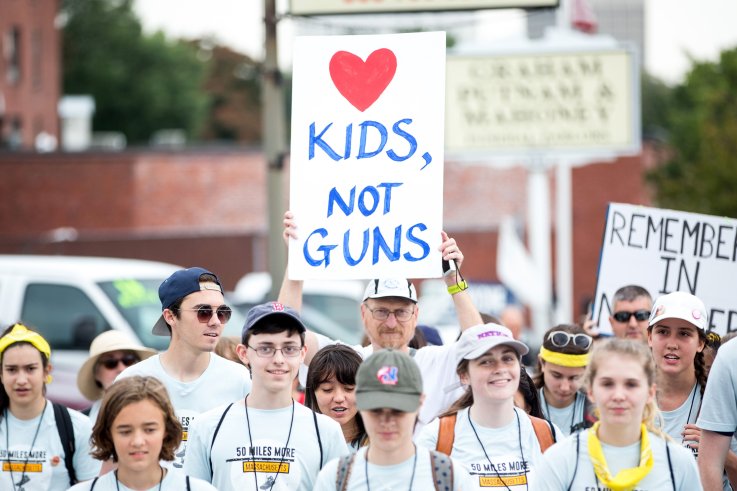 Parkland shooting survivor and activist David Hogg, third from left, walks during the 50 Miles More walk against gun violence in 2018 in Worcester, Massachusetts. Parents and teachers are now outraged after New York convicted school shooter goes viral after advocating for school shooting prevention.
Scott Eisen/Getty Images
In 2004, Jon Romano, a 16-year-old student, opened fire at Columbia High School in East Greenbush, New York, where he wounded a teacher in the leg and spread fear among thousands of children and parents. Romano was arrested, convicted and sentenced to 20 years in prison. However, Romano only served a little over 15 years in prison before being released in December 2020. Since being released Romano has recently taken to TikTok to share his life and more recently speak on school shooting prevention.
"My goal is not redemption for the school shooting I committed, my goal is prevention of other school shootings. That's why I'm on here, that's why I share," Romano said on his TikTok video.
The videos of Romano have recently garnered attention, causing many, including parents and teachers, to question his use of the platform alleging he is choosing to build his platform off of the trauma he caused while seemingly advocating for the prevention of school shootings.
In response to the increasing attention Romano has received, teacher, parent and TikTok user "You can call me Kait" posted a video sharing her experience as an educator, stating there are people who are never going to feel safe again because of Romano and that he should not be allowed to have a platform to speak on it.
"This man should not have a platform. You said that your victims are retraumatized every time there's a mass event. Don't you think just seeing you is triggering? I don't believe you for a second that you actually want to help. You just want attention," the caption on the video read.
There have been at least 54 school shootings in the United States so far this year as of September 28. Of those, 37 were on K-12 school grounds and the incidents have left at least 27 people dead and more than 58 injured, according to CNN's analysis of events reported by the Gun Violence Archive, Education Week, and Everytown for Gun Safety.
While an increase in school shootings across the country continues, many condemn Romano and his use of the social media platform.
"Gonna be real honest, Jon Romano doesn't deserve a TikTok platform. Idc if he's 'changed', having that platform is going to be more harmful than good when every year school shootings are on such a high rise in the states. One of the closest people in my life was in a public shooting, and no one deserves to be re-traumatized or encouraged by his behavior because he's seeking redemption (even tho he's lying and saying he isn't)," Mythic Meebo wrote on X.
However, in response to the recent backlash, Romano told Newsweek he weighed out if publicly speaking out would do more harm than good, but that he believes he is helping by sharing his story.
"Despite the current backlash I am receiving, which I completely understand, I also continue to get a lot of people reaching out to me thanking me for what I do. Some of those same parents, teachers and even students who are frustrated with the lack of change, believe I can help save lives," Romano said in a statement to Newsweek.
"I can never undo what I have done, the pain and trauma that I have caused upon so many, but I am working towards preventing others from experiencing that same pain and suffering," Romano added.
At the time of publication, Romano has turned off comments on his TikTok page.
Newsweek has reached out to school shooting advocacy groups, Everytown and Protect Our Schools for comment.