Rachel Zegler has jumped to the defense of Taylor Swift and blasted commentators for their "cruel" online discussion involving the singer's rumored relationship with NFL star Travis Kelce.
The Snow White star took to X, formerly Twitter, to call out a video posted by Dan Katz, also known as Barstool Big Cat and PFT Commenter, the sports media personality portrayed by Eric Sollenberger, discussing the potential sex life of Swift and Kelce.
On October 2, Katz conveyed on the show Pardon My Take that for him to believe the rumors, he would have to see a sex tape of Swift and Kelce. Stating that he wouldn't "buy" it until he saw "some d*** in V*****."
The show hosts continued to share sexually explicit examples of the evidence they would need to prove the rumors right.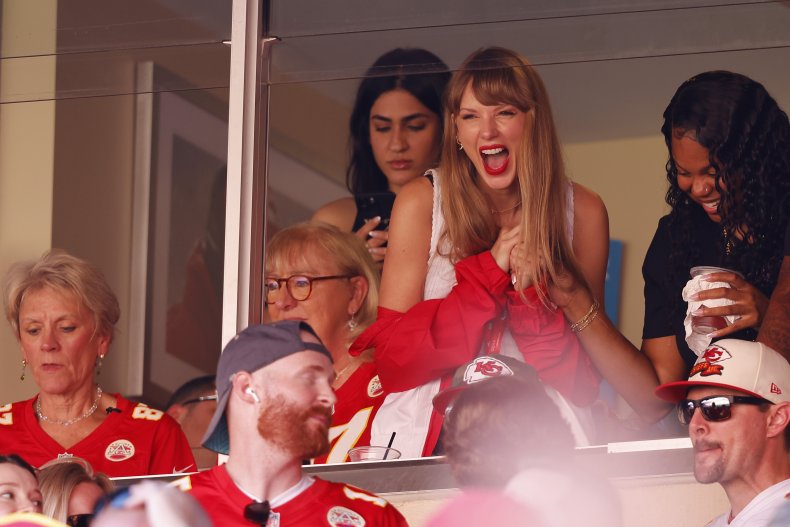 Zegler reshared the video and pointed out what was wrong with it.
"It's not news that the media is particularly (and unwarrantedly) cruel to Taylor Swift, but the way men feel entitled to speak about women, their bodies, and their sex lives needs to be seriously evaluated," she said.
When this article was published, Zegler's original post had been viewed over 3.1 million views.
She added: "You will never see people speaking this way about a man. That goes for a lot of different scenarios. We do not pick apart men's attitudes and relationships the way we do women's. And it's not always just men who speak this way about us. Women can and do, too. it sucks."
As well as pointing out to social media users that "It's a joke" is not a justification for their behavior, she said: "Leave Taylor Swift alone!"
Although the show's presenters can be seen laughing in the video, many of their followers and social media users didn't see the humor in it.
A social media user questioned Katz's video and asked: "You don't find this at all strange to say?" The host simply replied: "No."
Another watcher added: "I get that Barstool just tries to make jokes but nah this is weird."
"I'm not thinking this one is going to end well," a third chimed in.
Multiple posts came in saying: "Wow what an incredibly weird thing to say!" and "This is disgusting."
Newsweek has contacted Zegler and Katz for comment via email.
Rumors of the pair dating have circled for a few weeks after Swift was spotted at a match on September 24 where Kelce's team, the Kansas City Chiefs, played the Chicago Bears.
Adding to the romance rumors, Swift was also seen alongside several celebrity friends at the Chiefs and New York Jets game at the MetLife Stadium on October 1.