The United States sent more than 1 million rounds of confiscated Iranian ammunition to Ukraine, according to a Wednesday statement from the U.S. military.
U.S. Central Command said that 1.1 million 7.62 mm rounds given to Ukraine were part of seizures by U.S. naval forces of weapons shipments believed to be from Iran for fighters backed by Tehran in Yemen. CENTCOM is a part of the U.S. Defense Department and is tasked with handling military operations in the Middle East.
Throughout the war, which was launched by Russian President Vladimir Putin in February 2022, Iran has been closely aligned with Russia and has provided Putin's forces with Shahed combat drones. Despite the Iranian government's initial denial that it had provided drones to Moscow, an Iranian official later admitted in November 2022 that his country supplied what he claimed was a "small number" of drones to Russia "months before the Ukraine war."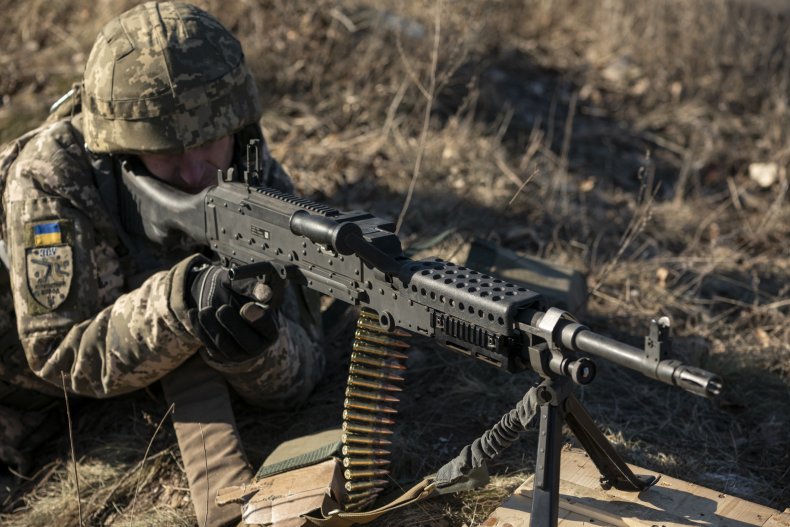 The ammunition transfer to Kyiv comes at an opportune time for Ukraine, as Congress included no new aid for Kyiv in the stopgap spending bill that was passed last weekend to avoid a federal government shutdown.
Additionally, some officials from NATO countries that are Kyiv allies expressed concern this week that they may soon be running too low on ammo to send more to Ukraine.
"The U.S. is committed to working with our allies and partners to counter the flow of Iranian lethal aid in the region by all lawful means including U.S. and U.N. sanctions and through interdictions," CENTCOM said in its press release.
The statement went on: "Iran's support for armed groups threatens international and regional security, our forces, diplomatic personnel and citizens in the region, as well as those of our partners. We will continue to do whatever we can to shed light on and stop Iran's destabilizing activities."
Newsweek reached out to Iran's Ministry of Foreign Affairs via email for comment.
CENTCOM said Iran had intended the seized weapons for members of the Houthi movement in Yemen and noted that the weapons transfer violated a resolution of the United Nations Security Council. The seizure took place in December 2022, according to the statement.
"The government obtained ownership of these munitions on July 20, 2023, through the Department of Justice's civil forfeiture claims against Iran's Islamic Revolutionary Guard Corps (IRGC)," CENTCOM wrote.
Iran's government has voiced its support for the Houthi movement but has denied conducting weapon transfers that would violate U.N. resolutions.
Meanwhile, the U.S. has accused Iran of providing the Houthis with a variety of weapons that have been allegedly used for attacks on Yemeni forces, Saudi Arabia and the United Arab Emirates.