It's tempting to look at this matchup and mark it down for a blowout.
The Dolphins, after all, embarrassed the Broncos in Week 3 with a 50-point margin of victory. After putting a near-record 70 points on the board, many were ready to crown the Dolphins as the NFL's team to beat.
But looking more closely at their early wins, fans may have been a bit hasty in that prediction. Their opening-week win came in the final minutes of a back-and-forth contest with the Chargers, and by just two points. In Week 2, the Patriots came up a yard short on a potential game-tying drive well into Dolphins territory.
And in Week 4, when it was expected that the Dolphins and Bills would put on an offensive show, only the Bills held up their end of the bargain. The Dolphins stalled on drive after drive, converting just three of their third-down tries and turning the ball over three times on downs. Add to that an interception, a lost fumble and nearly 100 yards in penalties, and the Dolphins suddenly looked exposed.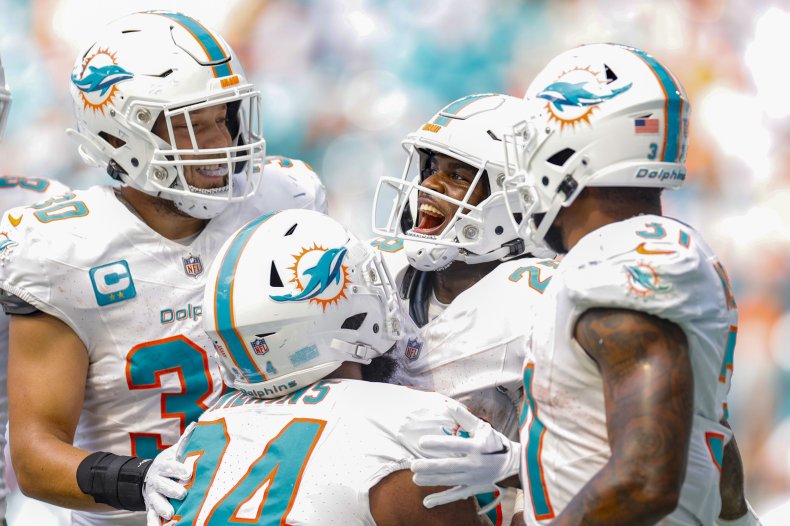 The Giants, meanwhile, have had a tough schedule. Their three losses have come at the hands of teams that have 10 wins between them so far this year. Their only win, however, came against the one-win Cardinals and required a 24-point comeback in the second half.
In the three losses, the Giants have scored just one touchdown and only 15 total points. They have the lowest points scored and the second-lowest yards total through four games. They've given up more points than any team except Chicago and Denver.
And, brutally, their best offensive weapon may be on the sideline again this week.
Yes, the Dolphins appear to be a good but beatable team. And, yes, the Giants prospects for an upset are bleak given their struggles. But could New York get in a few good shots and push the Dolphins to yet another close game?
We'll know on Sunday.
How to Watch Giants vs. Dolphins
Much of Fox's early broadcast area will be devoted to the Giants and Dolphins. Kickoff is scheduled for 1 p.m. ET on Sunday, October 8, at Hard Rock Stadium in Miami Gardens, Florida, with Kenny Albert and Jonathan Vilma on the call.
The game will also be available via NFL+, Fubo and the NFL Sunday Ticket Package, among other platforms.
Giants Injury Report
Star running back Saquon Barkley remains limited this week due to an ankle injury suffered in Week 2. Barkley's status has not been confirmed for Sunday's game. Reserve running back Gary Brightwell was also limited in practice Wednesday.
Starting offensive linemen John Michael Schmitz and Andrew Thomas didn't practice Wednesday, nor did reserve lineman Shane Lemieux.
Offensive linemen Marcus McKethan and Evan Neal were limited due to injury. Tight end Daniel Bellinger, receiver Wan'Dale Robinson and defensive end Azeez Ojulari were also limited.
Dolphins Injury Report
Offensive lineman Terron Armstead was the only Dolphins player to miss Wednesday's practice due to injury, but seven players were limited: wide receiver Braxton Berrios, guard Lester Cotton, safety DeShon Elliott, guard Robert Jones, defensive back Nik Needham, linebacker Jaelan Phillips and offensive lineman Connor Williams.
Betting Odds for Giants vs. Dolphins
Unsurprisingly, this game has the largest point spread of the week. As of Thursday afternoon, DraftKings had the Dolphins as 11.5-point favorites. The over/under is set at 48, a number the Giants have hit just once and the Dolphins have hit three times so far in 2023. Nearly all of the action on DraftKings, as of Thursday, is going for the home team.
Uncommon Knowledge
Newsweek is committed to challenging conventional wisdom and finding connections in the search for common ground.
Newsweek is committed to challenging conventional wisdom and finding connections in the search for common ground.