Artworks celebrating Black history in a Florida park have been vandalized, sparking an outcry among Tampa residents.
Officers are investigating after several murals in Perry Harvey Park were damaged on Monday night, Tampa Police Department said in a news release.
The four works tell the story of the Black community and Tampa's Central Avenue, once the main business and entertainment district for African Americans in the city. The murals were "made possible in part by the National Endowment for the Arts," police said.
A nearby city kiosk was also damaged. The kiosk is one of 30 in Tampa, designed to help residents and visitors explore the city.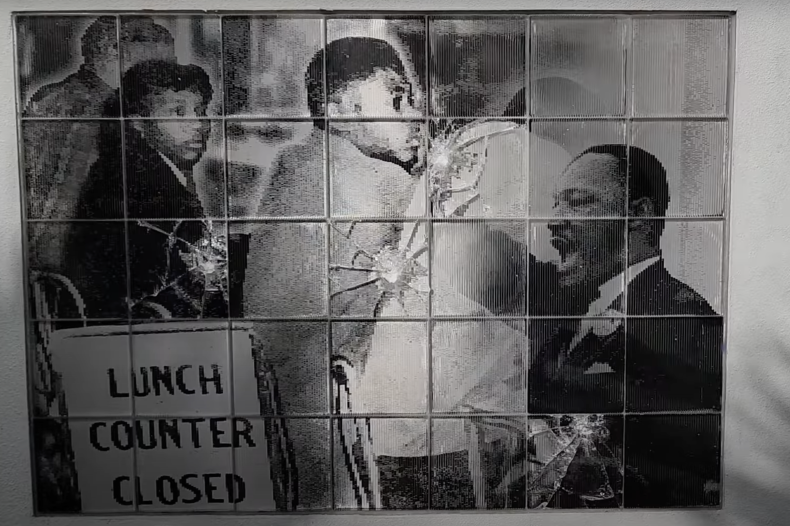 Video shared by the police department on social media shows a number of glass tiles on the murals have been smashed.
The local CBS affiliate, 10 Tampa Bay, reported that detectives have reviewed surveillance camera footage and are searching for one person they believe is responsible for the vandalism.
Major Eric Defelice told the TV station: "I don't think there's any motive behind it."
But residents believe the damage was intentional.
"As far as I'm concerned, this is a hate crime. It was certainly intentional, perhaps done by more than one person," Fred Hearns, a historian who works to preserve Tampa's Black history, told the station.
"A hundred years ago, almost half the Black population of this city lived in this neighborhood. That's why this area is so important."
Hearns said he would contribute to a reward for information leading to the arrest and conviction of those responsible.
Clearance Jones, who lives near the park, called the vandalism "heartbreaking."
"We fought so hard for this," Jones said. "It is very saddening. It is very sad and heartbreaking."
It is reportedly the third time that the artworks in the park have been vandalized.
"The vandalism of this artwork is an insult to our community and to all those who contributed to its creation," Tampa Police Chief Lee Bercaw said in a statement.
"It is disappointing to think anyone would cause destruction to this artistic representation of our city's history. We are working to identify those responsible for this senseless act."
The department said detectives would work with residents and local businesses to review any video of the incident that may have been captured.
Newsweek has contacted the Tampa Police Department for further comment via email.
Anyone with information about this incident is urged to contact Tampa Police Department at 813-231-6130, or Crime Stoppers of Tampa Bay at 800-873-TIPS.