Former Trump lawyer Sidney Powell is in a "perilous" position as one of her co-defendants in the 2020 Georgia election subversion case is "almost certainly" set to provide "incriminating" testimony against her, according to legal analyst Glenn Kirschner.
Powell, who famously promised to "release the Kraken" with a series of unsuccessful lawsuits claiming that former President Donald Trump's 2020 election loss was caused by massive fraud, in August was indicted alongside the ex-president and 17 others on felony charges related to election interference in Fulton County.
Bail bondsman Scott Hall pleaded guilty to several misdemeanors last week as part of a plea agreement that requires him to testify against others. Powell and her fellow lawyer Kenneth Chesebro, the alleged architect in the "fake electors" scheme, requested speedy trials and are due to be tried together on October 23.
Kirschner, a staunch critic of Trump and former federal prosecutor, suggested during the latest episode of his Justice Matters podcast on Wednesday that Hall would be providing devastating testimony against Powell when the trial begins. Powell and Hall were both initially charged in a plot to illegally access voting machines in Coffee County.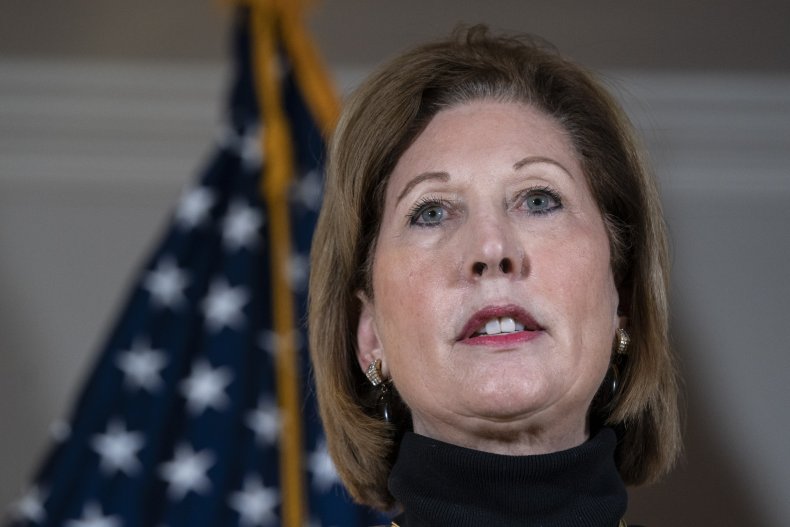 "When Sidney Powell's trial kicks off, Scott Hall will almost certainly testify," Kirschner said. "And will almost certainly be a sharply and deeply incriminating witness against Sidney Powell … At the end of that trial, I have a feeling we're going to see that Georgia jury return verdicts of guilty."
Kirschner also said that Hall's agreement to testify may act as a legal "domino," with the potential to "knock Sidney Powell over and right smack into a guilty plea herself."
Newsweek reached out for comment to Powell's attorney, Brian Rafferty, via email on Wednesday night.
Kirschner is far from the only legal expert to suggest that Hall's plea deal could spell trouble for Powell and other Georgia co-defendants. Some have suggested that the arrangement may result in a chain of events that could ultimately prove disastrous for Trump.
"You can bet that at least 1/2 the defendants in Fulton County are right this second on the phones to their attorneys trying to suss out Hall's deal and what they might be able to get if they come in quickly," former federal prosecutor Harry Litman wrote on X, formerly Twitter, shortly after news of Hall's agreement emerged.
Powell has pleaded not guilty to seven felony counts in Fulton County, including racketeering, conspiracy to commit election fraud, conspiracy to commit computer trespass and conspiracy to defraud the state.
Trump has pleaded not guilty to 13 felony charges in Georgia and 78 other felonies across three additional criminal indictments this year, claiming to be the victim of a "witch hunt" and "election interference" while he campaigns as the leading GOP candidate in the 2024 race for the White House.