The saying "hard work pays off" seems to be somewhat true for pensioner John, who has recently received over $36,000 after retiring—but the money didn't come from his employer.
On September 30, warehouse worker Sonia, 32, posted a TikTok video showing her co-worker's last day in the workforce. John, also a warehouse worker, can be seen packing a box and the on-screen text explains he worked for the unknown company for 42 years but they gave him a lousy send-off.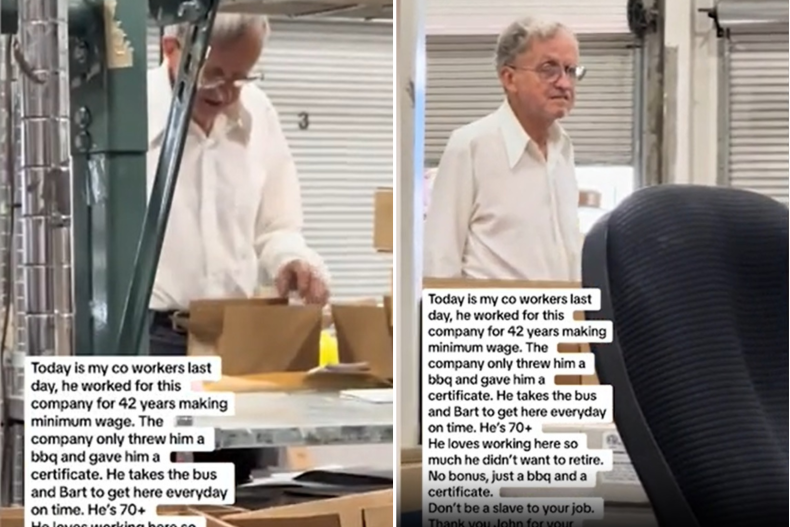 The video shared by @m3nta11y1ll1 amassed 4.9 million views, stating he didn't receive a bonus, "just a BBQ and a certificate." The lack of recognition devastated the internet and Sonia, who lives in the San Francisco Bay area, was prompted to set up a GoFundMe page.
In just six days, kind strangers have rallied together and raised $36,504 for the man in his 70s who Sonia describes as "a man of many talents".
She told Newsweek: "I had no real intentions about the video but to remember my hard-working co-worker for his retirement. This was his reality and I thought it was amazing how he dedicated so much time and effort to the job he loved so much.
"He is also a worker just like myself but he was probably the strongest worker there. He knows how to drive the forklifts and pick up orders. He would go around and create things out of boxes to make our work areas more accessible."
Sonia has since uploaded another video that shows John finding out about the money. He appears to be taken aback by the generosity from strangers all over the world.
In the clip, Sonia says that people from as far afield as the United Kingdom and Australia have rooted for the pensioner.
Sonia told Newsweek: "John is just the oldest worker out of them. My mother and aunt are second and third. They received a $5 raise after working for the company for more than 20 years."
The original viral clip has racked up over half a million likes and 10,400 comments.
One user said: "NEVER prioritize your job just fulfill your responsibilities and keep it going treat it like a job (just a way to make money)."
"It's important for older people to keep a purpose. Try to encourage his to find a hobby he loves or to join a social group," advised one woman.
"You can just see he is a wonderful soul, I hate how capitalism doesn't appreciate the people who maintain it," said another person.
Another sobbed: "Knowing there is so many people out there like this makes me so sad I wish I could give them all the world."
Have you had a workplace dilemma? Let us know via life@newsweek.com. We can ask experts for advice, and your story could be featured on Newsweek.