A social media video that chronicles how a stray cat was bought to a pet grooming salon in Singapore, stained blue from an unknown substance, has baffled audiences across the internet.
The viral video, which has been viewed more than 17 million times since it was posted to TikTok on September 27, introduced TikTokers to the frail stray who since has been nursed back to health by the groomer who tended to him.
"A customer brought in a stray cat that was covered in a blue substance," the groomer, who goes by Micaela on TikTok, wrote across the post she shared online.
At the same time that her captions flashed on the screen, audiences were shown footage of the cat who from the face down was coated in a blue stain. Even the inner part of the feline's ear had been turned a powder blue.
The groomer then explained that after failing to wash the blue stain off the cat's fur with soap, they had to shave his fur to prevent him from ingesting the substance, which they made clear had been their final option.
Unfortunately, the groomer's attempts to rid the cat's fur of the blue substance proved unsuccessful, as the coating had reached the cat's skin. Still, the stray looked much better by the end of the clip and was shown to be relaxed and cheerful after being fed and cleaned.
The video's creator added that the cat would be looked after by a foster owner until his fur had grown back. He'll then be up for adoption in Singapore.
Although the reason behind the cat's blue tint remains a mystery, the groomer raised concerns that the cat may have fallen victim to an act of abuse.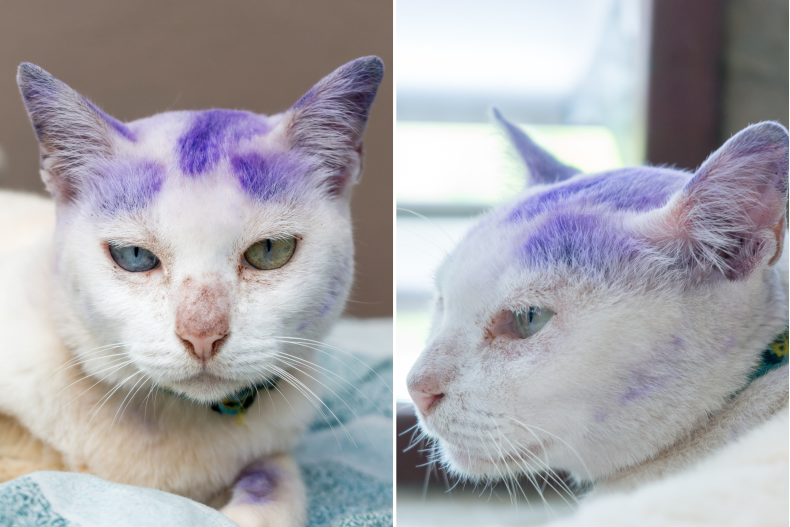 The post had been captioned: "My customer who's a community cat feeder brought a stray cat in to the salon today. She said she feeds him often and one day he turned blue and I suspect someone did this to him. Even if you don't like them, leave them alone."
In a different video on the TikTok account, Micaela shared that she suspects the cat may have fallen into harm's way. The groomer spoke of cat abuse cases being prevalent in Singapore.
What Are the U.S. Stats on Rescue Animals?
Each year, 6.3 million pets are surrendered to U.S. shelters, which is an average of 17,260 a day, according to the American Society for the Prevention of Cruelty to Animals.
The number of dogs and cats taken in by pet shelters hit 46,807 during January 2023, an increase of 1,744 compared with January 2022, the 24Pet "Shelter Watch Report" found.
About 920,000 surrendered animals are euthanized every year. Shelters are striving to minimize euthanasia rates by promoting adoption campaigns, spaying and neutering programs, and behavior rehabilitation.
What Do the Comments Say?
Since it was shared to the social media platform on September 27 by @Sashimeoww, the TikTok post has been liked by over 2.9 million users and commented on more than 23,000 times. Plenty of users commented about how calm and well-mannered the cat was in the groomer's presence.
One user wrote: "Is it possible this is just someone's outdoor cat? That they dyed blue? He's too well tempered to be a stray."
"He sat so nicely for his grooming session," another user added.
The TikTok post can be seen here.
Newsweek reached out to @Sashimeoww via TikTok for comment.
Do you have funny and adorable videos or pictures of your pet you want to share? Send them to life@newsweek.com with some details about your best friend and they could appear in our Pet of the Week lineup.