Russian President Vladimir Putin has given a new "bizarre explanation" for Wagner Group financier Yevgeny Prigozhin's death, which pins the blame on Prigozhin himself, reported the Institute for the Study of War (ISW).
According to a report by the Russian daily newspaper Kommersant, Putin said that the head of the Russian Investigative Committee, Alexander Bastrykin, told him that grenade fragments were found in the bodies of victims on board Prigozhin's plane, which crashed in August after taking off from Moscow. Russian officials previously confirmed that all 10 on board, which included Prigozhin and his Wagner mercenary group lieutenant Dmitry Utkin, were killed.
Putin, who was speaking during a press conference at the Valdai Discussion Club Thursday, also claimed that there were no external factors that caused the plane to crash, according to the investigative committee's examination. He also suggested that, while there has been no proof that alcohol or drugs were on board the aircraft when it crashed, tests should be conducted on the victims' bodies to determine if they were under the influence.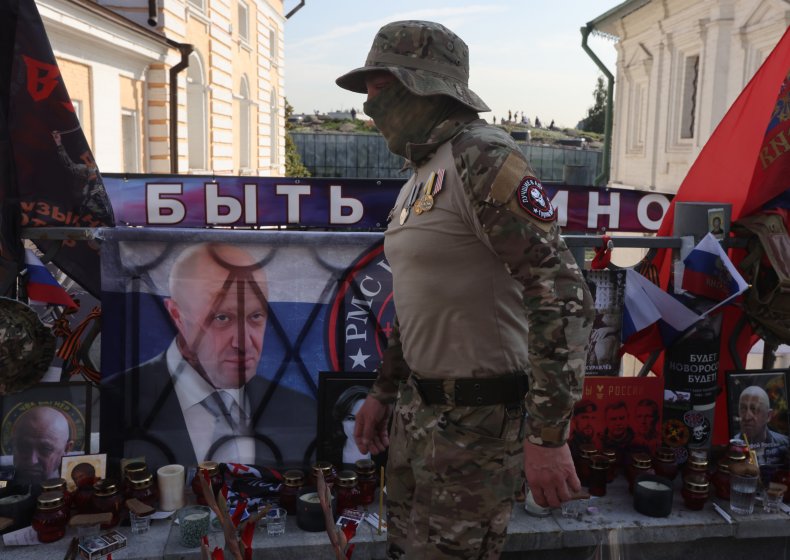 "Unfortunately, no examination was carried out to determine the presence of alcohol or drugs in the blood of the victims. Although we know that after the famous events in the company in St. Petersburg, the [Russian Security Service] discovered not only 10 billion [rubles] in cash, but also 5 kg of cocaine," Putin said, referring to the public raid of Wagner's mansion in July after the Wagner Group's failed rebellion against Moscow. "In my opinion, this examination should have been carried out."
The ISW called Putin's explanation for Prigozhin's death "bizarre" in its latest assessment of the war in Ukraine, noting that the Kremlin leader seemed to be suggesting that a grenade could have detonated inside the plane before it crashed.
"Putin's bizarre explanation of the plane crash is likely an attempt to blame Prigozhin for his own and his comrades' deaths and further disgrace him among his remaining supporters," the ISW added.
Putin was particularly quiet in the days following Prigozhin's death, and the ISW previously assessed that the Kremlin was "almost certainly" to blame. Wagner-associated Telegram channels also claimed that Prigozhin's plane had been hit by Russian anti-air defenses.
Since the death of their chief, Wagner troops have been spotted rampaging in Russia as some of the private mercenaries move out of Ukraine. Prigozhin's son, Pavel, has also reportedly taken over Wagner's elite unit, which is expected to return to the front lines amid Ukraine's ongoing counteroffensive.
The Kremlin has maintained that the private military company was absorbed by the Russian Ministry of Defense (MoD) after Prigozhin's failed rebellion, and Putin also told reporters Thursday that Wagner no longer existed in Russia, according to Russian state-run news agency TASS.
"It was a journalistic name—a private military company," Putin said, referring to the Wagner Group. "There are no private military companies in Russia, because there is no law on private military companies. In our country, they do not exist and never existed."
Putin added that Wagner's fight alongside Russian troops in Ukraine was "clumsy because it was not based on law," but added he did not object to the private mercenaries signing contracts with the MoD "because the people acted voluntarily, and we saw that we fought heroically."
Newsweek reached out to the Russian Defense Ministry for comment via email on Thursday night.