The judge overseeing former President Donald Trump's classified-documents case in Florida has placed a temporary pause on all litigation involving materials attached to Trump's indictment while she debates postponing the trial altogether.
U.S. District Judge Aileen Cannon, a Trump appointee, filed a paperless order Friday after the former president's defense team requested that his trial be postponed until after the 2024 presidential election. The case is scheduled for trial on May 20.
Trump is facing 40 felony charges in the case, including 32 counts of willful retention of national defense information, in the Department of Justice (DOJ) investigation of the classified materials discovered at his Mar-a-Lago residence in August 2022. He has pleaded not guilty to all charges.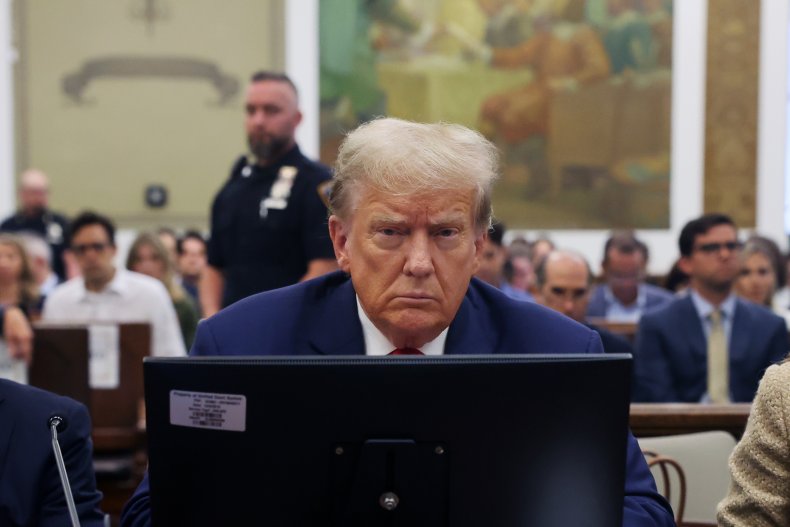 Cannon's order deals with a series of pre-trial deadlines set for October, intended to review how the classified materials at the center of the case are to be handled by Trump and his attorneys. Under the Classified Information Procedures Act (CIPA), Special Counsel Jack Smith requested that hearings be set to go over which sensitive materials could be used and made public during trial.
Cannon has already faced a slew of criticism over doubts of her impartiality while presiding over the former president's prosecution. An appeals court scolded her in September over her handling of a request from Trump to block the DOJ from using the documents recovered at Mar-a-Lago to advance its investigation, and legal experts previously told Newsweek that the judge was not experienced enough to handle such a major case.
Reacting to Cannon's order Friday, Harvard Law professor emeritus Laurence Tribe wrote on X, formerly Twitter, that the latest move showed Cannon's bias toward Trump.
"I was among those who once called her a 'loose Cannon,'" Tribe wrote. "That was wrong. She's firmly anchored—to one thing and one thing only: Donald Trump's interest in escaping accountability until after the election. It's a complete disgrace."
Former federal prosecutor Joyce Vance seemed to agree with Tribe's sentiment, writing in a post to X that "delays can sometimes be necessary to accommodate issues involving classified discovery, but this seems over much."
"This is a judge who is happy to see the case move slowly," Vance added.
Brandon Van Grack, former lawyer for the DOJ, added that the delay is "not a good sign for those who want a trial in May."
"We haven't even reached the point in CIPA where the court has truly difficult decisions to make," Van Grack wrote on X.
In a motion filed Wednesday, Trump's attorneys claimed that there have been delays in obtaining access to classified records cited in Smith's indictment, making it impossible for the defense team to be prepared in time for trial on the current schedule.
Federal prosecutors admitted in a court filing last week that there had been "a slightly longer than anticipated timeframe" in the case, and stated their support for a short extension in the case. However, Smith's office adamantly opposed a delay to the entire pre-trial schedule.
When contacted via email by Newsweek on Friday night, Chris Kise, Trump's lead attorney in the case, said he had no comment regarding Cannon's order.