The attacks on Israel that began Saturday morning will undoubtedly be viewed by some as just the latest, if unusually brutal, tit-for-tat in the region's seemingly nonstop cycle of violence.
But today is different. Today is a day that will be recorded in history as one of Israel's darkest. And in the days and weeks to come, as the shock and fog of war recedes and the full repercussions become clear, this may be a turning point in the West's fight against terror.
It is already clear that Palestinian terrorists have crossed a line as never before. Many nations have quickly declared that the brutality perpetrated by Palestinian terrorists is unconscionable. Yet unsurprisingly, many more nations have remained silent or, worse, sought to explain away the brutality to fit their own political perspectives and world views. They are deeply wrong.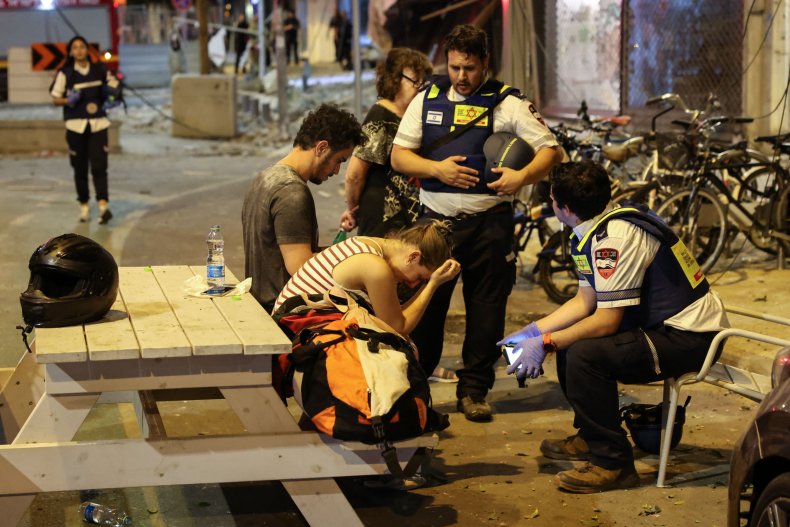 In an era when the line between right and wrong is constantly blurred, this is a moment of sobering clarity.
Hamas has sunk to a depth of savagery that should shock us to the core. The terror group infiltrated Israel by land, air, and sea, and attacked nearby communities. They slaughtered the elderly, gunned down civilians in their homes, kidnapped mothers with babies in their arms, mutilated the bodies of men and women, and paraded their victims through the streets of Gaza in a show of celebration.
Through these and many other inhumane acts, Palestinian terrorists have shown their fight is not about settlements, checkpoints, or the myriad other policies that Israelis and Palestinians squabble over. This weekend, we saw what militant Palestinians and their supporters mean when they tell us they want the land 'From the River to the Sea.' They want every inch of land – every city, town, kibbutz, settlement, and village—between the Mediterranean Sea and the Jordan River, and they want it cleansed of every single Jew.
This is a moment of reckoning for every leader and institution that has spent years sending the message that Palestinians are free to respond to their real struggles and hardships by any means necessary to defeat the "Zionists."
Palestinian Authority President Mahmoud Abbas reacted to the attacks by expressing his solidarity with Palestinian people and justifying the attacks as a response to the "terror of settlers and occupation troops." But the terrorists didn't target settlements; they attacked communities near the Gaza border where families were at home celebrating Shabbat and the Jewish holiday of Simchat Torah. There is no partner for peace to be found in a man who can't muster the courage to condemn gunmen who held families hostage and abducted children.
This attack comes almost 50 years to the day after the country was taken by surprise in the 1973 Yom Kippur War, and at a time when the nation is grappling with internal conflicts over how to move forward as a democracy. Having persisted through 75 years of open hostility, Israel will survive this crisis as well.
Instead, this will be a defining moment for every other nation, particularly those that stand for freedom, human dignity, and the rule of law. As welcome as the many tweets of solidarity have been, we need to look ahead.
Israel is already striking targets in Gaza and undoubtedly, the fighting will continue in the days and weeks ahead as Israel battles to return its captured citizens and dismantle the terror infrastructure that planned and executed these attacks.
This will mean that destruction and devastation will be rained on Gaza, with many Palestinians killed. Soon after, a familiar cycle will begin. Upsetting images—some real, some forged by "Pallywood," some recycled—of destroyed homes and broken Palestinian families will be splashed across front pages and circulated alongside outraged messages online.
A battle of narratives will ensue. Resolves will fade, and condemnations will commence. Social media is already filled with apologists who gleefully post images of people celebrating the death and kidnapping of Israeli children. Academics and human rights professionals are questioning why the White House is calling the terrorists "terrorists." And pundits are defending the brutality as "armed indigenous people taking their land back from colonizers," astutely ignoring the fact that Jews are indigenous to the land of Israel.
Many aspects of the Israeli-Palestinian conflict are open to debate as we strive for long-term stability and a time when all peoples can live with peace, security, dignity, and opportunities. But some things are not open to interpretation. One can be deeply troubled by the Palestinian's plight and still maintain the moral clarity to recognize that certain lines should never be crossed—that we must never confuse the terrorists who target civilians with an army that targets terrorists who attack its civilians.
Every nation, institution, and leader is on notice. One day, books will be written, courses taught, and movies made about these events. History is watching, and we are all on the record.
Aviva Klompas is co-founder of Boundless, a non-profit organization that partners with community leaders to support Israel education and combat Jew hatred. She also served as director of speechwriting at the Israeli Mission to the United Nations.
The views expressed in this article are the writer's own.