Conservative pundit Ann Coulter on Saturday mocked former President Donald Trump, saying a "crime wave" began during his presidency as he "sat around tweeting."
Coulter was once among Trump's most avid supporters, even penning the book In Trump We Trust: E Pluribus Awesome! in 2016. However, the right-wing commentator has since had a falling out with the former president, becoming one of his most vocal GOP critics.
The pair have traded jabs ever since, with Trump referring to Coulter as a "wacky nut job" and "unbearably crazy," with Coulter firing back that the Make America Great Again (MAGA) leader is a "gigantic baby."
On Saturday, Coulter lashed out at the former president over his stance on crime prevention while responding to a social media post by former Trump administration official Sebastian Gorka.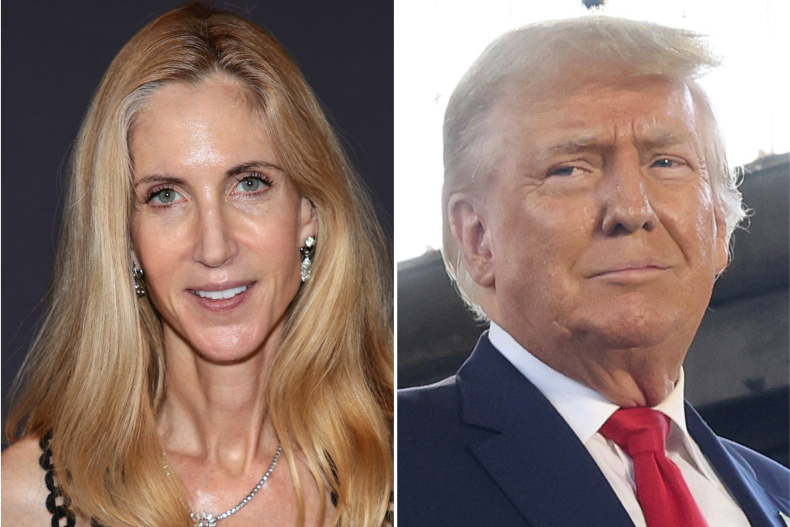 Gorka, who served as deputy assistant to the president for seven months in 2017, in a Saturday social media post wrote a list of things that he claimed wouldn't have happened under Trump, who is the frontrunner in the 2024 GOP presidential primary.
"War in Ukraine War in Israel 8 million illegals 110,000 overdoses / year Crimewaves across the US NONE of this would have happened under President Trump," Gorka said in the post on X, formerly Twitter.
Coulter, responding to his post, wrote that the "crime wave" in the United States started during the MAGA leader's presidency.
"The US crime wave began under Trump — as he sat around tweeting 'LAW & ORDER,'" Coulter posted on X. " He pushed through the pro criminal 1st step act. He bragged about releasing criminals in his first debate with Biden."
Newsweek reached out via email on Saturday to Coulter and Trump's representatives for comment.
The conservative commentator, who also took aim at the former president in a podcast interview last week over crime in the U.S., previously said his efforts amounted to little more than posting about "LAW AND ORDER" on social media.
Coulter claimed during an interview on the PBD Podcast that was released on Thursday that Trump was instead focused on "releasing criminals" after signing the First Step Act, a 2018 criminal justice reform law that offers a path to early release for some nonviolent drug offenders.
She also denounced Trump over his public safety record and claimed that he released "all the criminals."
"What did Trump do? He sent out tweets in all caps, LAW AND ORDER," she said on Thursday. "You know what he said in the first debate with [President] Joe Biden? … 'You called them super-predators, I'm releasing people from prison.' … He's releasing criminals. You want to feel safe? Donald Trump ain't your guy."