Rep. Jared Moskowitz, a Florida Democrat, has come under fire for posts about the Hamas attacks on Israel this weekend.
The armed wing of Hamas launched attacks on Israel early on Saturday morning, with Israeli Prime Minister Benjamin Netanyahu saying the state is now "at war". President Joe Biden affirmed his support, saying on Saturday that the U.S. "stands with the State of Israel, just as we have from the moment the United States became the first nation to recognize Israel, 11 minutes after its founding, 75 years ago."
Writing on X, formerly Twitter, about Saturday's attacks, Moskowitz responded to a post about an announcement by Israel warning Palestinians in Gaza to leave as it prepares to launch attacks. Moskowitz wrote: "This is Hamas fault and only Hamas. Israel gives a warning to save lives. The women and children that were murdered in Israel got no warning."
His comment was picked up by MSNBC host Mehdi Hasan, who reposted his tweet with the text: "A U.S. Congressman suggesting 2 million people in Gaza should be collectively punished for the actions of Hamas."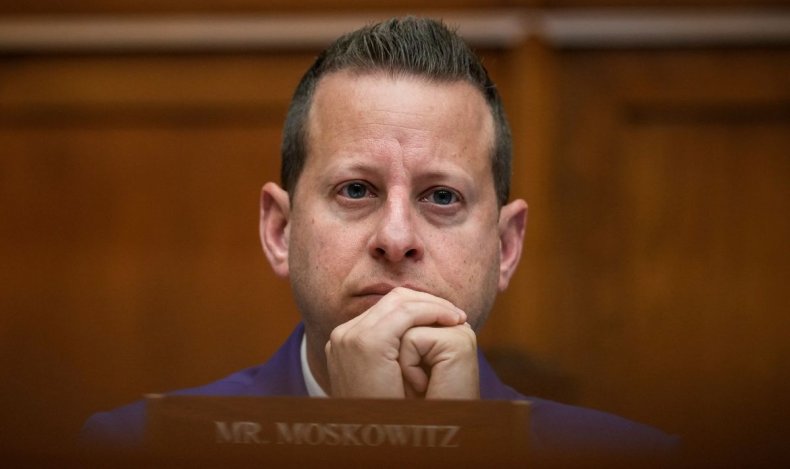 Hasan posted on Sunday—not in direct reply to Moskowitz's comments—that the issue is one of morality. "This conflict for me has always been about morality," he posted on X. "Morally, you cannot justify the killing of Palestinian civilians, even if you say it's fighting terrorism. But morally, you also cannot justify the killing of Israeli civilians, even if you say you're fighting occupation."
Moskowitz's comments drew ire from other notable people, including journalist George Chidi. Chidi responded to Moskowitz's post, writing: "Where the f*** are they going to go? Serious question.
"Gaza is an open-air prison. Travel out of Gaza is broadly prohibited both by Israel and by Egypt. I know this because I was an international peacekeeper in Sinai and saw it first hand. The 2 million people there are trapped."
Moskowitz replied: "That's something Hamas should've thought of."
"I'm sure Hamas did. And I'm sure Hamas will use the propaganda value of the predictable pile of dead Palestinian civilians to recruit more terrorists," Chidi responded. "It is immoral and illegal for any military attack on civilians. It doesn't matter what Hamas or anyone else did first."
Actor George Takei pointed out that this would only lead to more violence. "But this would lead to more innocent bloodshed. Punishing millions for the acts of extremists," he wrote on X.
Despite the backlash, Moskowitz has remained steadfast in his opinion, posting on X again: "This is the largest attack in Israel in 50 years. The response will be the largest response in 50 years. Blame Hamas. They knew Israel would respond in kind. They didn't care that this would get people in Gaza killed."
People on X were divided over Moskowitz's comments. One user, posting under the name Karen David, replied to the Democratic representative with a plea to change his thinking. "That doesn't mean we have to mean that innocent Palestinian women and children should suffer," they wrote. "Please refrain from such thinking."
Another, Mike Decker, wrote: "May you know compassion in this life or a future one!"
Another user, Joe, was more supportive and thanked Moskowitz: "Thank you so much Congressman. Remember when the time comes to please stand loudly against those in your conference who will try to demonize Israel. There are only a few of them, but they need some serious lecturing."
Newsweek has contacted Jared Moskowitz's team for comment via email.