It began, as so many great stories do, at a NASCAR track. On October 2, 2021 Brandon Brown was being interviewed by NBC Sports reporter Kelli Stavast after winning the Sparks 300 race at the Talladega Superspeedway in Alabama.
In the stand behind a group of fans were chanting "f*** Joe Biden," which Stavast appeared to mishear. Addressing Brown she commented: "You can hear the chants from the crowd—Let's go Brandon."
Clips of the moment went viral on social media, and soon "Let's go Brandon" became a rallying cry for many conservative activists and commentators, a way of alluding to the original ruder version without actually saying it. The phrase was repeated on Fox News, by Texas Governor Greg Abbott on Twitter, now X, and by demonstrators in February 2022 during a visit by President Biden to Virginia. For a time, Donald Trump's campaign offered "Let's Go Brandon" T-shirts in exchange for any donation of $45 or more.
Early 2022 also saw the emergence of the "Dark MAGA" aesthetic online, created by Trump supporters who thought the former president was too tolerant of liberal opposition during his term, and seeking to pull his movement further to the right. According to counter-extremism thinktank the Institute for Strategic Dialogue, "Dark MAGA combines Trumpist rhetoric with aesthetics more readily associated with neo-Nazi terrorist groups."
One of the favored designs showed a photo of Trump shaded in black and red, with bright lights appearing to come out of his eyeballs. Parody versions showing Biden with the same aesthetic, complete with devil-like eyes, were soon produced and began being used ironically by his supporters, and thus "Dark Brandon" was born. The meme received a major boost when Al-Qaeda leader Ayman al-Zawahiri was killed in a U.S. drone strike on July 31, 2022, sparking a wave of graphics praising Biden for assassinating Osama bin Laden's replacement.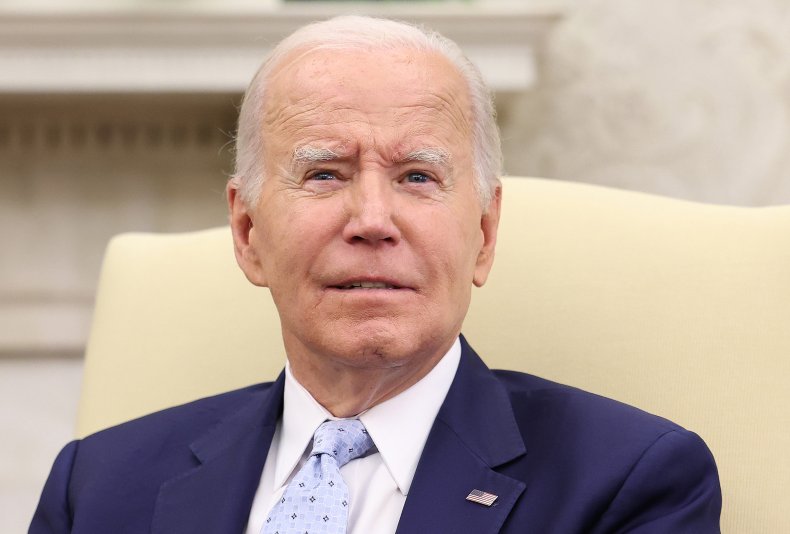 In September this year, Biden himself gave the meme his endorsement, sharing a video on Instagram of him filling up a mug with his own face on it, the eyes on which turned red after contact with boiling water.
In the video, Biden says "I think you should buy this mug, I'll ask you nicely but he won't," at which point the camera zooms in on the mug as the eyes turn red. The mug was also made available on the Biden campaign website for $22.
Speaking to Newsweek, Thomas Gift, who heads up the Centre on U.S. Politics at University College London, said the embrace of Dark Brandon is an example of American politicians trying to lean into their perceived weaknesses.
He said: "Biden turning the 'let's go, Brandon' chant from an obscenity to an advantage isn't dissimilar from Trump supporters embracing the 'ultra-MAGA' insult as a point of pride. In the end, it's not going to alter the opinions of many voters, and it's more a curiosity than anything. But it does reflect a strategic doubling down in politics where candidates increasingly take their Achilles heel, lean into it, and try to transform it into an apparent advantage."
Professor Richard Lau, an expert in political psychology who teaches at Rutgers University, said the "Dark Brandon" meme is unlikely to be game-changing, particularly regarding concerns about Biden's age.
Addressing Newsweek, he commented: "I doubt this is going to change anyone's vote intention, or intention to vote. But I doubt that was its purpose. What it could do is raise a little money for Biden's re-election campaign, in the same way that Trump is selling his recent mug shot across different media.
"It might get him a little more media attention from something that Trump is the master of, which from his perspective is a good thing. And it adds a little humor to the campaign, which I appreciate. Does it suggest that Biden is cool and with it to do something like this?—sure. Will being able to hire someone to do your social media dissuade people who are inclined to think you are too old and infirm to be president? Probably not. That's how I see it."