Spiraling violence in the Middle East presents U.S. President Joe Biden with five major issues to contend with as the threat of a broader, deadlier conflict looms in and around southern Israel and Gaza.
On Saturday, Palestinian Islamist movement Hamas launched its most deadly attacks on Israel for years, firing rockets from Gaza as its fighters crossed over the border into Israel. Israel then carried out strikes on Gaza, which is controlled by Hamas, declaring Israel was now "at war."
Israeli prime minister, Benjamin Netanyahu, said Israel's "first objective" was to "clear out the hostile forces that infiltrated our territory" and secure its borders.
"The second objective, at the same time, is to exact an immense price from the enemy, within the Gaza Strip as well," he said.
Israel would also "reinforce other fronts so that nobody should mistakenly join this war," Netanyahu added in a post to X, formerly Twitter, on Saturday.
Biden has said that the U.S. "unequivocally condemned this appalling assault against Israel by Hamas terrorists from Gaza," adding Washington would "offer all appropriate means of support" to Israel after the "horrific and ongoing attacks."
More than 400 Israelis were killed in the raid while Israeli air strikes killed more than 300 people in Gaza, Reuters news agency reported.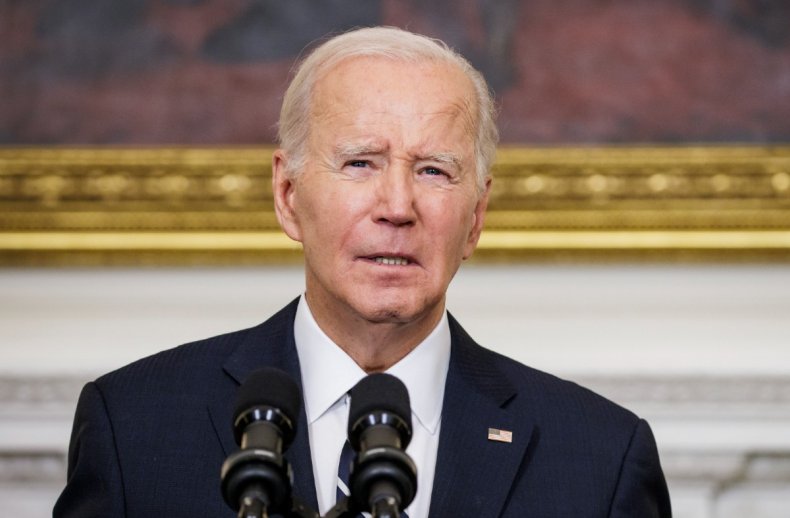 Hamas spokesperson Khaled Qadomi told Al Jazeera that the movement wanted the "international community to stop atrocities in Gaza, against Palestinian people, our holy sites like Al-Aqsa [mosque in Jerusalem]."
"All these things are the reason behind starting this battle," he said.
The Israel Defense Forces said on Sunday that sirens were once again going off in southern Israel, shortly after it said Israel's air force had "struck a compound belonging to the head of the intelligence department in the Hamas terrorist organization."
"The IAF [Israeli Air Force] is currently continuing to strike terror targets in the Gaza Strip," the IDF added in a statement.
U.S. Unfreezes Iranian funds
The escalation comes shortly after the Biden administration agreed to allow the transfer of $6 billion of frozen Iranian funds from South Korea to Qatar as part of a prisoner-swap deal to free several Americans detained in Iran, completed last month.
On Saturday, several prominent Republican voices referred to this deal in renewed criticism of the Biden administration in the midst of the worsening violence.
"These Hamas attacks are a disgrace and Israel has every right to defend itself with overwhelming force," said former president and GOP primary frontrunnerDonald Trump. "Sadly, American taxpayer dollars helped fund these attacks, which many reports are saying came from the Biden Administration," he said in a statement.
"This is what happens when @POTUS [U.S. President Joe Biden] projects weakness on the world stage, kowtows to the mullahs in Iran with a $6 Billion ransom, and leaders in the Republican Party signal American retreat as Leader of the Free World," said Mike Pence, Trump's former vice president and now competitor for next year's presidential elections.
"We are watching the culmination of Biden's absolutely irresponsible policies with respect to Israel," Colorado Representative Lauren Boebert added. "He JUST handed $6 BILLION to Iran. Now we see the results."
"Iran has helped fund this war against Israel and Joe Biden's policies that have gone easy on Iran have helped fill their coffers," Florida Governor and GOP presidential contender Ron DeSantis wrote on X, formerly Twitter.
The White House has been clear that a host of restrictions would apply to the funds. Tehran would only be able to use them to "buy food, medicine, medical equipment that would not have a dual military use," White House spokesperson John Kirby said, according to Reuters.
But Iran's Foreign Ministry clapped back at these restrictions, saying the "competent authorities" in Tehran would determine how the funds are used.
White House spokesperson, Adrienne Watson, said on Saturday that "not a single cent from these funds has been spent, and when it is spent, it can only be spent on things like food and medicine for the Iranian people."
"These funds have absolutely nothing to do with the horrific attacks today and this is not the time to spread disinformation," she added.
"All of the money held in restricted accounts in Doha as part of the arrangement to secure the release of 5 Americans in September remains in Doha. Not a penny has been spent," Treasury undersecretary Brian Nelson also said on Saturday.
Saudi Arabia and the Abraham Accords
The escalating violence has also likely jeopardized the progress Biden has been trying to make with Riyadh to strengthen the three-year-old Abraham Accords.
In September 2020, the U.S. steered talks that led to representatives from Israel, the United Arab Emirates and Bahrain signing the Abraham Accords in Washington DC. Morocco later agreed, with Sudan also signing the declaration but not a bilateral agreement with Israel.
The accords made Abu Dhabi and Manama the third and fourth Arab states to recognize Israel, and the accords were intended to normalize diplomatic relations.
It stressed the "the importance of maintaining and strengthening peace in the Middle East and around the world based on mutual understanding and coexistence."
But the Biden administration has been working to bring Saudi Arabia into the Abraham Accord fold, which would stand to be a significant foreign policy win for the administration. However, reports from a Saudi-owned newspaper in the weeks running up to Saturday's escalation had suggested Riyadh had frozen normalization talks, although this was denied by the U.S. and Israel. But in mid-September, The New York Times then reported that Washington was discussing a mutual defense treaty with Saudi Arabia, citing U.S. officials.
"This will slow considerably if not kill the Saudi Abraham Accords deal," Mara Rudman, a former diplomat for the Middle East under the Obama administration, told The New York Times.
"It strikes at the heart of key elements for Saudi entry, a pathway forward for Palestinians in West Bank and Gaza," she said. For Israel, there will be "zero appetite" across the political spectrum to help Palestinians, "despite the fact that so doing could actually enhance, not detract from, Israeli security."
Biden said on Saturday that he had told his team to be in "constant contact" with regional leaders, including Saudi Arabia.
Riyadh's Foreign Ministry said on Saturday that it was "closely following the developments of the unprecedented situation," and that its government called for an "immediate halt to the escalation between the two sides."
Divides Among the Democrats
The explosion of violence could also open a wider rift among Democrats, even as Biden vowed that his administration's "support for Israel's security is rock solid and unwavering."
In recent years, Democrats on the left have increasingly withdrawn from supporting Israel. In mid-July, Washington Representative Pramila Jayapal called Israel a "racist state" ahead of a visit by Israel's President, Isaac Herzog, to address Congress, though she later apologized.
"I want you to know that we have been fighting to make it clear that Israel is a racist state, that the Palestinian people deserve self-determination and autonomy," Jayapal said at the time. "That the dream of a two-state solution is slipping away from us. That it does not even feel possible."
In a rebuke letter signed by several Democrat pepresentatives, including House Minority leader, Hakeem Jeffries, other Democrat voices said "America and Israel have a uniquely special relationship anchored in our shared democratic values and strategic interests."
"As House Democratic leaders, we strongly support Israel's right to exist as a homeland for the Jewish people," the letter added.
Not Quite as Quiet Today
With the violence and death tolls continuing to escalate, the Biden administration is likely regretting remarks made just a week ago.
"The Middle East region is quieter today than it has been in two decades," National Security Adviser Jake Sullivan said during The Atlantic Festival, although he did then add: "I emphasize 'for now' because all of that can change."
Sullivan has spoken with Israel's National Security Adviser, Tzachi Hanegbi, and the U.S. is still "in close contact with our Israeli partners," White House spokesperson Adrienne Watson said on Saturday.
Future Gas Prices
The outburst of violence could also trigger a spike in crude oil prices on Monday, reports suggest.
"We may see a knee-jerk surge in crude prices when markets open on Monday," Vandana Hari, the chief executive of Vanda Insights, told CNBC.
Israel and Palestine are "on the doorstep of an important oil-producing and exporting region," Hari said, although the conflict is not directly impacting significant oil-producing nations.
"The impact on the oil price will be limited unless we see the 'war' between the two sides expand quickly to a regional war where the U.S. and Iran and other supporters of the parties get directly involved," Iman Nasseri, Middle East managing director of energy consultancy Facts Global Energy, also told the publication.