Representative Nancy Mace faced ridicule online on Sunday about her response to questions regarding past allegations of Ohio Representative Jim Jordan's knowledge about sexual abuse that occurred years ago on the Ohio State University (OSU) wrestling team when he was an assistant coach as he runs for the House speakership.
At the height of the #Metoo movement in 2018, many sexual assault allegations were tied to OSU, including the case against Richard Strauss, the wrestling team's doctor. In 2020, six former OSU wrestlers came forward to CNN with allegations that Jordan, who previously worked as an assistant coach for OSU's wrestling team from 1987 to 1995, was aware of sexual misconduct, but did nothing to stop it. Head coach Russ Hellickson was also allegedly made aware of the abuse. The wrestlers added that they were present when Jordan heard or responded to sexual misconduct complaints about Strauss. Jordan, however, has repeatedly denied having any knowledge of the sexual misconduct happenings since the investigations began in 2018.
Former OSU wrestlers have maintained their stance about Jordan, who who chairs the House Judiciary Committee, as Adam DiSabato told Ohio state legislators in 2020 that Jordan called him in 2018 and asked him to contradict statements by his brother, who had alleged Jordan knew about Strauss' abuse. In an independent report commissioned by OSU that concluded in 2019 found Strauss, who died by suicide in 2005, "sexually abused at least 177 male student-patients" between 1979 and 1998.
During an interview appearance on CBS News' Face the Nation on Sunday, moderator Margaret Brennan asked Mace, a South Carolina Republican who has been outspoken about defending victims of sexual assault, whether past allegations about Jordan turning a blind eye to sexual abuse on the OSU's wrestling team gave her any reservations.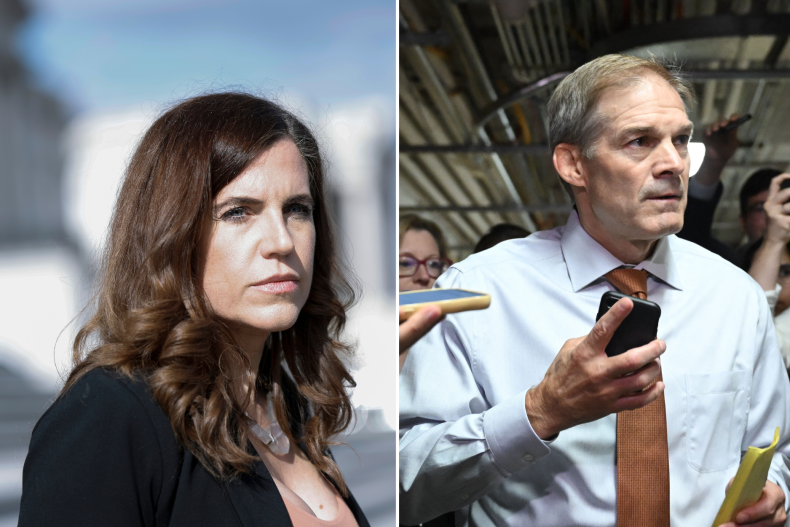 "I'm not familiar or aware with that," the congresswoman said. "He's not indicted on anything that I'm aware of. I don't know anything and can't speak to that. What I do know is that I've been a very strong voice for women, I've talked to Jim Jordan and Steve Scalise about that. I've been a very strong advocate for rape victims, as you mentioned earlier."
Newsweek has reached out to Jordan, Mace, and It's On Us, an advocacy organization combating campus sexual assault for further comment.
Meanwhile, Mace's response sparked criticism on social media, with many taking to X, formerly Twitter, to call her out for allegedly denying having any knowledge about OSU and Jordan.
"'I don't know anything' feels pretty evergreen for her folks right now," former federal prosecutor Joyce Alene wrote on X.
Journalist Aaron Rupar called out Mace's conflicting views for criticizing former House Speaker Kevin McCarthy, a California Republican, for not doing enough for abuse survivors.
"You won't find a better encapsulation of Nancy Mace's phoniness than her going on CBS today & claiming her big problem with McCarthy was he didn't do enough for abuse survivors, then in the next breath endorsing Gym [sic] Jordan for speaker. She stands for nothing beyond getting on TV," he wrote.
Kevin Kruse, a history professor at Princeton University, wrote, "Next time you post anything about Jim Jordan and the Ohio State sexual abuse scandal, be sure to tag @NancyMace @RepNancyMace so she can learn all about it."
In addition, Mehdi Hasan, host of MSNBC's The Mehdi Hasan Show, simply posted, "These people are so comically dishonest."
This comes after Jordan's announcement declaring himself a candidate to become the next House speaker after McCarthy was ousted last week in a 216-210 vote.
"The Republican majority must continue to address the issues that matter to the American people. We must address rising crime in major cities and reject soft-on-crime, pro-criminal policies. We must get our fiscal house in order and reduce spending so that we can leave more to the next generation than a crushing deficit," Jordan stated in his letter to GOP colleagues in the House of Representatives.
In addition to Jordan running, House Majority Leader Steve Scalise has also announced last week he will be running for the speakership. Scalise is a prominent figure in the House GOP conference and has long been seen as a potential successor to McCarthy.
Mace, meanwhile, maintained her support for Jordan on Sunday citing his "work ethic" and "his ability to just run circles around everyone with regards to policy and pushing forward."