Israel is grappling with a colossal intelligence breakdown that resulted in an unprecedented assault from the Gaza Strip by Hamas, an Islamist movement supported by Iran, Turkey, and Qatar, and Palestinian Islamic Jihad (PIJ). Both jihadi groups—Hamas, which is an offshoot of the Muslim Brotherhood, and extremist Islamist PIJ—are recognized as terrorist in the U.S. and Europe.
Iran's Islamic Revolutionary Guard Corps helped coordinating and planning the attack, and Iran' government has openly lauded it. The actions of Tehran's Lebanese proxy, Hezbollah, will provide crucial insights into Iran's further intentions.
Israel, meanwhile, is pointedly aware of Iran as a principal sponsor of terrorism. Last month, David Barnea, director of the Mossad (Israel's CIA equivalent), warned that top Iranian leadership will be held responsible for the murder of Israelis and Jews worldwide. The escalatory potential of this fluid situation is high.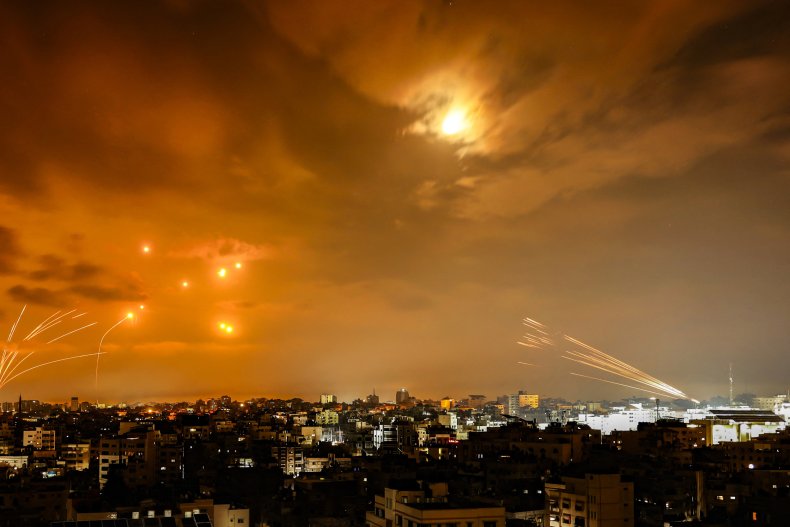 On the Sabbath of Simchat Torah (the Joy of Torah holy day), Israelis woke to a barrage of missiles from Gaza and hundreds of terrorists breaching the security fences into Southern Israeli cities, villages, and kibbutzim.
The toll so far is grim—some 700 Israelis killed, with that number expected to rise; 130 women, men, elderly people and even children taken to Gaza as hostages, and nearly 1,700 wounded. The invading terrorists even made off with armored personnel carriers and other Israeli military equipment.
The failure of deterrence and the strategic shock recalls the Yom Kippur War, which began 50 years ago with an attack on Israel's Bar Lev Line of outposts along the Suez Canal. However, the deliberate brutality seen in this assault, including beatings and killings of civilians, violations of corpses, and bloodshed on Israeli streets harken back to the 1948 War of Independence, which was fought town by town and village by village. Despite this difficult history, the severity of the present crisis deeply shocked Israelis and foreign observers alike. The audacity, scope, and coordination of the October 2023 attack indicate meticulous planning spanning months—and an intelligence failure of colossal proportions.
For a small country like Israel, a population of approximately 9.2 million, 700 killed equals the United States losing 26,000 in one day. The attack is proportionally much bigger than 9/11 was for the U.S. Despite the trauma, Israel is poised to respond forcefully, with an initial air campaign in Gaza already underway and ground operations likely to begin soon.
The "ripple effect" of the current conflict will influence the region for many years. The Israeli left, known for its conciliatory approach towards the Palestinians, may experience a further erosion of its already diminished political influence. In the near term, Israelis will rally around the flag, temporarily setting aside the recent bitter political disputes around judicial reforms that were being pursued by Prime Minister Benjamin Netanyahu and his right-wing/religious coalition. This may offer a short-term political lifeline for Netanyahu, far-right National Security Minister Itamar Ben Gvir, and Defense Minister Yoav Gallant, all facing political challenges before this crisis.
As happened in Israel in earlier times of war, a broad national unity coalition or emergency government may be in the cards, but in the longer term, Israel's current leadership is unlikely to survive politically, and Netanyahu's legacy has been terminally tarnished. When the shooting stops and the fog of war clears, the military Chief of Staff Lieutenant General Herzi Halevy, Shin Bet Director Ronen Bar, and Military Intelligence Commander Major General Aharon Haliva, may all face a judiciary commission of inquiry, much like their predecessors after the Yom Kippur War, who were judged harshly by the Agranat Commission.
Regional and global repercussions may be expansive. The attack and Israel's retaliation in Gaza jeopardized the progress made through the Abraham Accords. The extent of this setback hinges on Israel's response. It has been said that Arabs support "the strong horse"—and Israel absolutely cannot afford to appear weak at this critical juncture.
What direction Iran, through its proxy Hezbollah chooses to take could pose a two-front challenge for Israel, drawing in additional hostile forces and a rain of rockets from the north. Furthermore, some Arab nations, including Egypt, have issued veiled threats against Israel if the Israeli Defense Force's actions are seen as disproportionate. Whether these statements are mere posturing or genuine warnings remains to be seen, but Israel must take them seriously without becoming paralyzed by the possibility of incurring the temporary or long-term displeasure of its neighbors.
Importantly, China, India, Russia, and the Arab countries have not expressed solidarity with Israel, while Europe and the U.S. did. The United States will play a significant role in shaping Israel's response to her security challenges. In these turbulent times, Israel faces a massive security crisis that demands careful strategic responses. The consequences of this intelligence debacle and ensuing conflict will reverberate for years to come, with the high stakes drawing the world's attention again to the Middle East and away from China and Russia.
Ariel Cohen is a senior fellow at the Atlantic Council and managing director of the Energy, Growth and Security Program at the International Tax and Investment Center.
The views expressed in this article are the writer's own.