Russia has lost 21 tanks and 17 artillery systems in a single day, according to an update from the General Staff of Ukraine's Armed Forces.
The General Staff said in an October 8 Facebook post that Russian forces had also lost 580 personnel and 38 vehicles and fuel tanks in the latest fighting.
According to the General Staff, the Russian military has lost a total of 4,821 tanks, 6,705 artillery systems, 282,280 personnel as well as 9,111 vehicles and fuel tanks since the conflict began.
It also claimed 9,123 armored personnel vehicles, 315 aircraft, 316 helicopters as well as 20 warships and boats had been destroyed since Russian President Vladimir Putin launched the invasion in February 2022.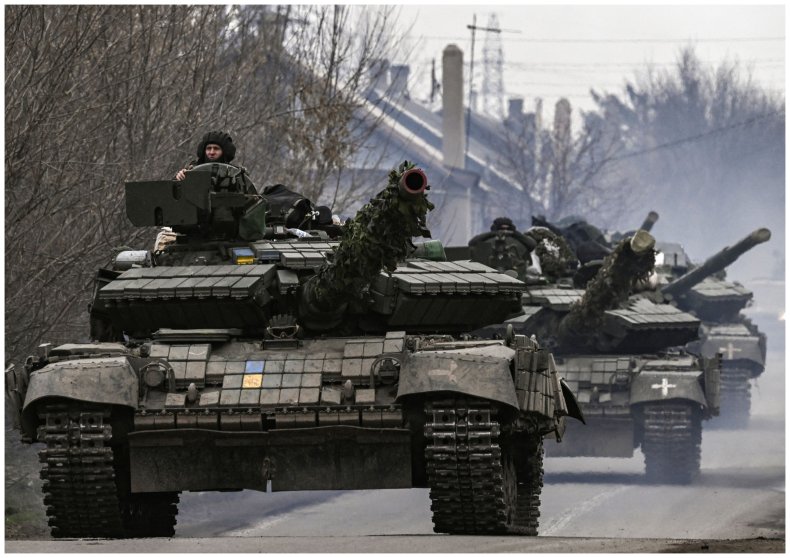 Newsweek has not been able to independently verify Ukraine's figures and estimates of casualties during the war have varied widely.
Russia rarely publishes figures on its own troop losses and when they do, they are noticeably lower than those shared by Ukraine.
Newsweek has contacted the Russian Ministry of Defense for comment via email.
Both Ukraine and Russia have suffered significant losses since the outbreak of the war as the two sides aim to secure their military objectives.
Retired Lieutenant General Ben Hodges previously told Newsweek that Ukraine has an advantage in its counteroffensive and is wreaking havoc in occupied Crimea.
Hodges, who has been a proponent of Ukrainian liberation of Crimea despite some Western skepticism, previously told Newsweek: "It remains to be confirmed, but if the Black Sea Fleet is having to leave Sevastopol now because they realize that they are so vulnerable to long-range precision weapons that they can't stay there, this is really impressive.
"But it also shows the benefit of having the long-range precision weapons that can hit the facilities at Sevastopol, the air base at Saki, the logistics hub at Dzhankoy."
The war has led to an intensification of drones being used in attacks across western Russia with some having reached the capital, Moscow.
Major strikes in Crimea have now become commonplace with Ukraine targeting defensive and naval facilities.
But Russia has managed to retain control of its land corridor that connects Crimea with the other annexed territories which Ukraine has said it will battle to liberate.
Over four months ago, Ukraine launched a counteroffensive with the aim of recapturing Russian-occupied territory, but Kyiv and its Western backers have said it has been slower than anticipated.
The Institute for the Study of War think tank said that, in the latest fighting, Ukrainian forces had waged "successful" offensive actions near Andriivka, which is about 5 miles southeast of Bakhmut, the Donetsk city which was strongly contested for months before Russia ultimately captured it.