Triple your laptop screen's real estate with deeply discounted portable monitors ahead of Amazon October Prime Day 2023
One of the most sought-after laptop computer accessories is a portable monitor. We've discovered a selection of portable monitors currently on sale ahead of the Prime Big Deal Days sales event. Not only are these portable monitor prices temptingly low, their respective resolutions and integrated features are fantastic.  
Related: How we select our products
One of the best portable monitor deals we've discovered is for the Innocn 15.6-inch OLED portable monitor. It's on sale for $250 (regularly $350). The must-have device is ideal for handling any type of business application, gaming or streaming video content.
Whether you're looking for a stand-alone portable monitor that gets positioned to the side of your laptop, one that attaches to your laptop or an option that adds two additional monitors to your computer, Amazon has slashed prices on a bunch of 1080p, 2K and 4K resolution portable monitors. To learn more about the latest portable monitors and how you can benefit from using one, check out our the best portable monitors for laptops in 2023..
---
Best portable monitor deals at Amazon
There's never been a better time to double or even triple your on-screen real estate — which can dramatically boost your productivity while you're using a laptop computer. Regardless of the portable monitor design or resolution you're looking for, there's money to be saved right now ahead of the Amazon Prime Deal Days sales event.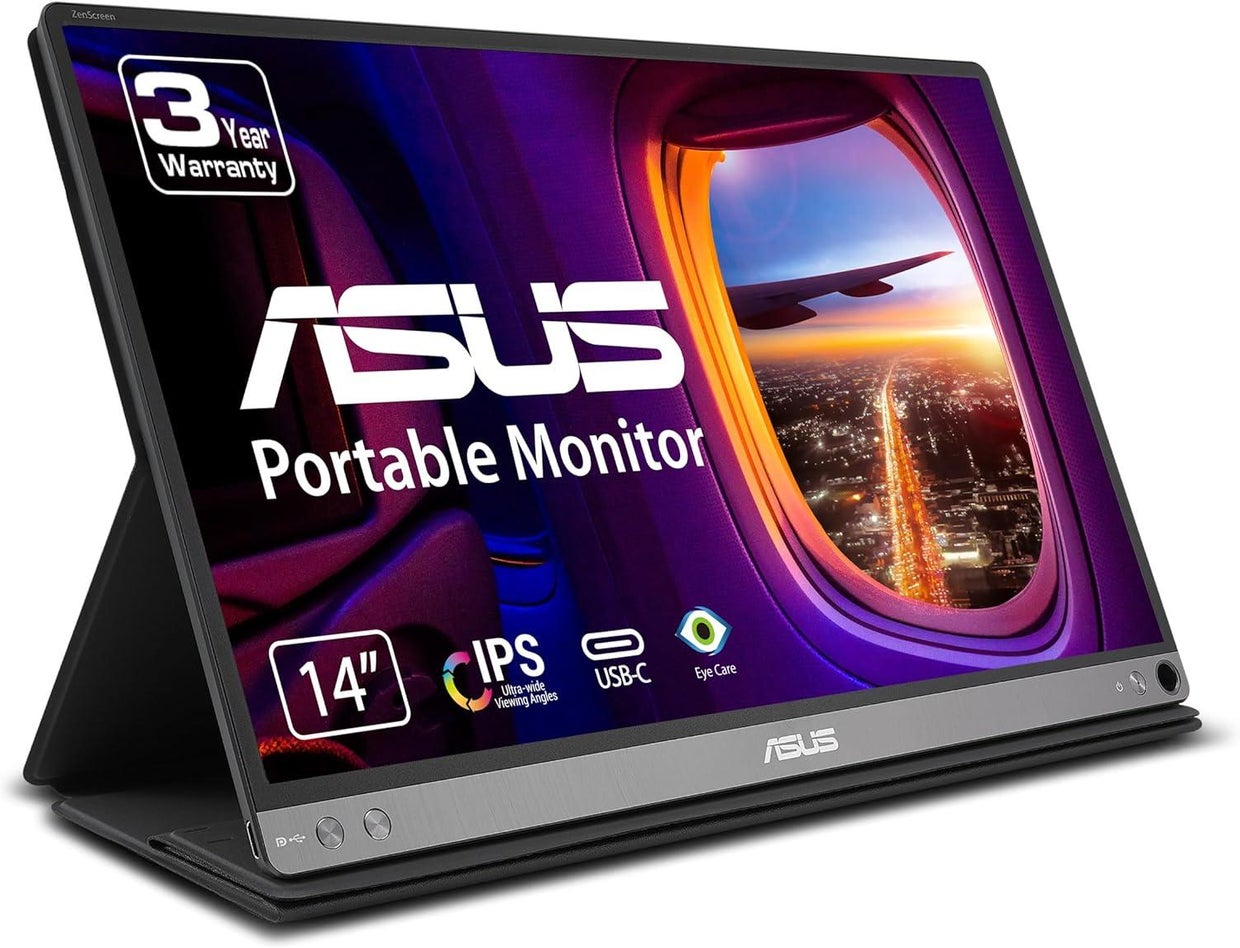 Here's a 14-inch (1,920 x 1,080 pixel) portable monitor that offers 1080p resolution with an anti-glare surface and a 60Hz refresh rate. The ZenScreen offers a 16:9 aspect ratio and a maximum brightness of 250 nits. It plugs into any laptop computer using a supplied USB Type-C cable and can be used in either landscape or portrait mode. Included with the monitor is a protective cover that doubles as a stand. You can also connect it to a tripod using the integrated mount.
Why we like the Asus ZenScreen MB14AC: This monitor measures 12.79 x 8.19 x 0.44 inches and weighs 1.3 pounds, which makes it extremely easy to transport in your existing laptop bag.
---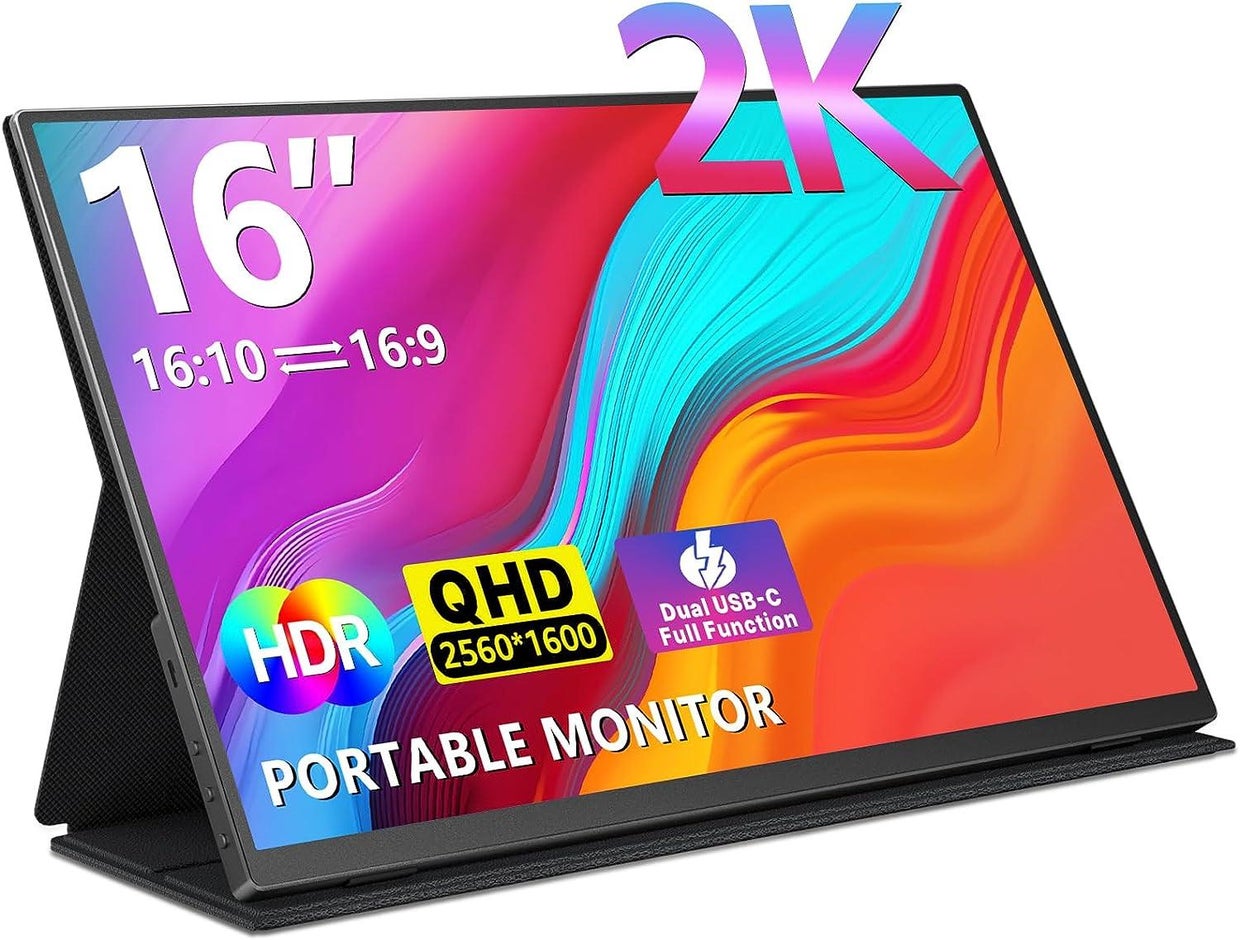 A 2K resolution portable monitor is great for gaming. This particular option from Dopesplay is 16-inches (2,560 x 1,600 pixels) with a 60Hz refresh rate, HDR and 100% sRGB support. The display has a matte coating that greatly reduces reflections and helps to ensure color accuracy. It offers a 16:9 aspect ratio and connects to any laptop computer using a USB Type-C or HDMI cable. 
Why we like the Dopesplay 2K portable monitor: This portable monitor is just 0.19-inches thick. It weighs 2.58 pounds and comes with a protective cover that doubles as a stand.
---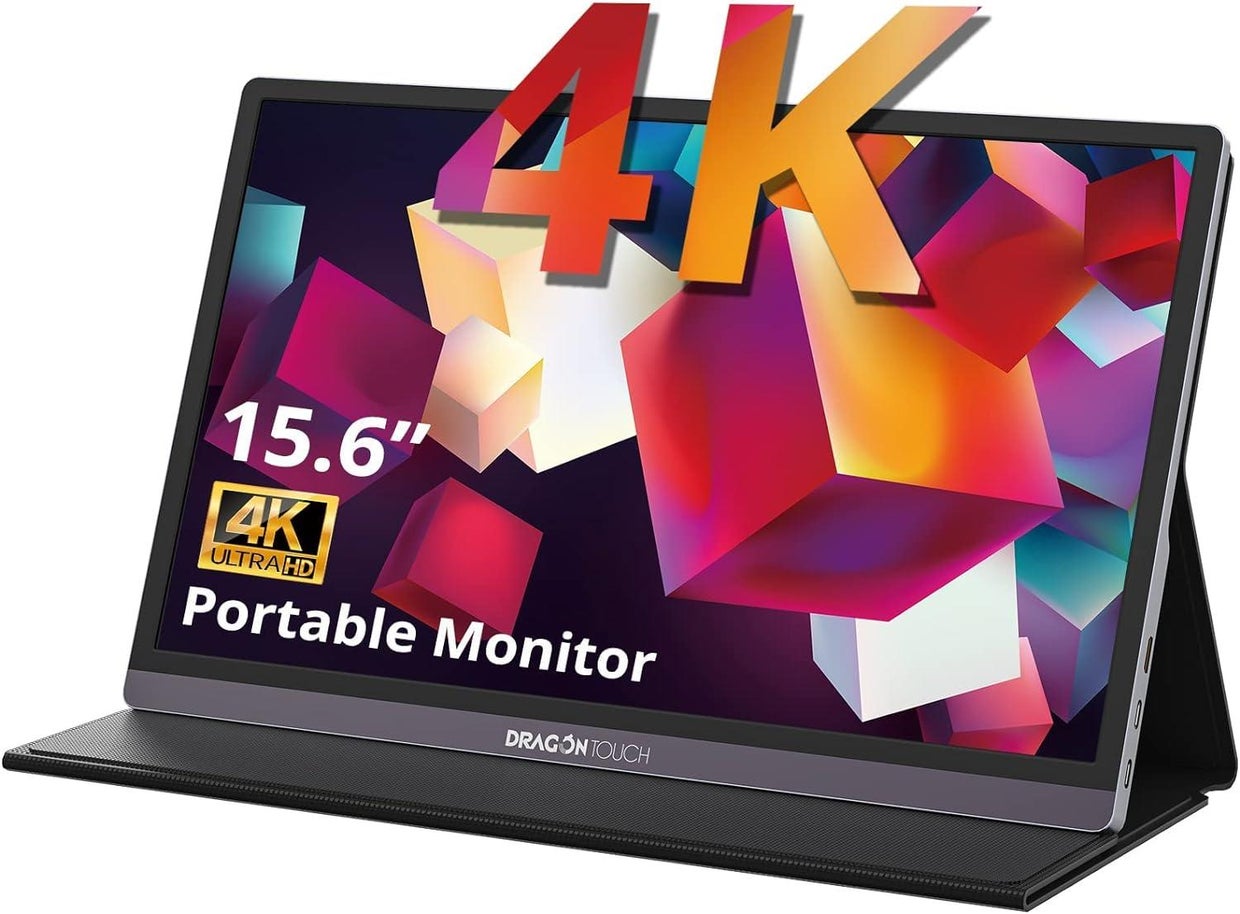 For someone who often edits photos or videos on the go, or wants to stream video content in 4K (3,840 x 2,260 pixel) resolution, this 15.6-inch portable monitor from Dragon Touch displays vivid and detailed graphics and offers a 60Hz refresh rate. The monitor can easily be used for gaming (thanks to FreeSync support), or any other application that involves needing to see accurate colors and extreme detail. 
This Dragon Touch 4K portable monitor supports HDR and 100% sRGB, is VESA compatible and has built-in stereo speakers. It offers a 178-degree viewing angle and a maximum brightness of 300 nits. A protective color that doubles as a stand is included. 
Why we like the Dragon Touch 4K Portable Monitor: It's just 0.34 inches thick and weighs 1.7 pounds. While being extremely portable, it offers stunning 4K resolution. 
---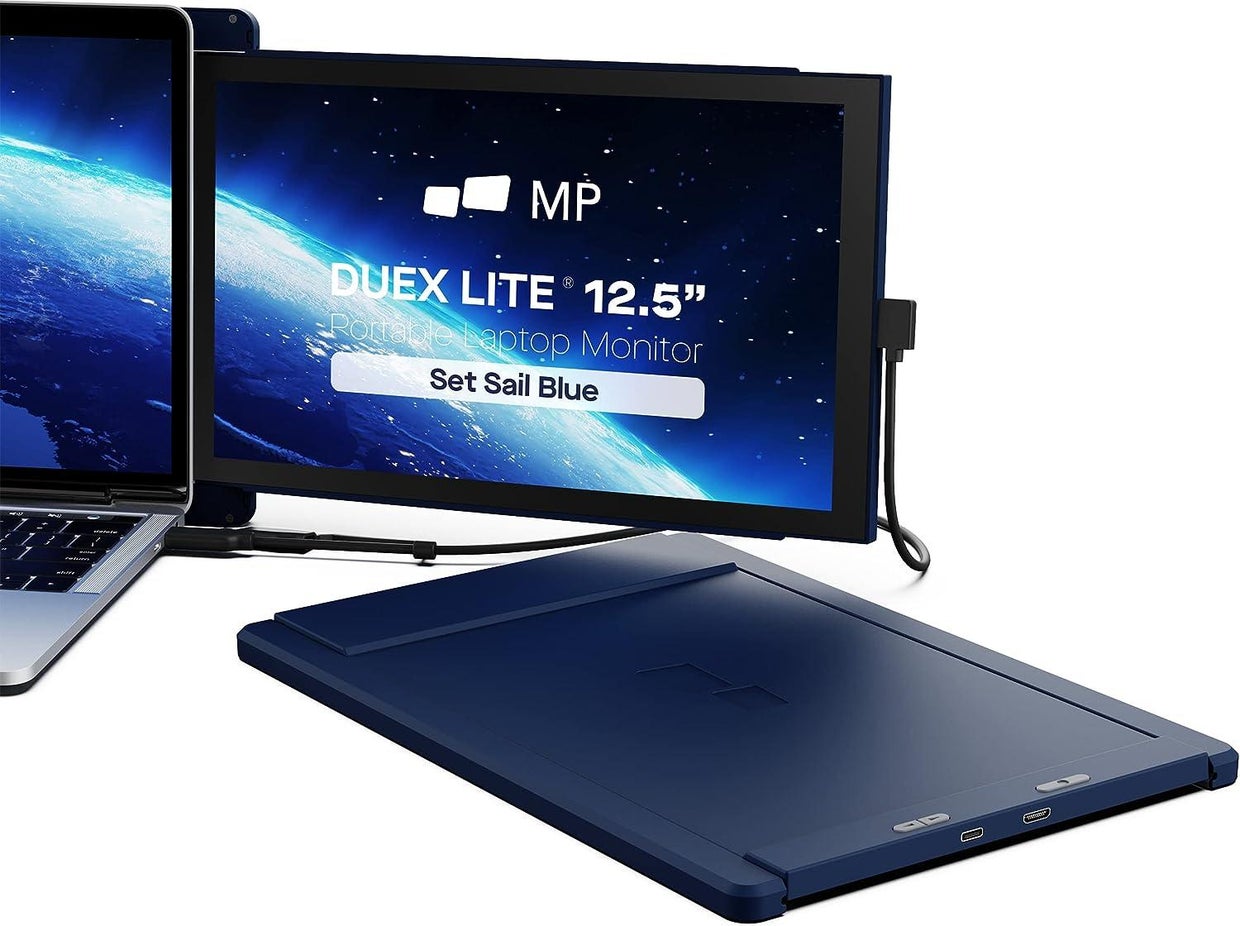 Some portable monitors stand up on their own (or use a supplied stand), but do not physically attach to a laptop computer. There are some, like the Duex Lite New Mobile Pixels portable monitor, that connects to the back of a laptop computer and then slides out when needed. This is the 2023 version of the company's portable monitor. It offers a 12.5-inch display that's ideal for laptop computers with a built-in screen between 12- and 15-inches. 
This portable monitor works with Windows-based laptops or MacBooks and connects using a USB Type-C cable. The unit adds a mere 1.3 pounds to the weight of your laptop computer, but nicely increases its on-screen real estate when that extra display space is needed for multitasking.
Why we like the Duex Lite New Mobile Pixels portable monitor: The monitor stays attached to your laptop computer and can easily be slid out and used when needed. 
---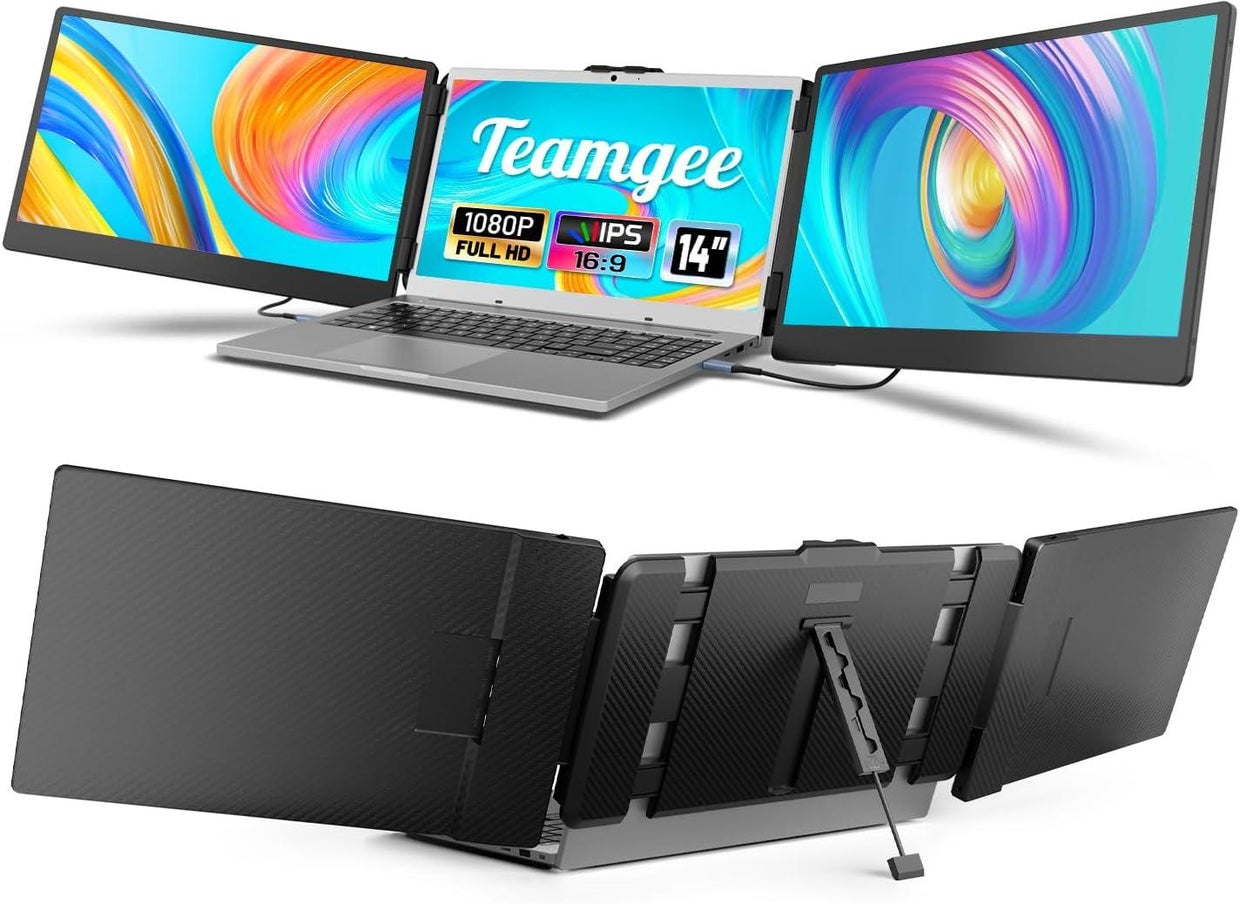 For the remote worker who needs the ability to multitask from a laptop computer, the design of the Teamgee dual portable monitor will help to dramatically boost productivity. Users get the benefit of two additional 14-inch LCD, 1080p displays that connect to a laptop computer using a USB Type-A, USB Type-C, or HDMI connection. This multi-monitor solution offers an integrated kickstand and has dual stereo speakers built-in. It's most suitable for laptop computers with a 13- to 17-inch display. 
The dual monitor system attaches to the back of your laptop computer's existing display. The two additional displays can slide out separately when they're needed. Each monitor can be rotated up to 180-degrees to offer the ideal viewing angle. The entire unit weighs just 2.1 pounds. If you'll be using this monitor setup with a MacBook, keep in mind it's not compatible with Apple's 2020 M1 or 2022 M2 MacBook processors.
Why we like the Teamgee dual portable monitors: The two additional monitors offer a maximum brightness of 300 nits, 60Hz refresh rate, a 16:9 aspect ratio and offer a 1000:1 contrast ratio. 
---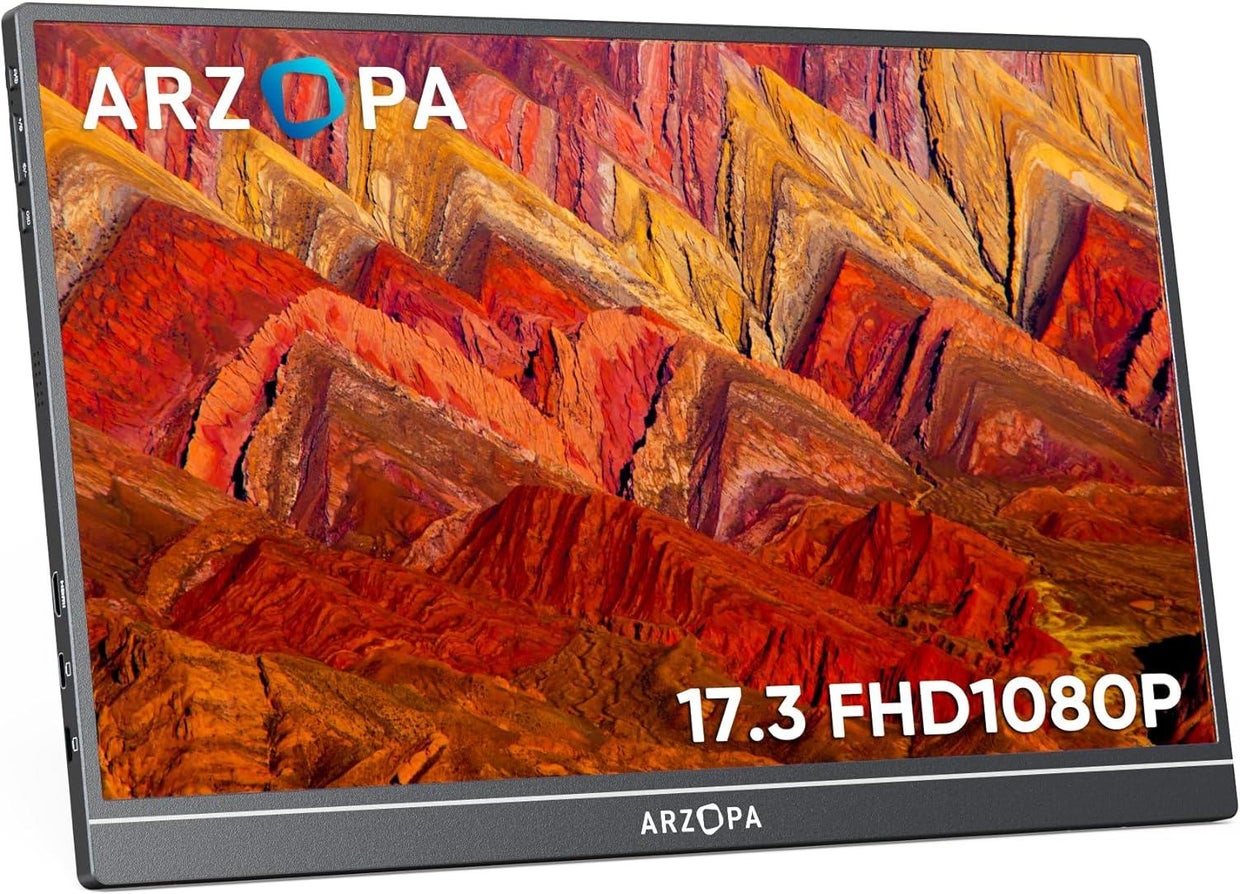 Measuring 16.5 x 10.6 x 2 inches and weighing in at 3.46 pounds, this 17.3-inch monitor is a bit larger than most portable monitors, but it remains rather easy to transport and sets up in seconds. When used with your laptop, you'll benefit from a large display that offers 1080p (1,920 x 1,080 pixel) resolution with a 60Hz refresh rate and 16:9 aspect ratio. It's able to connect to your computer using a USB Type-C cable. This Arzopa monitor can be used in either landscape or portrait mode and has a Duplicate, Extend, and Second Screen setting, so it easily adapts to your needs.
Why we like the Arzopa 17.3-inch portable monitor: You'll benefit from an extra large display that's easy to carry around and that dramatically increases your available on-screen real estate. Like all of the portable monitors featured here, it's powered by your laptop computer and supports plug-and-play. This means no special software or drivers are needed to use it.
---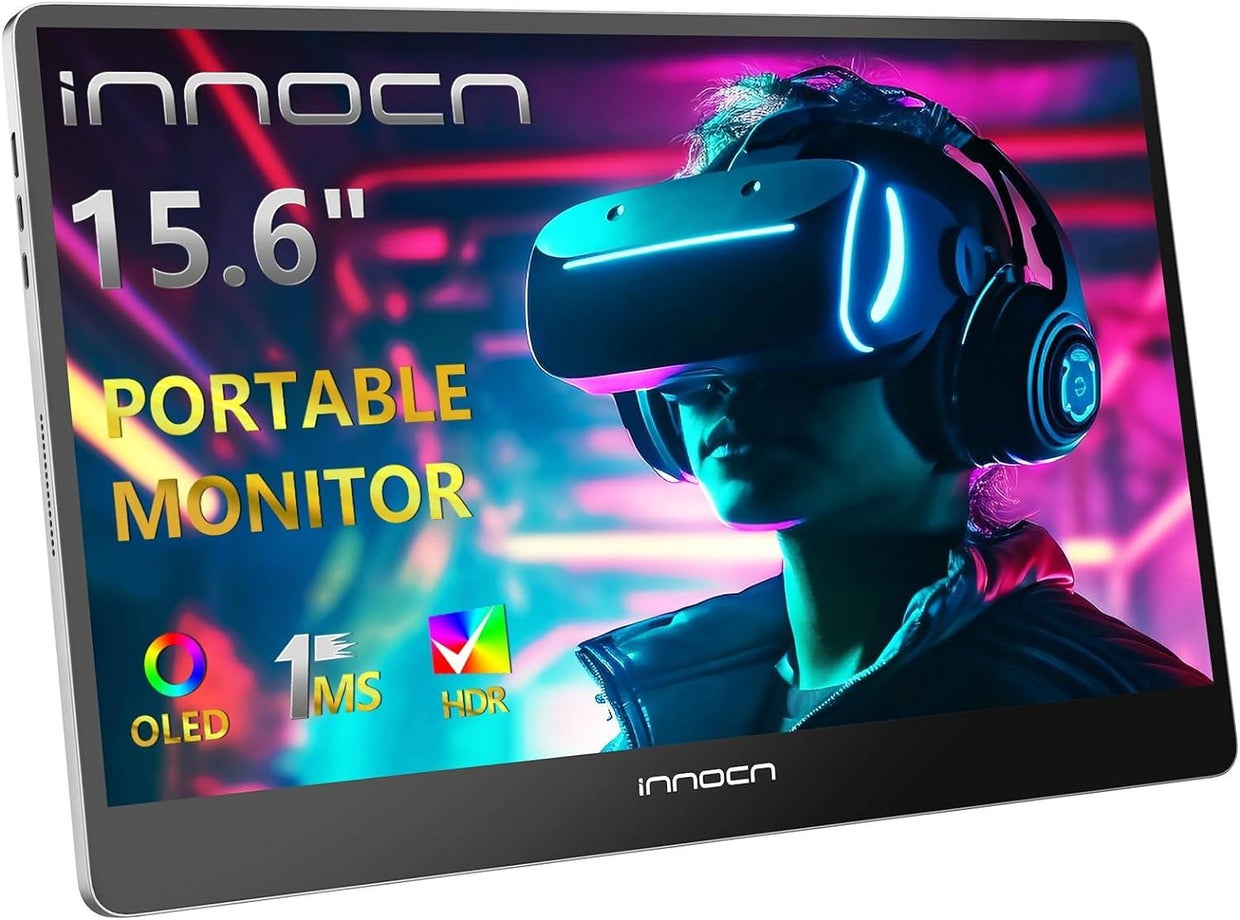 This Innocent portable monitor offers a bright and vivid 1080p resolution OLED display, so whether you're playing games, streaming video, editing photos, or using the monitor to display other graphic-intensive content, what you see will look impressive. The 15.6-inch display offers a 60Hz refresh rate, a 1ms response time and can connect to your laptop computer using a USB Type-C or HDMI cable.
What you see displayed on the screen will utilize a 100% DCI-P3 color gamut, along with a 100000:1 contrast ratio and 16:9 aspect ratio. HDR is supported, so you can expect to see accurate and detailed colors. Maximum brightness is 400 nits. 
Why we like the Innocent Portable Monitor: The monitor weighs a mere 1.6 pounds, is just 0.27-inches thick and sets up in less than 15 seconds. It can easily be transported within your existing laptop bag or a briefcase. 
---
When is Amazon Big Deal Days?
The Amazon Big Deal Days sales event (also known as October Prime Day) kicks off at midnight PT (3:00 a.m. ET) on Tuesday, Oct. 10 and runs through Wednesday, Oct. 11, 2023.
---
What else is on sale during Amazon Big Deal Days?
During the Amazon Big Deal Days sales event, you'll also find big discounts across all of Amazon's departments, including home, tech, kitchen, fitness and so much more. This is the perfect time to kick off (and potentially even finish) your holiday shopping, without having to deal with Black Friday crowds and having the gifts you want to purchase being sold out. You'll find deals on luggage for your holiday travels, too.
---
Do you need to be a Prime Member to shop Prime Big Deal Days deals?
While some of the best Amazon Prime Big Deal Days offers are Prime-exclusive or invite-only, there will also be tons of deals that are open to all shoppers. So even if you don't have an Amazon Prime membership, there will be deals available to you.
If you want to shop the best deals, though, you'll want to sign up for a 30-day free trial of Amazon Prime. Prime memberships costs $14.99 per month or $139 per year, and include access to Amazon Prime Video (Thursday Night Football) and a number of other great perks.
---
What other stores are holding competing early Black Friday sales?
Savvy shoppers know that any of the Amazon Prime Day events offer the perfect time to find tens of thousands of popular products on sale from Amazon, including some at their lowest price of the year. However, many other popular online and retail merchants, such as Walmart, Target, Best Buy and even your favorite department stores, such as Macy's, all tend to kick off sales either at the same time or around the same dates as Amazon Big Deal Days.
Best Buy's 48-Hour Flash Sale is happening on Oct. 10 and Oct. 11, the same days as Amazon's Prime Big Deal Days.
Walmart's Holiday Kickoff sale will run from Oct. 9 through Oc. 12.
---
Do products on sale during Amazon Big Deal Days sell out?
You bet they do — and sometimes things sell out within hours. If you see something on sale that you want to get your hands on during the Amazon Big Deal Days sale, order it right away. Often, quantities are limited. Once a product is sold out at the sale price, Amazon won't always restock right away and when it does restock, the sale price likely won't be offered.
---
Can products bought from Amazon during Amazon Big Deal Days be returned?
Unless it specifically states in the product description or near the "add to cart" and "buy now" buttons that the product being offered on sale is a final sale or not returnable, Amazon's regular return policy for that product will be honored. 
On the right side of a product description on Amazon, just below the "buy now" button (and where it says "ships from and sold by"), look for the heading that says "returns." 
If the text says, "eligible for return, refund or replacement within 30 days of receipt," that's the return policy that will be honored. However, you may be responsible for paying return shipping to Amazon, unless you drop off the product as a Whole Foods or Kohl's, which accepts some Amazon returns.
---
The best October Prime Day deals at Amazon to shop now
Can't wait until Prime Big Deal Days starts? The shopping experts at CBS Essentials are keeping track of the best deals on Amazon right now. Check out our coverage of Prime Big Deal Days below.
Best October Prime Day tech deals to shop now
Best October Prime Day home deals to shop now