A Florida man accused of stalking deputies was arrested on Sunday for threatening to "help the devil kill" a three-man helicopter flight crew.
Robert Moni, who lives in Volusia County in DeLand, Florida, was charged with three counts of aggravated stalking and is being held in the Volusia County Branch Jail without bail, according to arrest reports. This marks Moni's second arrest after he was previously charged with making a false report of a bomb, arson or weapon of mass destruction after threatening to shoot down a Volusia County Sheriff's Office helicopter in 2018.
On Saturday, according to the Daytona Beach News-Journal, deputies were called to the DeLand Municipal Airport where the Volusia sheriff's helicopter hangar is located as the sheriff's helicopter crew reported Moni was near the hangar harassing and threatening them.
The 59-year-old, who lives near the airport hangar, had started walking toward the building when a helicopter crewman approached him. The man reported that he could hear Moni screaming that the crewmen "were all bad people," "sinners," and that "the devil is going to kill you, and I am going to help," a report detailed.
Moni was also seen holding a sign and yelling obscenities at Air One, which is the name of the sheriff's office helicopter, and its crew, the report states.
According to the Daytona Beach News-Journal, deputies have also written in their report that Moni hates the sheriff's office and Sheriff Mike Chitwood.
This follows Moni's previous arrest in 2018 after Moni called an employee of an Orlando television station saying he was going to shoot down Air One if it didn't stop flying over his house, according to the Daytona Beach News-Journal.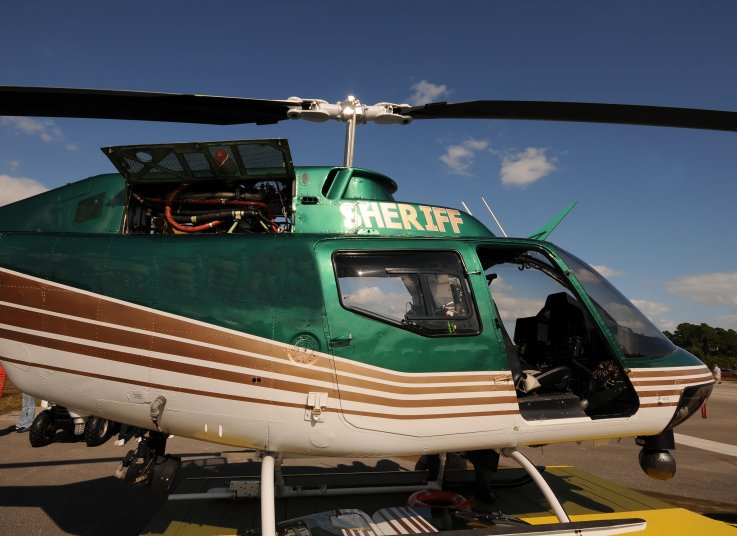 Stock image. A 59-year-old Florida man was arrested for threatening to "help the devil kill" a three-man helicopter crew.
icholakov/Getty Images
Detectives have said Moni had a history of reporting conspiracy theories regarding the sheriff's office; in 2018, a Florida Highway Patrol lieutenant previously said Moni had complained that former Sheriff Ben Johnson, high-level FBI personnel, and drug dealers were conspiring to ruin his life.
According to the lieutenant, Moni said that helicopters had been hovering over his house, "spying on him," and he wasn't "going to stand for it." He said he "would point a laser" at them, or "shoot them down, if necessary," according to the report. Moni was then charged in 2018 for the threats.
Court records also show that in September 2018, the Volusia County Sheriff's Office, who said Moni was a danger to himself or to others, asked a court to grant a Risk Protection Order asking that Moni surrender any firearms and ammunition he had.