An Israeli journalist who narrowly escaped being slaughtered by Hamas over the weekend is denouncing Republican Senator Josh Hawley of Missouri for playing politics with the Israeli-Palestinian conflict.
Over 1,600 people have been killed on both sides since the Islamist militant group that controls the Gaza Strip launched a surprise missile attack on Israel on Saturday. Journalist Amir Tibon and his family barely escaped when Hamas militants invaded the small settlement he lived in near the Gaza border.
Hawley, like nearly all major U.S. lawmakers, has condemned the Hamas attack and pledged to support Israel. The senator—one of many Republicans against continuing to provide Ukraine with funds to fight invading Russian forces—also suggesting that any new U.S. aid to Ukraine should instead be given to Israel in a post on X, formerly Twitter.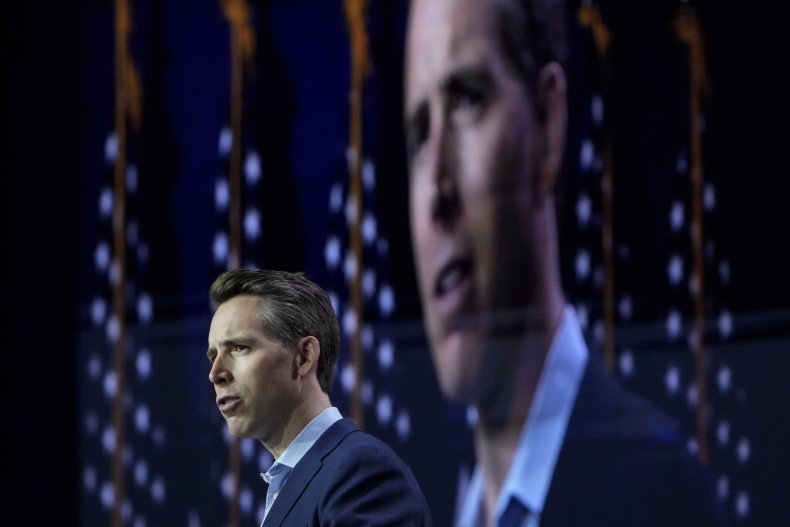 "Israel is facing existential threat," Hawley wrote on Monday. "Any funding for Ukraine should be redirected to Israel immediately"
Tibon responded to the senator's post on Tuesday, praising President Joe Biden while calling it a "cynical move" to suggest that it would not be possible to help both Ukraine and Israel. He pointed out that Iran was supplying Russia with drones to attack Ukraine while also arming Hamas to fight Israel.
"What a cynical move," wrote Tibon. "Shame on you Senator. Iran is sending drones to Ukraine and guns to Gaza, to murder Ukrainians and murder Israelis. God help us if USA cant support both countries against this brutal anti-democratic axis. Glad Biden is in charge."
Newsweek reached out for comment to Hawley's office via email on Tuesday.
Tibon told The Atlantic in an interview published on Monday that he was convinced he and his young family were "going to die" as they heard Hamas militants approaching their home, before being rescued by a group of Israeli soldiers and his father, a former general.
"I'm happy to be alive," he said. "I'm happy my family is alive. I'm staying with my extended family. I'm worried sick about friends and neighbors who were injured or kidnapped into Gaza. And I'm worried about my country."
National Security Council spokesperson John Kirby told reporters on Tuesday that the U.S. military already "began shipping military aid to Israel" at Biden's direction and that Secretary of Defense Lloyd Austin "has adjusted our force posture in the region to bolster regional deterrence efforts."
The prospect of Congress approving additional funding for Israel or Ukraine remains in limbo due to the House of Representatives being rudderless after recently ousting their speaker, GOP Representative Kevin McCarthy, while the Senate is on break.
However, funding for Israel is likely to be approved eventually, as the vast majority of lawmakers seemingly support it, with a few notable exceptions from both Republicans and Democrats. New funds for Ukraine are less certain, with an increasing number of hard-right Republicans in the GOP-controlled House opposing the move.