Most people have likely witnessed a dog enjoying life with its head out of a car window while cruising with its owner. Well, the Internet has been pleasantly surprised to see one dog who has set his own trend and puts his tail out of the window instead.
In a hilarious TikTok clip shared by owner Sarah [@sariously], Rudy, the Bernedoodle, can be seen eagerly waiting by the front door. The next shot is a close-up of the wing mirror whereby the reflection is Rudy's tail out of the window.
The text layered over the video says: "My dog's beige flag is he puts his tail out the window instead of his head."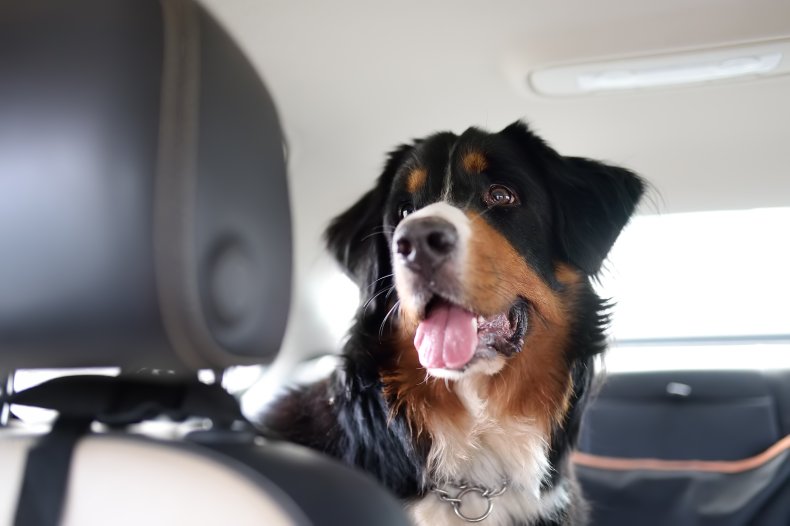 Since October 9, the video of the cross between a poodle and a Bernese mountain dog has racked up 440,100 views and over 70,000 likes.
While dogs appear to be having a good time with their head or, in this case, tail out of a window, it is not advisable, according to the American Kennel Club. Its website urges owners to avoid letting their canine put their heads out of the window as this may lead to eye or ear injuries.
The AKC warns owners against letting their dogs travel in the back of an open pickup truck as they could be injured in an accident. Owners are advised to put their four-legged friends in a crate or put them in a harness that attaches to the seatbelt to ensure they are safe.
It looks like there is a barrier between the front two seats and the back seats of Sarah's car. This type of guard is used to prevent dogs from jumping into the passenger seat or even worse, onto their owner's laps.
The clip captioned "He's perfect" has over 130 comments. One user said: "This is absurd and I absolutely love it."
"I bet that little fluffy tail makes a lot of people's day a lot better," said another user.
Sarah needn't think her song selection has gone unnoticed as other users appreciated the effort put into pairing the comical clip with Mama Cass' "Make your Own Kind of Music"
One user said: "The sound choice is."
"Honestly, this seems like a 100% more enjoyable experience," said another. The video can be seen here.
Earlier this year, in February, a bill that could ban dogs sticking their heads out of car windows was proposed in Florida. But it has yet to pass or become effective.
According to the bill's text, drivers would be forbidden from allowing "a dog to extend its head or any other body part outside a motor vehicle window while the person is operating the motor vehicle on a public roadway." The proposed legislation asks to prevent people from holding dogs on their laps while driving in a car or having a dog sit in front of them while riding a motorbike.