Republican Senator Lindsey Graham is threatening U.S. strikes on Iran after the Islamist militant group Hamas attacked Israel.
Hamas, which is funded and armed by Iran, sprung a surprise attack on Israel Saturday, with the Israeli military later launching its own attacks. Almost 1,600 people had been killed on both sides as of Monday afternoon, including at least nine Americans, according to the Associated Press.
Thousands more have been wounded, while over 100 people including an unknown number of Americans were taken hostage by Hamas militants. Hamas spokesman Abu Obeida reportedly pledged to kill one Israeli hostage in response to each instance of Israel attacking civilian targets in Gaza "without prior warning."
During a Fox News interview on Monday, Graham argued that "the only way" to keep the volatile situation from escalating was for the U.S. to become directly involved by launching attacks on Iran due to its links to Hamas.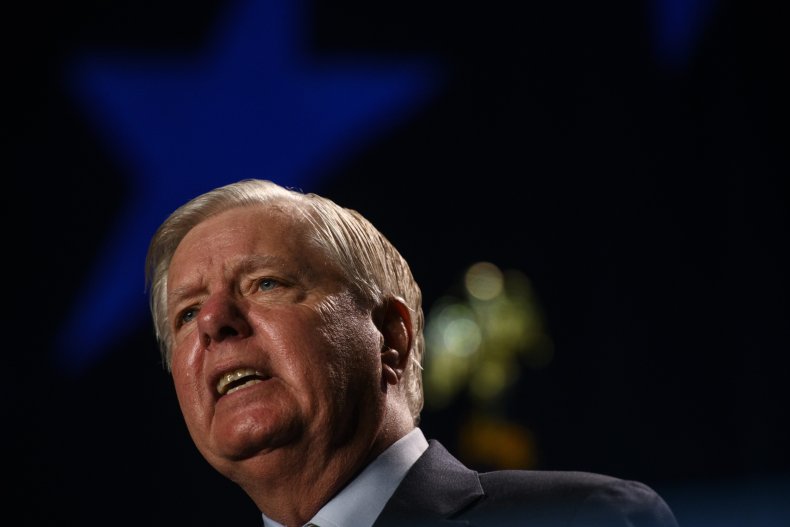 The South Carolina Republican claimed that Iran "planned" the attack on Israel and suggested that holding the Islamic Republic "accountable" would involve retaliatory strikes on Iranian oil refineries in response to each U.S. or Israeli hostage killed by Hamas.
"For every Israeli or American hostage executed by Hamas, we should take down an Iranian oil refinery," Graham said. "The only way you're gonna keep this war from escalating is to hold Iran accountable."
"I am confident this was planned and funded by the Iranians," he added. "Hamas is a bunch of animals who deserve to be treated like animals … If I was Israel, I would go in on the ground. There is no truce to be had here. I would dismantle Hamas."
Graham went on to say that the current conflict was "the best opportunity Israel has to destroy Hamas," urging war be brought to the "backyard" of Ayatollah Ali Khamenei, the supreme leader of Iran.
"Take it to the Iranians," Graham said. "If Hamas kills one American or Israeli hostage, we're going to blow up your oil refineries and put you out of business. It is now time to take the war to the Ayatollah's backyard."
Newsweek reached out for comment to the White House and the Interests Section of Iran in the United States at the Embassy of Pakistan in Washington, D.C., via email on Monday.
Graham said that the conflict represented an opportunity for the U.S. to "reset the world" by telling Iran "if you escalate any more attacks coming from Iran, we're coming after you," while continuing to help Ukraine defeat invading Russian forces.
Additionally, the GOP senator demanded that President Joe Biden show support for Israel by illuminating the White House with the image of an Israeli flag on Monday night, pointing out that the president "did it for Pride Month."
On Monday morning, Hamas reportedly claimed that four of its hostages had already been killed by Israeli airstrikes on Gaza.